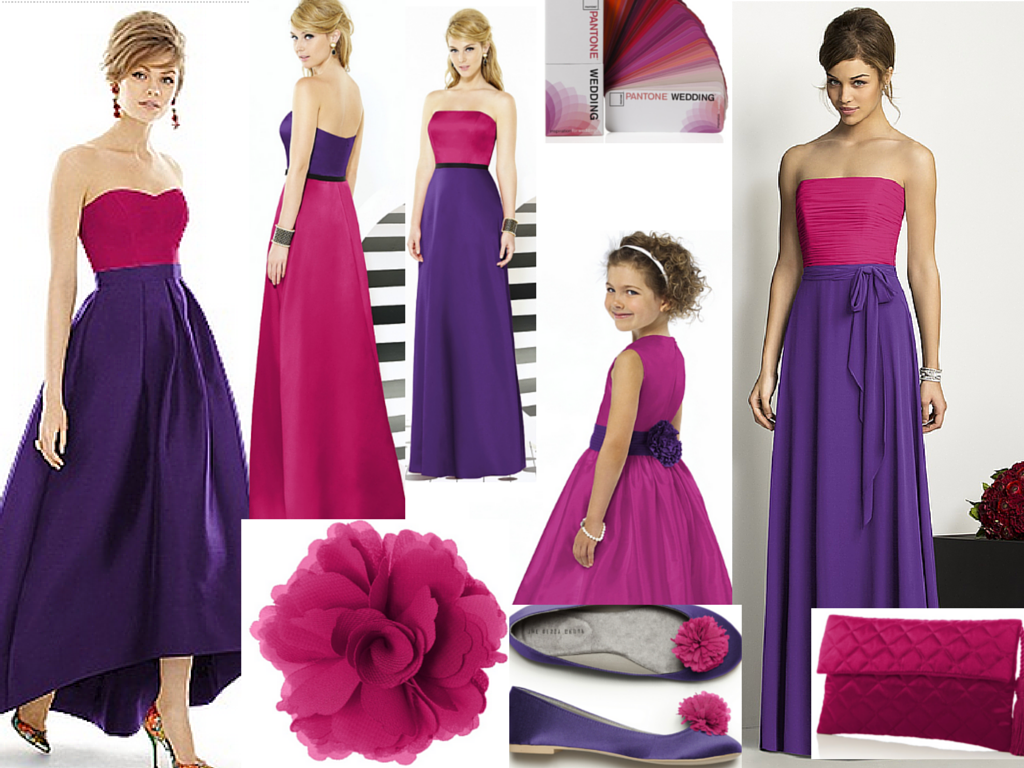 What are your colours? Are you going to be a brights kind of a bride? Pastels? Or monochrome? Neutrals?
The beauty of deciding on bridesmaid frocks from Dessy is that you have literally hundreds of colours and combinations from which to choose - so you can really express yourself.
Some of Dessy's bridesmaids dresses allow you to mix and match different coloured bodies and skirts, as shown above (I've used the colours of Majestic and Tutti Frutti here).
You could choose the same frock - but in different colour blends. Accessorise with a contrasting chiffon flower. Ballet flats to match. And then handbags to take the theme to the max.
You'll also find colourful flowergirl options as well - think of brightly coloured sashes to tie up with what the older girls are wearing.
Working with Pantone shades
Because our colours match Pantone shades, you may find a tool like our Pantone Wedding Colour guides incredibly useful. Buy a colour fan and see what shades appeal to you and how you want to mix things up on your big day.
You can share your Pantone shades with your florist, your venue stylist, even your cake maker so that everything works together seamlessly.
Get the look here (clockwise from left) Alfred Sung Style D699 in Majestic and Tutti Frutti, Dessy Style D719 in Majestic and Tutti Frutti: Dessy Collection Bridesmaid Style D6677; Pantone Wedding Guide in Red, Orange and Pink; Flowergirl Style 4031 in Fruit Punch and MajesticDessy Style Quilted Envelope Clutch Bag in Tutti Frutti