The Coulda, Woulda, Shouldas Brides Think About... After the Wedding
When it comes to planning any event, a wedding or otherwise, it is impossible not to miss a detail here and there. Sometimes what we think will be fine on the day of the wedding ends up being a problem, and the things we thought would be a problem end up being fine. It happens. But it doesn't have to!
Days or maybe weeks after the wedding you will begin to think back on the day and think about what you could have, would have and should have done and didn't. For those of you who are planning a wedding for the seasons ahead, here are some minor, but important details you may want to think about.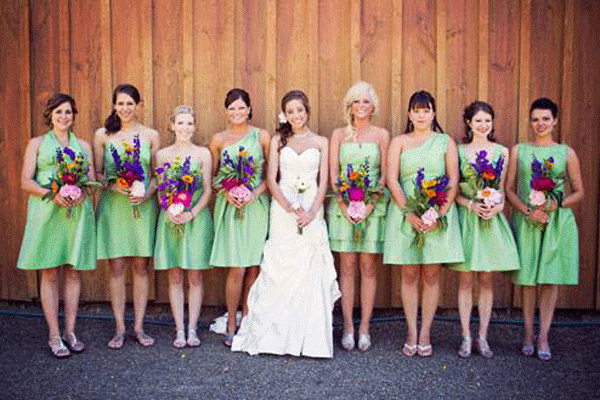 We are Green with Envy over these bridesmaids, who look so immaculate in Alfred Sung bridesmaid dresses!
Not Having More Food: This happens, what you think may be enough during the planning, you find wasn't. You could have had more at the cocktail hour and less during dinner or more at dinner and less during the cocktail hour. Did you really need to go crazy on desserts? It's so easy to not think of these things as you plan them, and realize the day of you may have wanted more or less. You also don't realize how hungry you may actually be between running around from the ceremony to the reception. Its important to work with your caterer or venue about the selection and also make sure you are getting everything you paid for. If there is anything people remember about a wedding, it's the food.

Inviting Everyone to Your Wedding: Whether you did this out obligation to your parents or his, inviting everyone in your family and a ton of friends may be a regret especially if you didn't get to talk to everyone, like that second cousin that was sitting in the corner the entire wedding. You get our point. So it's important to invite those you want at your wedding and not those you feel you have to invite simply as a courtesy or obligation. This wedding is about you and your fiancé and you want it to be special for the both of you. The best way to save on your wedding is by cutting the guest list if you can.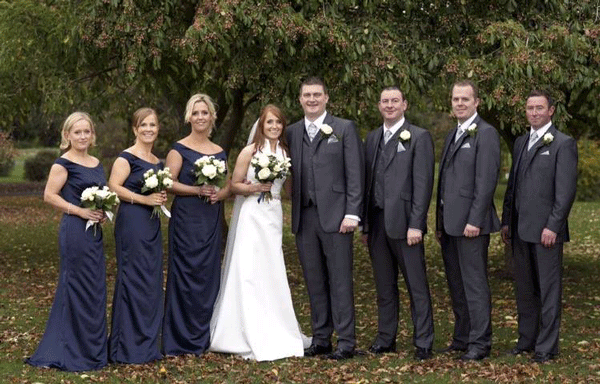 Dessy Bridesmaids in Satin! Explore Dessy.com to see them all!
Going Over Your Budget: When we have an idea in our minds about what we want our dream wedding to be and that dream starts to come to fruition, it is so easy to go over the intended budget you and your fiancé planned. For example, did you really need a floral arrangement at every table at the reception? Or did you really need to have a certain model of limo to take you between the ceremony and reception? These little things add up.
Letting People Rain on Your Parade: Even if you are the bride and the day is about you and your fiancé, you will always have someone whether they're a friend or family member trying to rain on your parade. It may be in the form of making demands of you as you try to plan a wedding or simply putting you down for the choices you are making during the wedding planning process.
Having Just Anyone in Your Bridal Party: It is important to have your closest friends and family in your wedding, but you will want to make sure that these people are people who have your best interests at heart and want to celebrate and support you. It's easy to think close friends and family are these people, but most brides find out later or sadly during the wedding planning that is not the case. Choose wisely and remember through out it all, this is about your day and no one else. Make sure everyone who is standing beside you or behind you on your wedding day really deserves to be there.
Trying on More Wedding Dresses: When you're looking for a wedding dress it is so easy to fall in love with the first few dresses you see, but it is important to visit more than one dress shop before you settle on a dress. However, don't allow yourself to get overwhelmed by the choices, after you have visited a few, narrow it down and don't be afraid to visit some shops more than once until you have made a decision based on the selection. You will know which dress is the one that is meant for you. Oh! and don't settle on a dress because your mother or a close relative likes it, if you aren't happy trying it on, you won't be happy on the day of the wedding either.
Not Doing More Research: With any and all vendors you plan to hire, it is important that you research them. Find out about their past weddings and events, talk to family and friends who have worked with them. Talk to your wedding venue and see what they know about the vendors online. Google them! Do anything you have to find out what you can before you sign anything.
If you're looking to reduce any bridesmaid headaches, download our Bridesmaid Planner app! It will help keep all your girls even the most difficult ones organized!