5 Reasons You Need to Have Red and Gold for Your Wedding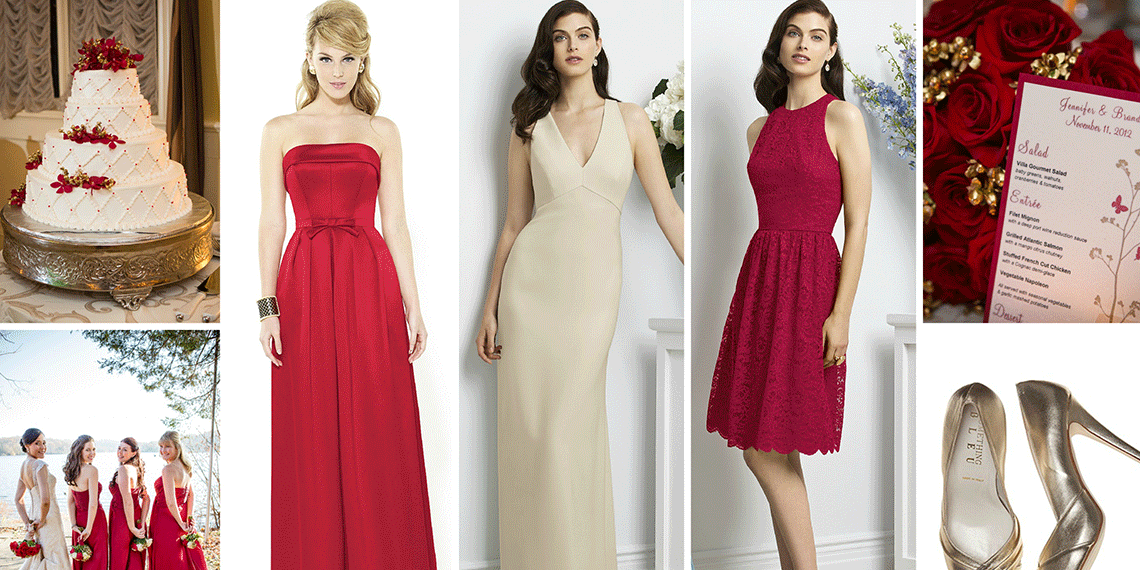 Find these three bridesmaid dresses at Dessy.com
When you're looking at these two colors together, you instantly think of the holidays right?  Of course!  These two colors are everywhere during the holiday season and Valentine's Day.  So why would you pick these two colors for any other time of the year? Because it is just a beautiful color combination for a wedding.
Other Seasons:  Summer, and Fall are great seasons to include these two colors.  Whether you are doing short dresses, long ones, satin or chiffon, these are perfect seasons for these two colors.
Looks Good On Everyone: If you have fairer skinned bridesmaids, you can put them in red and put your dark skinned bridesmaids in gold. Or simply work with what they fit most comfortable and happy in.
 Accessories Will Be Easy:  Finding the right accessories to go with these two colors will be a piece of cake.  You can do bronze jewelry for both and it will be just fine.  If you don't mind color in with your wedding dress, incorporating red and gold with your accessories like your shoes or your handbag would complete the look.  Check out all of our accessories at Dessy.com! 
Red Alone is Attractive: Red is such a vibrant color on its own, that instead of mixing and matching your dresses you can do red dresses with gold accents.
The Flowers Are Beautiful: If you're getting married in the fall, beautiful rustic flowers will be perfect for this color combination.  You can make simple by just doing bouquets of red roses for each of your bridesmaids.
Wedding images by Angelica Criscuolo Photography