10 Ways Pinterest Can Help You Plan Your Wedding
I don't know about you but I am addicted to Pinterest. Whenever I need some ideas on what to cook, what to wear to an event, how to decorate a room or get more storage out of my home I take a look.

If you haven't discovered Pinterest yet, then it's about time you did. It's basically a way of creating an online scrapbook to keep your ideas all together in one place.
If you're planning a wedding, Pinterest is a must-have
Here's how it can help you.

1. Remember you can keep boards private - they don't have to be shared with everyone. So if you'd like to quietly check out wedding dress designs but don't want to give the game away, set up a wedding dress board and click the lock so that it's private. Obviously you might want to share it with your mum, sister and best friend/chief bridesmaid but other than that it's your secret. The other great thing about Pinterest is that you can indulge your flights of fancy - if you fancy wearing a scarlet petticoat or a purple wedding dress then check them out and add to your wedding dress board. It will be interesting to see how your ideas develop over the forthcoming months.

2. If you're on a fitness campaign for your wedding, you can set up a fitness board to keep you motivated (as well as using an app like My Fitness Pal) or similar. Use it to store exercise tips you find, infographics on the benefits of exercise and fitness, foods you should (and shouldn't) be eating. As motivation, you could pin images of how you'd like to look in your bikini on honeymoon or how you want to look in your wedding dress.

3. If you can't decide on a local florist, caterer, limousine hire or photographer, then set up boards to compare them. You'll be able to get a good idea of how professional and efficient they are by looking at their websites - if it's old-fashioned and out of date then it could be a good indication of what their service will be like. On the other hand, if it's over glossy and professional you might not get the personal service you're after.

4. If you're having a destination wedding or getting married somewhere that guest will want to make a weekend of it, you could set up a "Local Attractions" board. Add details of hotels convenient for the wedding, activities for families to do with kids, stately homes and castles to visit, fabulous local pubs and restaurants, car hire ... you get the idea. Then share the board with your guests.

5. Limit how much pinning you do. Yes, it's addictive and a great way to pass the time, but if you set up a board with 1000 images on it then you'll get confused. Edit your boards from time to time and make sure you really love an idea before you pin it.

6. Wedding cakes and Pinterest go together like love and marriage. So a wedding cake board is a wonderful way to get your ideas together.

7. Remember you can use Pinterst for your hates as well as your loves. So if you really don't want your photographs to look a certain way or your hair/make-up to be another way, then you could start a "What I don't want to look like on my wedding day board". You'll certainly have fun with it and seriously, it's a good way to keep your suppliers well briefed so they know what you don't want,

8. If you have a mother-in-law who's itching to get involved with the wedding but you want to limit her input, then why don't you set her up with a Pinterest board so she can share her ideas with you? You don't have to take any of them on board (although to be fair she might come up with some fabulous images) but you're letting her get involved and she might find that Pinterest opens up a whole new hobby for her (it's also a great way to get interior design ideas),

9. If you're having a DIY wedding - I'm thinking flowers, stationery, cakes, food for example - then a DIY wedding Pinterest board is a good filing system for tutorials and how to's.

10. If you download the Pinterest app you'll be able to keep all your ideas with you in one place on your phone. So you can show your wedding hair ideas to your hairdresser, your cake ideas to your cake maker. Gone are the days of having to tear out a page of a magazine to show what you want ... you'll have everything with you as you go along.

Are you using Pinterest to plan your wedding? Check out Dessy's Real Weddings Pinterest board to see how other brides styled their big day.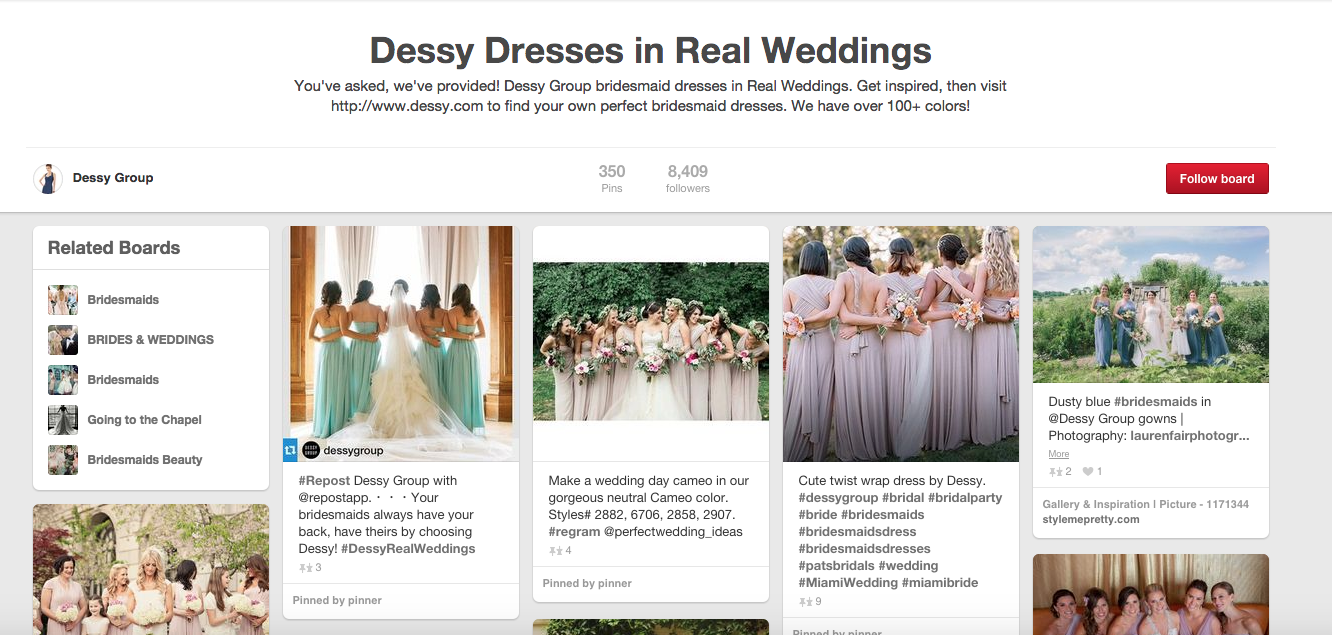 Featured image via Nicki Feltham Photography