What to Do Before You Choose Too Many Bridesmaids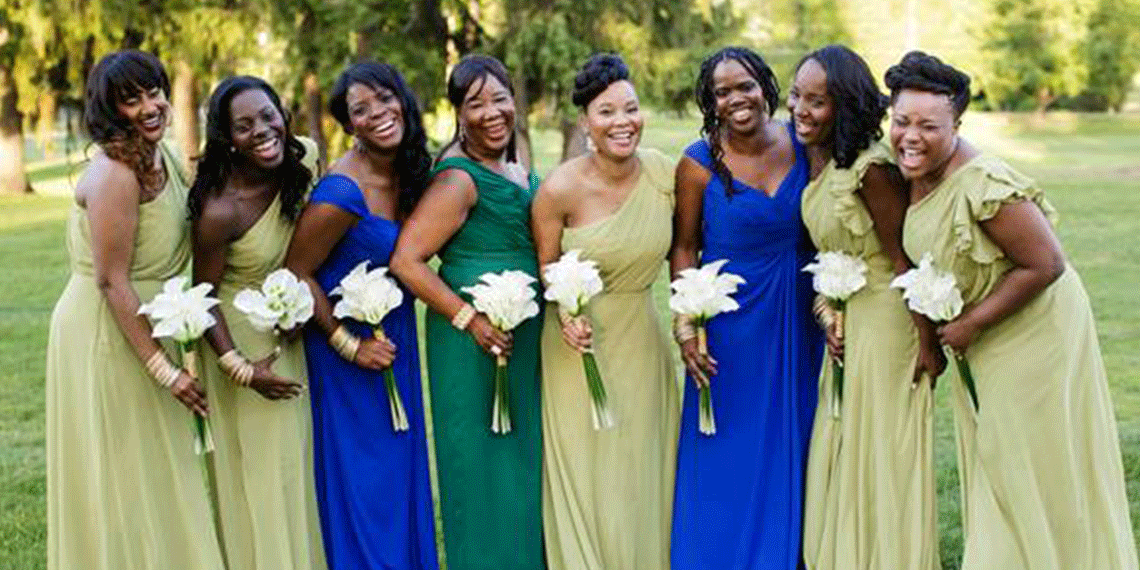 We are in love with this colorful and multicultural wedding party! They infused Haitian, Indian, and Moroccan themes, and the wedding party wore Dessy colors Mint, Shamrock, and Sapphire. Styles 2885, 2905, 6693 via Munaluchi Bridal
It's time to pick your bridesmaids and while you want to have everyone you've ever known in your bridal party, it is simply not possible. So what do you do? Well, here are some things to consider before you send out your "Will You Be My Bridesmaid?" invitations.
How Many Bridesmaids Do You Want in Your Bridal Party?Do you envision a small bridal party or a large one? A good number is between 6 to 8 bridesmaids. Pick those with whom you are closest to and don't pick bridesmaids because they are good organizers or leaders.
Can Your Groom Meet Your Number?You may want a big bridal party, but does your groom have that many men in his life that will meet the number of bridesmaids you want? If not, you may need to consider whether you need to scale back or settle with not having the same amount on each side. While plenty of weddings have had an un-even number of bridesmaids to groomsmen, you may want to keep the number even on both sides. It looks better in pictures too!
Can You Deal with the Drama?Honestly, the bigger the bridal party the more headaches you may incur. Keeping it small or a decent size may relieve any unnecessary aggravation or hassle.
Who Do You Pick Anyway? As you grow older, your groups of friends change or you may not be as close to family members as you used to be. It happens. So you can expect that whoever you chose when you were younger, will be different now that you are in fact getting married. So do you pick? Pick people with whom you have maintained a close relationship with throughout all the changes in your life, pick the bridesmaid with whom you has been with you through everything and never left your side. This can be your best friend from middle school, your best friend from college, a family member with whom you have always counted on. Or it can be someone who you have just gotten close to in the last couple of years, you would be surprised who you end up choosing.
Think About the Bridesmaid Dresses: With all these girls, you have probably picked out a dress too. Will all the girls you are about to choose fit the style and/or color of the dress you are anticipating? Think about this, the more girls you choose, the more you have to think about whether the color and style will work for each bridesmaid.
Looking for great "Will You Be My Bridesmaid?" invitations? Check out our Pantone Wedding Will You Be My Bridesmaid Card, which will match any color you choose for your bridesmaid dresses!