White Wedding Umbrellas Come Rain or Shine
White Wedding umbrellas - be that bride who's prepared for the good old British Summer!
Oh for a destination wedding where you can rely on the weather to be as beautiful as the bride.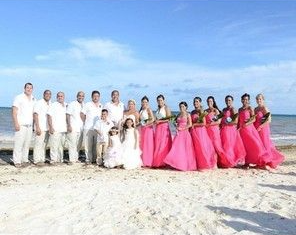 No worries about the weather for this #Dessyrealwedding in Riviera Maya!
But if you choose to tie the knot here in Britain, even if you are planning a Summer wedding, you just know that you've got to take into account the vagaries of the UK climate! One day it can be gloriously sunny, the next raining cats and dogs. Sure, there's nothing you can do about the weather itself, but with just a little bit of forward planning you can be prepared for all climate eventualities, leaving you to concentrate on more important things!
It's highly likely that most guests will be prepared for a possible deluge on the day, but if you wanted to be super-organised (with an eagle-eye on potential photographs), there's a great company called Brollybucket which specialises in hiring out beautiful white umbrellas for weddings. How cool would that look? But not only do Brollybucket hire the umbrellas, they also, as you might have guessed by the name, provide as many brolly buckets as you need to dot around the place, ensuring that no matter how large the venue area, wherever you need a brolly, you shall find one!





If you want to purchase a very special wedding umbrella for yourself, there are a number of beautiful brollies on the market,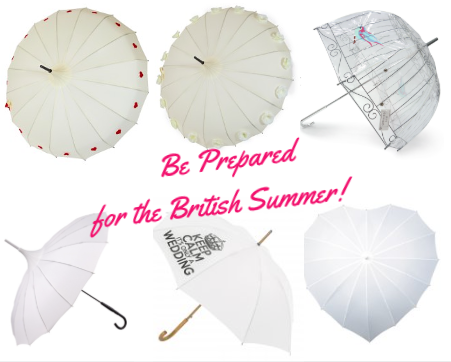 Top row from left: Bridal Love to Dream Umbrella £24.95 from Loveumbrellas.co.uk; Ivory Bridal Flower Time Umbrella £29.95 from Loveumbrellas.co.uk; Lulu Guinness Birdcage Umbrella from jollybrolly.co.uk

Bottom row from left: pretty white pagoda Umbrella at £35 from TheUmbrellaShop.co.uk; Keep Calm Wedding Umbrella at £25 which can be personalised, from TheUmbrellaShop.co.uk; and sweet heart-shaped umbrella, also from TheUmbrellaShop.co.uk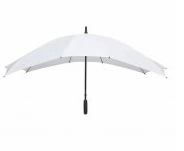 I also love the idea of this Umbrella for Two (above) at £21.95 from The Umbrella Shop - so romantic!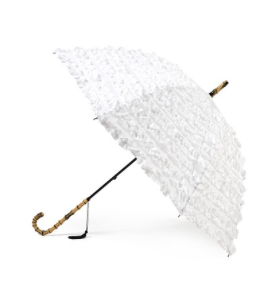 And for the Eliza Doolittle look, how about this very pretty white frilled umbrella with cane handle from JollyBrolly.co.uk for £24.99

The main thing to remember is that with just a little forethought, and not too much extra expense, you can ensure that even if the Heavens do open at just the wrong moment on your wedding day, you will have an elegant solution at hand for you and your guests, leaving you to enjoy the warmth of the celebrations.
Happy planning and may the sun shine for you.