Destination Wedding Turkey
Even before Gemma and Stephen became officially engaged, they had already discussed the idea of going abroad for the marriage ceremony. Stephen didn't want a big wedding but with both Bride and Groom being such outgoing and much-loved individuals, it was going to be tricky paring down a guest list if they got married in England. So an overseas wedding seemed like the perfect option.
I asked Gemma how they had decided on Turkey.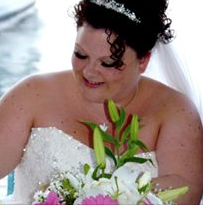 "We were looking for somewhere that wasn't too far away so that our family and friends could join us," she told me, "somewhere a little bit different from the 'usual' destination wedding countries, but mostly somewhere that the marriage is legal and you don't have to get married before in England and then have it blessed abroad."
Gemma comes from a really close family and so it was only natural that her mother, Lydia, and elder sister, Kylie, would help Gemma to source and organise the dresses, decorations, bridal headpiece etc. Wisely though, Stephen and Gemma travelled out to the venue the year before the wedding to check it all out and meet with the Turkish Wedding Planner who would oversee the whole event.
The Bride's dress was beautiful with crystal and lace adorning the fitted bodice and full skirt. Interestingly, Gemma had assumed that she would wear something more floaty and light, to cope with the Turkish temperature, but when she tried on this more formal gown, she just knew that it was the one!
How did she decide on her bridesmaids?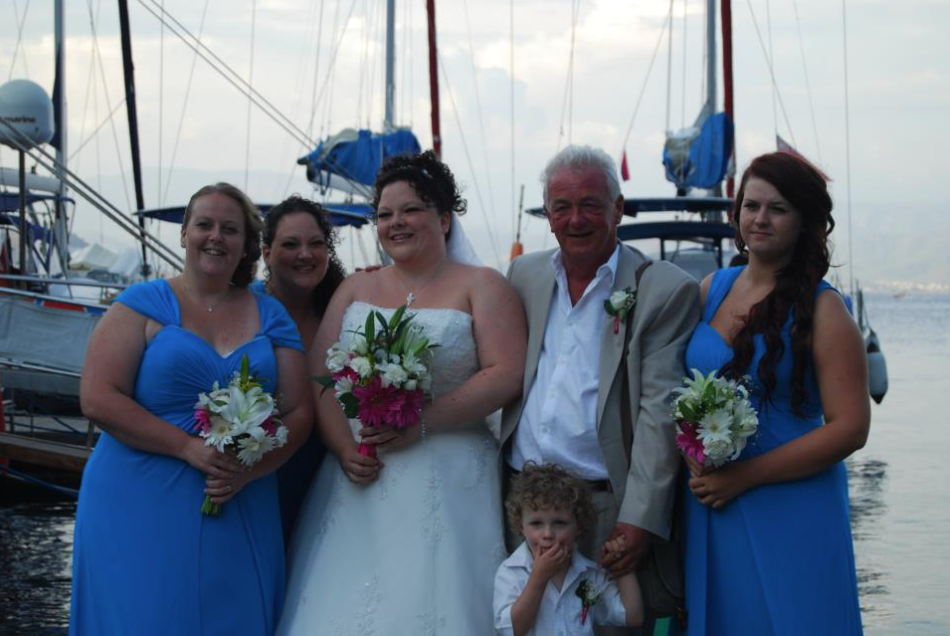 Bridesmaids Joanne Entwisle, Kylie Hiron and Charlotte Entwisle arrive by boat with Gemma and her father, Dick (plus gorgeous little nephew) to start the ceremony
Kylie was always going to be Gemma's bridesmaid and of course would travel anywhere to be there for her little sister. But Gemma acknowledged that one of the problems with getting married abroad was that it did mean a certain level of expenditure for the guests. The last thing she and Stephen wanted was for people to feel they HAD to come to the wedding because they'd been asked to be a bridesmaid or usher. Fortunately, one of Gemma's best friends and her daughter (Gemma's goddaughter) immediately said they would be there - problem solved!
Initially Gemma had wanted her bridesmaids to be dressed in a vibrant pink, but it just didn't suit them. So Gemma took inspiration from the local area instead. She knew she wanted something eye-catching and bright, feeling it's easier to be more flamboyant on a beach than in a church; when she found out that she was getting married on the 'Turquoise Coast', it was a done deal. The girls all went shopping together, trying different styles and colours on until everyone agreed on the right colour blue - and how fab the girls all looked.
Once the colour for the bridesmaids' dresses was sorted, the bouquets were easy for someone with Gemma's innate sense of colour. As well as being a senior carer at Optalis (adult social care and support services), Gemma has her own business - Lacy Gems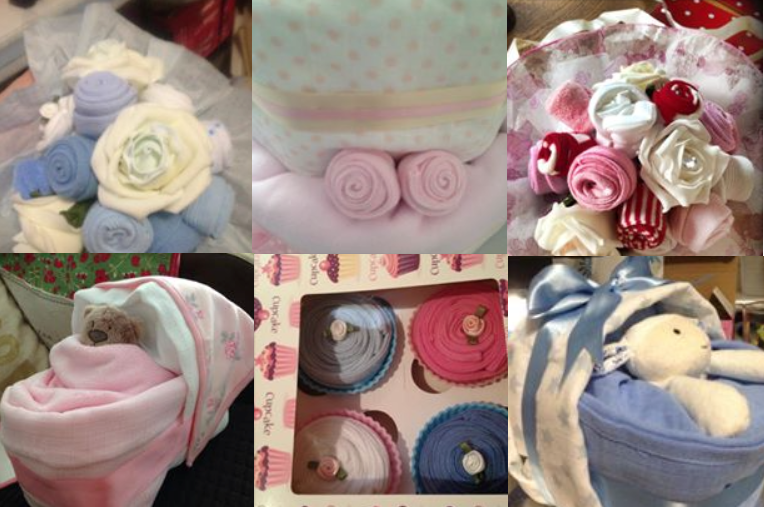 - making charming gifts of nappies, blankets and toys for new-borns. You can see what fabulous colours combinations Gemma chooses, so it wasn't difficult for her to put the bright pink she'd wanted originally for the bridesmaids into the flowers for a stunning, complementary effect. The stems of the men's buttonholes were wrapped in matching pink satin ribbon - the kind of little touch that really brings everything together.
The men in the bridal party wore open-necked, white linen shirts and pale suits which captured perfectly the sense of occasion yet wasn't too formal; the mothers of the bride and groom wore colours that worked superbly with the joyous pink and blue theme - I think you'll agree that it all looked fantastic.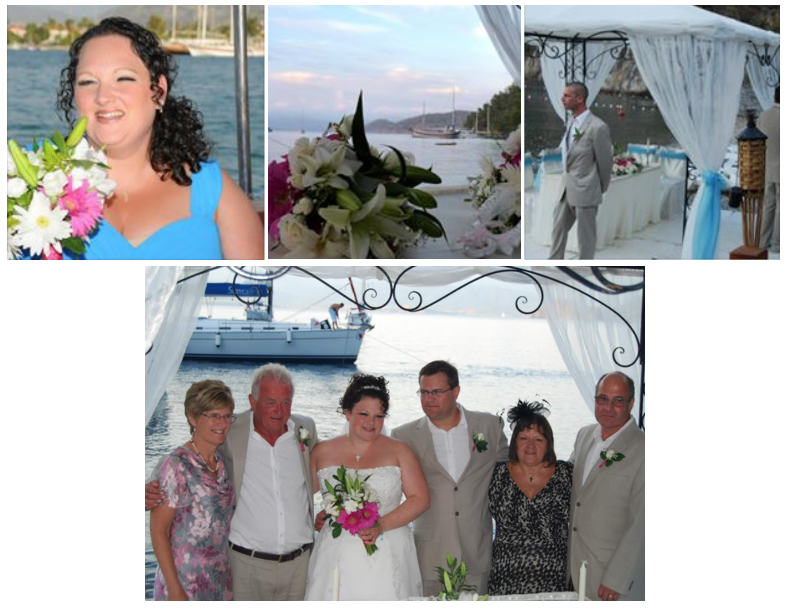 Congratulations to both Gemma and Stephen and thank you so much for sharing your day with us. Clearly Destination Wedding Turkey was a huge success!
To achieve the sort of look that Gemma and Stephen had for their wedding, take a look below.

From left: Dessy Collection Bridesmaid Dress Style 6712; Khaki Men's Summer Suit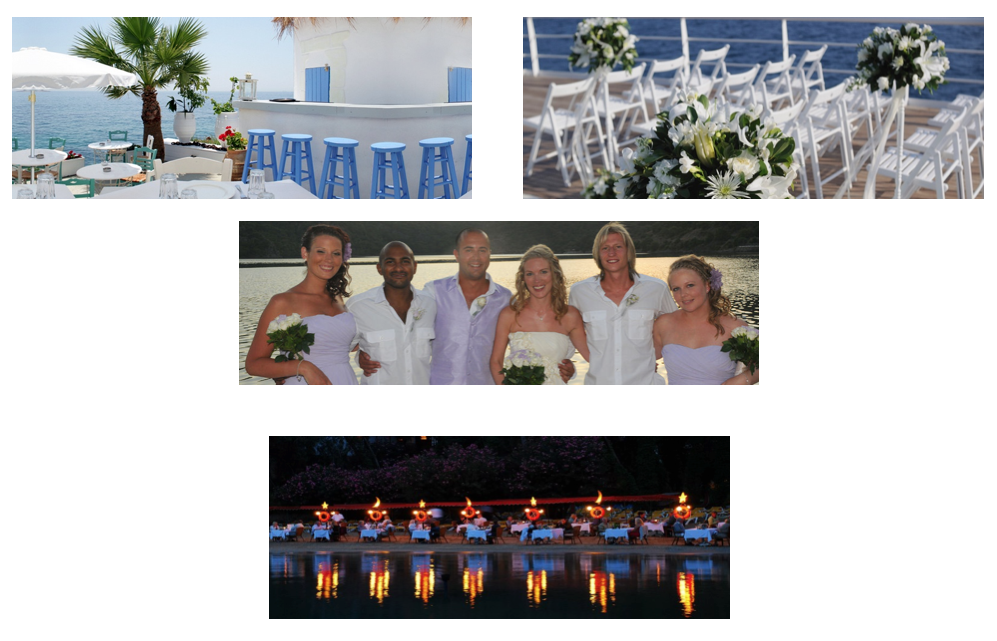 Images above courtesy of Exquisite Weddings Turkey