Grooms Coloured Wedding Suits
When Declan Donnelly tied the knot at the weekend with his beautiful bride, Ali Astall, it struck me how great it is nowadays that even the grooms get to show their individuality and personal flair when they get married. It wasn't that many years ago that for a church wedding, the groom and his ushers would have been decked out in black or grey tails hired from the local Moss Bros, with possibly a fun-coloured waistcoat, if they were feeling particularly rakish.
Not no more and, let's be honest, doesn't the whole thing look all the jollier for it? For there on Saturday, 'Ant or Dec' (as the fabulous Bill Nighy famously says in his role as Billy Mack from Love Actually) was wearing a wonderful, mid blue suit with a pale grey waistcoat and a single, cream rose in his buttonhole, as was his best man. I love this photo from their twitter feed on Saturday on the way to the church!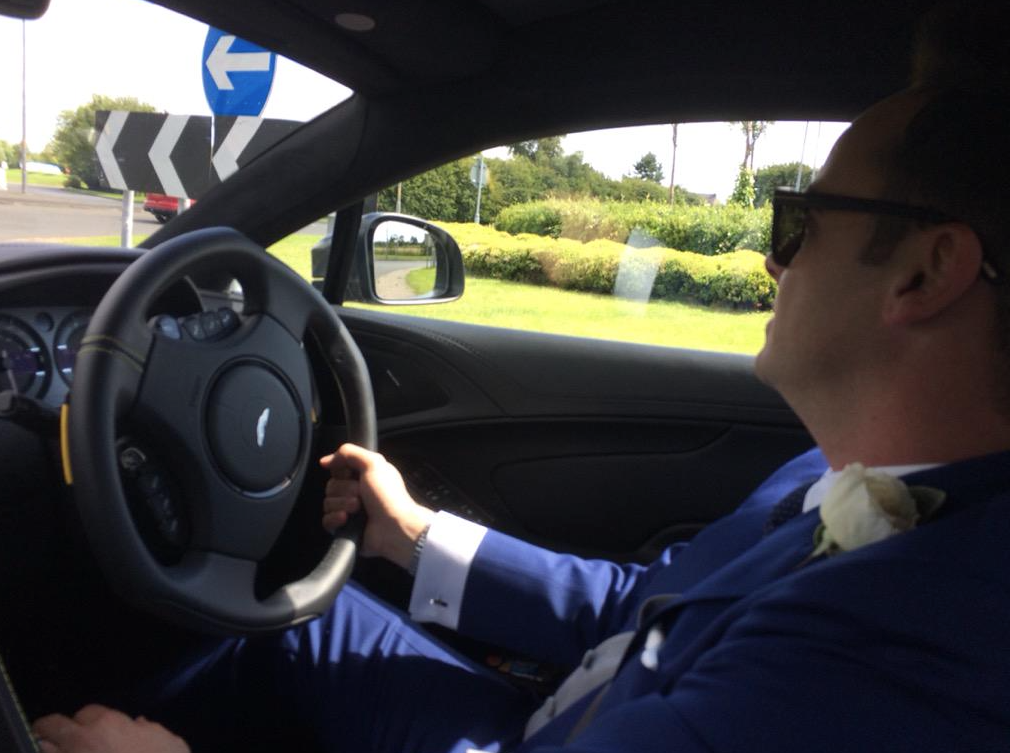 There is definitely something rather uplifting about a groom in a blue suit; it cuts the right balance between sartorial elegance, individuality and adherence to tradition. And if you don't want to go the expense of buying a suit, then there are plenty of great places you can hire a wonderful coloured wedding suit such as this wonderful Lydbury below: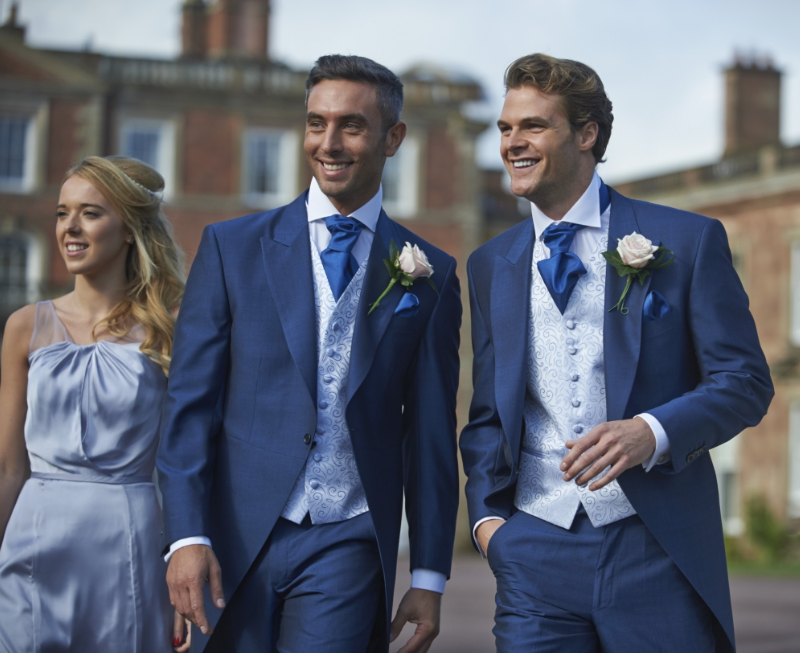 And of course, it needn't be a blue suit; there's nothing to stop the groom going all out and wearing a bright pink suit like the one at the top from Paul Smith's 2013 collection. The only thing I would suggest though if you decide to go that route is just make sure your bride is on the same page as you about this. You certainly don't have to show your bride EXACTLY what your suit is before the big day, but it's definitely a good idea to run the colour scheme of your suit/jacket/waistcoat past her, just so that she can bear it in mind for the overall wedding colour scheme. That's what Fin did for his wedding when he married Lena in Ireland last year; once she had decided on her wedding dress, bridesmaids dresses and flowers, Fin chose his jacket material and just ok'd the colour with his fiancée before he had it made. Lena was as thrilled and excited to see what Fin was wearing to the wedding as he was to see her.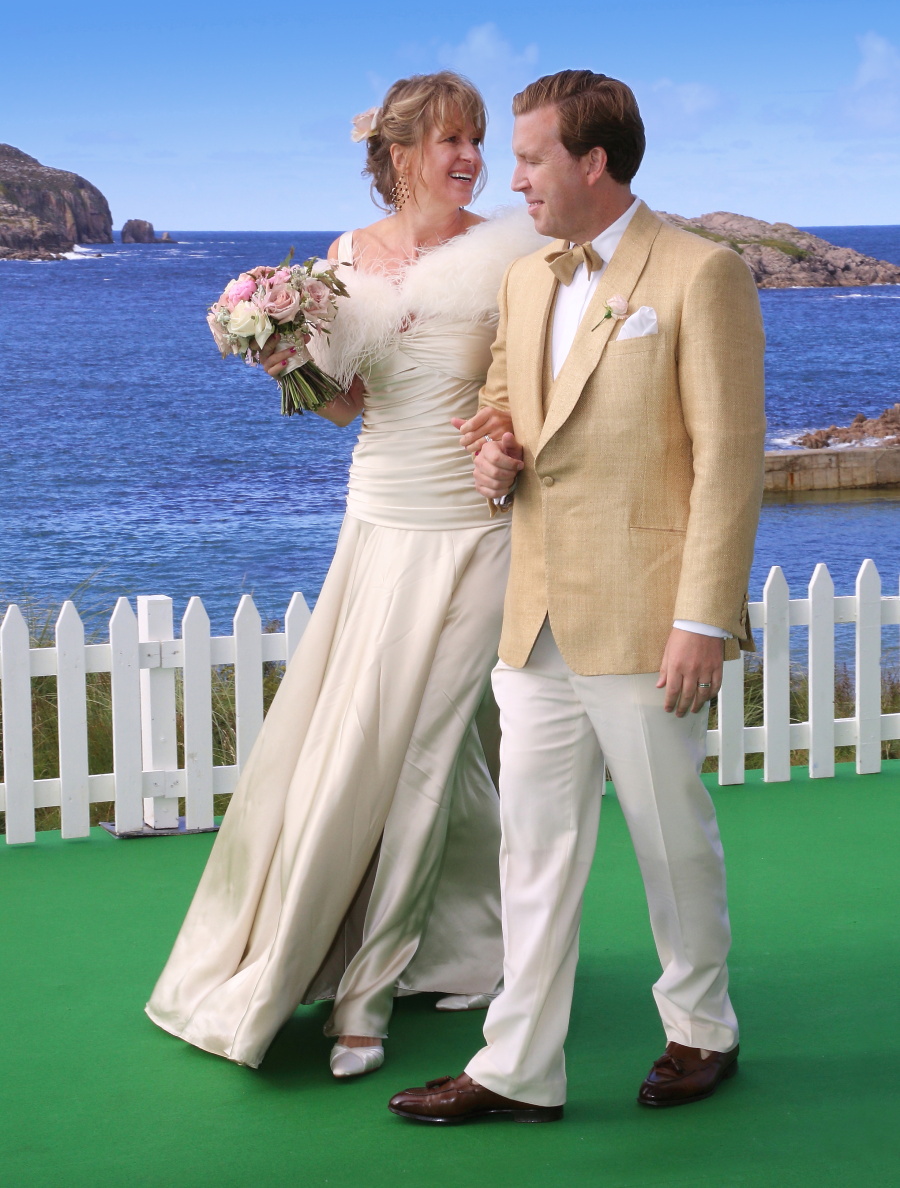 When Gill and Robin married last Autumn, the couple wanted the groom and his ushers to all wear brown wedding suits so that they were a fully integrated part of the Autumn wedding colour scheme and just look how splendid and happy they are - those fab smiles say it all, really!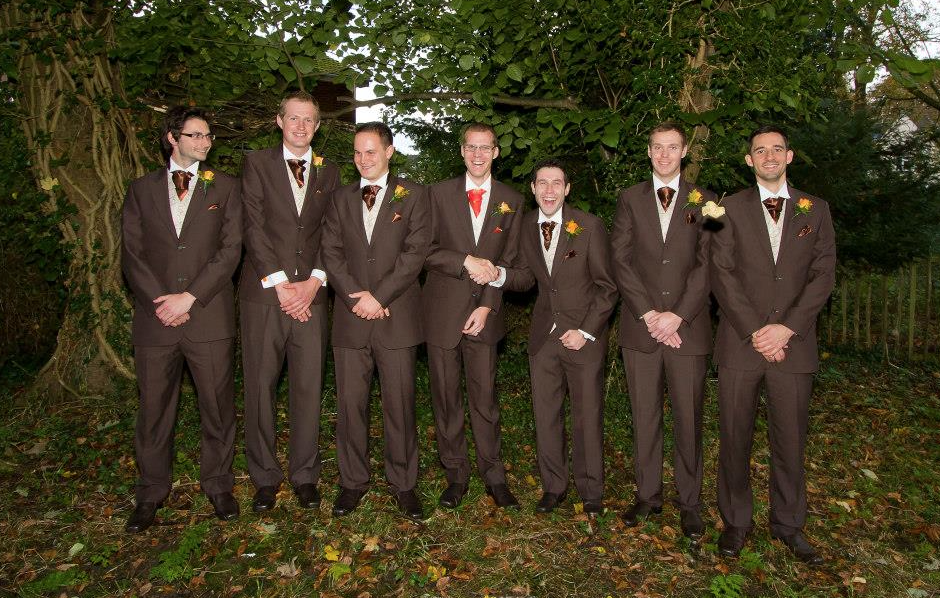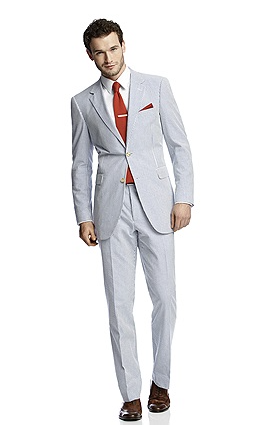 And if you're getting married where you know the sun will shine, how about trying something really special like this blue and white stripped, seersucker suit (left) from Dessy? The pure cotton allows for proper breathability, helping you keep your cool on this all important day, while the stripped pattern will really give the wedding an excited, upbeat feel.
Or for an alternative sunshine-packed wedding, groom's coloured wedding suits in khaki (right) are always a good choice and will go superbly with every colour scheme known to man, from delicate pastels to bold, slap between the eye primary reds and blues. So unleash your inner creative spirit, boys, and make a colourful impact at your wedding!