Wedding Gloves for all seasons
If you decide to go for the full elegance of gloves on your wedding day, take a little time to think about the style you want to achieve, why you want to wear gloves and what sort of style of wedding gown you are going to have.
If you want to wear bridal gloves for the sheer joy of the occasion, think about the different styles available. I have previously written about fingerless wedding gloves, for those who feel that putting on the ring is stressful enough without the extra worry of gloves to contend with! In fact, many wedding gloves come complete with an almost hidden opening on the third finger, allowing you to slip your finger out at the appropriate moment.
So if you've decided that you want to go for the more traditional glove, where better to head than to Cornelia James, who was asked by Norman Hartnell to provide gloves for the future Queen at her wedding to Lt. Philip Mountbatten. Over 70 years on, Cornelia James is probably the world's most famous and possibly favourite glove maker. The featured image of the cotton glove with a bow is from Cornelia James, as are the two below.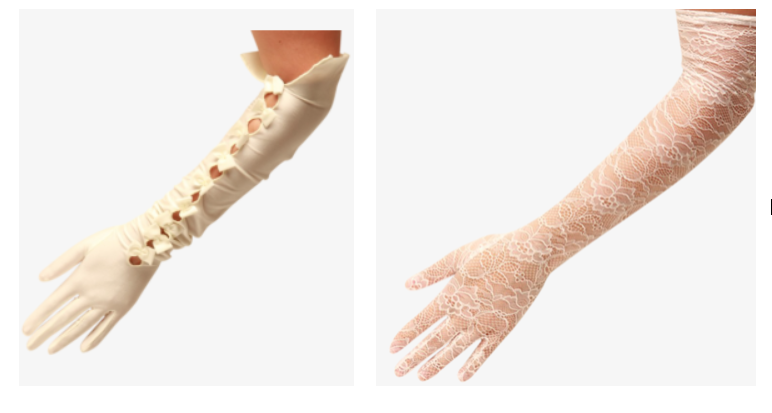 On the left is the full Opera-length Isabella Satin glove which features nine little bows the length of the arm, perfect to keep you warm if you have set your heart on a strapless wedding gown for a winter wedding. On the right is the Opera-length Phoebe lace glove (£66) which would work for any other time of year.
Another option for a winter wedding would be to wear a pair of fun woollen gloves, threaded with satin ribbon, in a colour that works with your bouquet. You've got to love this bride's style, as she carries her beautiful bridal spray created by Campbell Flowers.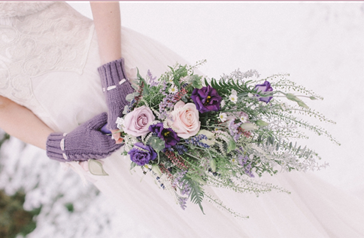 If your dress has short sleeves or is off-the-shoulder, then Elbow gloves are the length for you, such as the Hermione Duchess Satin wedding glove (£65), also by Cornelia James. Synonymous with bridal wear, Duchess Satin has a rich, glossy sheen which is joyously luxurious, if not positively regal, and holds its shape wonderfully.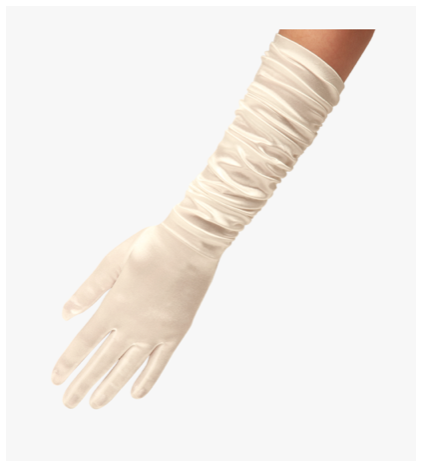 If you do decide to wear such delectable gloves as these, or equally the ethereal-looking ones below from Pronovias, it is entirely up to you whether or not you take them off for the service. If you decide that you will remove them, make sure that your bridesmaids are on the ball. You can either take the gloves off BEFORE you walk up the aisle, having had photographs taken when you first arrived at the ceremony venue, or allow yourself a good minute or two once you have arrived at the altar to calmly pass your bouquet to one bridesmaid and then your gloves to another. Practise this several times in advance so that you don't get flustered. Make sure that either you or one of your bridesmaids has a pretty but discreet bag ready into which the gloves can be folded.
I think you'll find it is worth the effort - after all, how many other opportunities are you going to get to wear such divine wedding gloves?