Cameo coloured bridesmaid dress
Cameo is a very pretty, soft beige that is just on the pink side of the spectrum, without being a blush pink. Historically Cameo was a method of carving an object such as a piece of jewellery, where the relief image was of a contrasting colour to the background. As the base was usually a coloured gem, the relief work tended to be a pale, off-white colour and in the mid-18th century, conch shells were often used for the carving, hence the slight pink tinge to the finished product.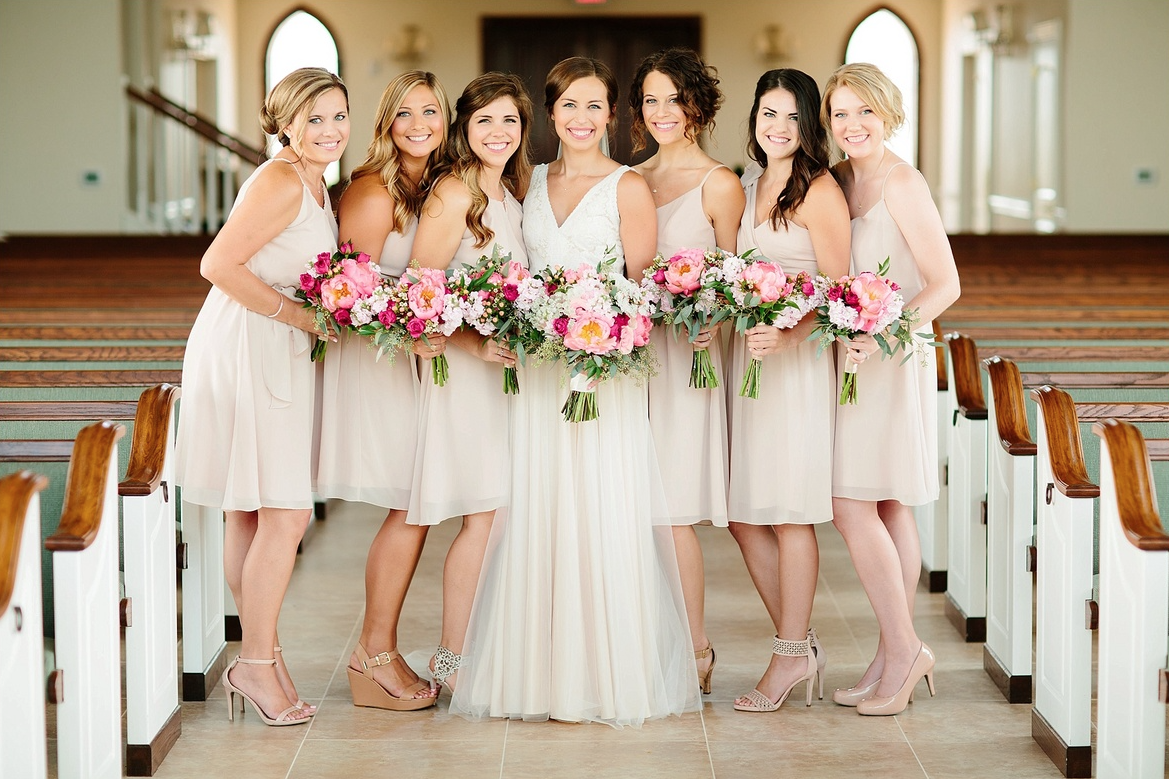 And of course that's why the bride above was so clever to choose those beautiful pink peonies with slightly orangey-coral centres and the darker pink roses, offset by the paler blooms and green foliage, to bring out the natural delicacy of the cameo colour in her bridesmaids dresses. Don't you just love those flowers?
And as is often the case nowadays, the bridesmaids are all able to convey their individuality in the choice of dress and also their shoes. But what works particularly well here, as shown so superbly in these fabulous photographs by the wonderful husband and wife photography team at Tucker Images, is that although there are a number of different cameo coloured bridesmaid dress styles, a brilliant look of wholeness has been created.
How? I hear you ask.
By very cleverly:
having the bridesmaids' bouquets identical in style to but just marginally smaller than the bride's;
dressing the girls' hair in similar styles;
creating the same, natural eye make-up look for bride and bridesmaids;
using the same pale nail varnish for all toes and fingers;
wearing the same colour lipstick for all;
ensuring that the beautiful bridesmaids dresses all had an overskirt of the lightest chiffon to echo the layers of chiffon and tulle on the bride's ethereal dress.
And all this attention to detail has resulted in flawless photographs that is pure eye candy.
To achieve a similar effect, take a look at these ideas from Dessy; like each cameo coloured bridesmaid dress above, all of the ones I've selected have a different feature to them that distinguishes them from the rest, but a luxurious chiffon overskirt to add coherence to the overall picture.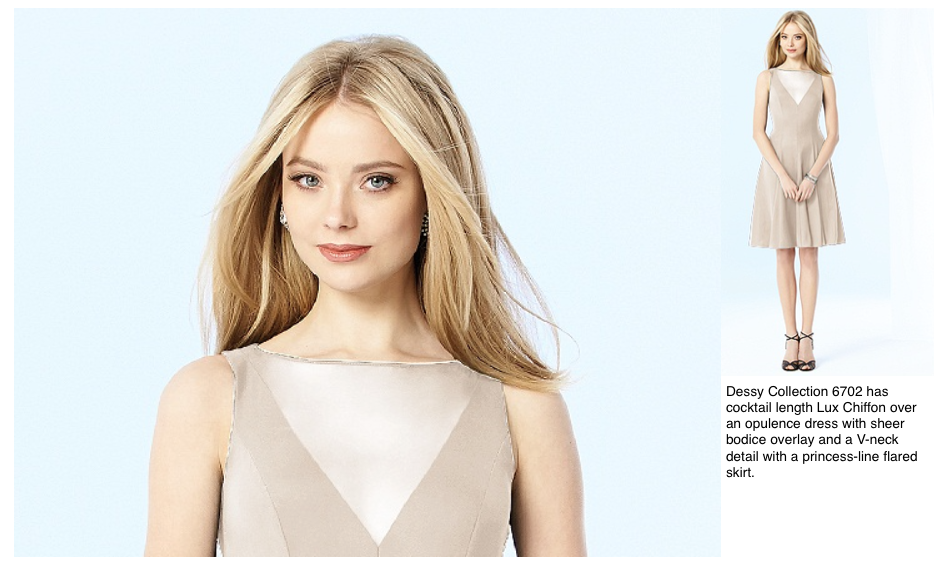 Above: Dessy Collection Bridesmaids Style 6702 in Cameo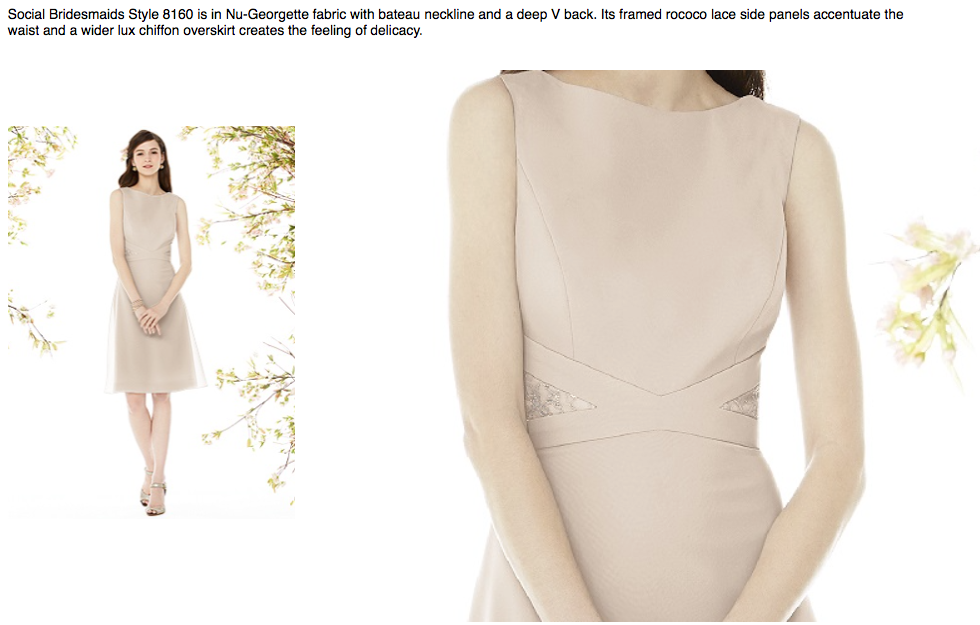 Above: Social Bridesmaids Style 8160 in Cameo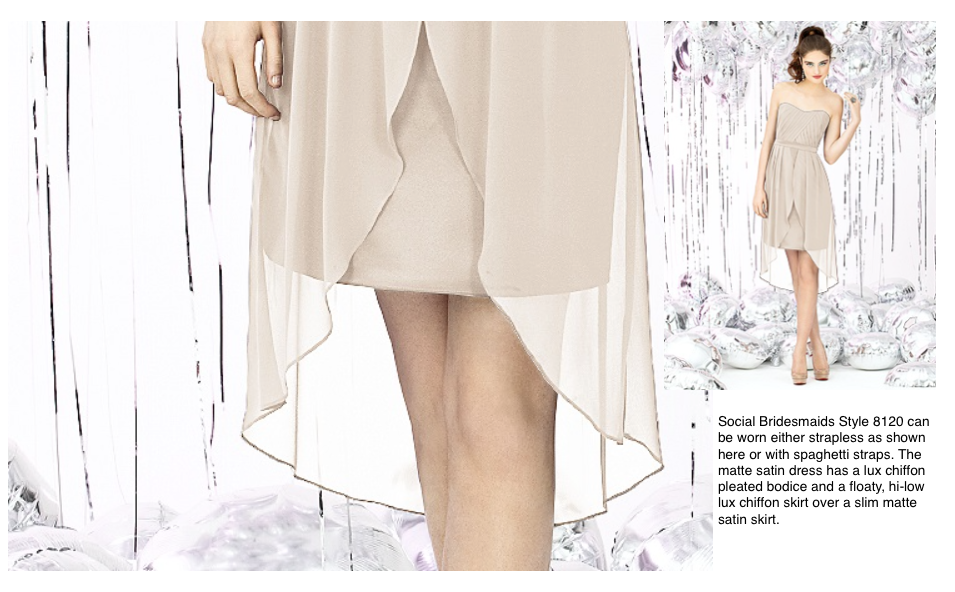 Above: Social Bridesmaids Style 8120 in Cameo
With huge thanks to Ben and Britney Tarno of Tucker Images for their gorgeous photographs of Jared and Rachel's wedding.