Red and Black Halloween Wedding
Blood Red and Vampire Black - what a fabulously Gothic combination. So if you're thinking about getting married on 31st October 2016, take a look at some of these ideas for an atmospheric red and black Halloween wedding.
Set the scene right at the beginning with this wedding invitation from Zazzle - absolutely brilliant!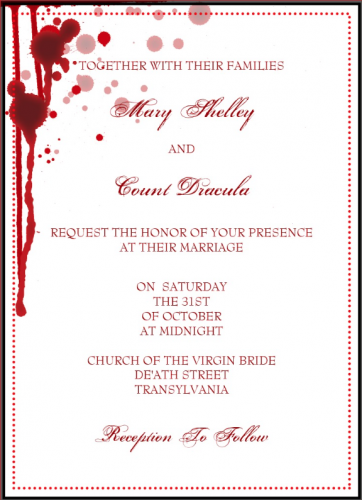 When you're planning the reception, think dark! I love these ideas from a couple of Dessy Style boards. Black ribbon on the nameplates, church candles on the tables with white and black petals strewn around them; yew and ivy as part of the decorations, both plants with magical connotations; black satin bags and shoes for the bridesmaids, red bag and shoes for the bride. Add the drama for the photos with a red backdrop, like the church with the red painted doors - what a great wedding photo that makes!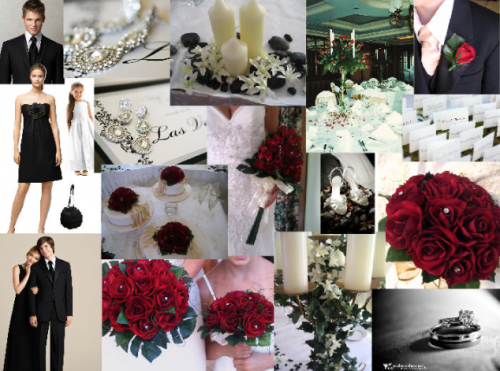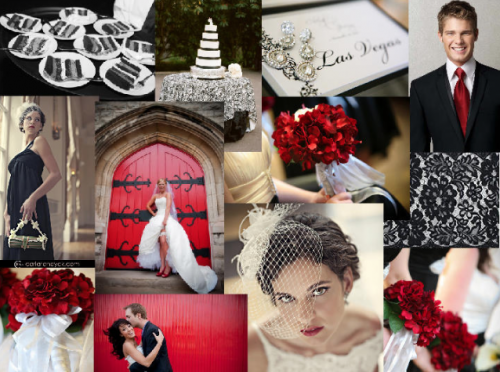 And as far as the flowers are concerned, you are almost spoilt for choice, particularly when looking at roses. I mean, do you go for the freshly spilt blood colour, or the darker, almost black crimson? Or if roses aren't your style, what about something like this bouquet below (courtesy of Pinterest), which includes all the shades of blood red imaginable? And then you could dress your bridesmaids in a variety of reds, which would look pretty stunning, and pair them with ushers in black morning suits with red satin waistcoats and ties to match the girls.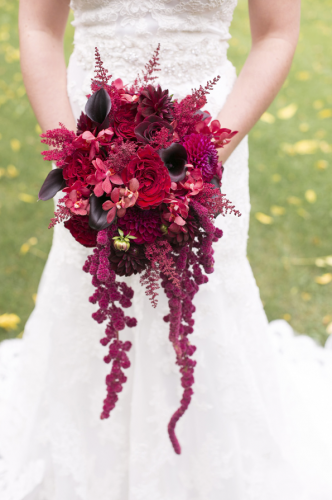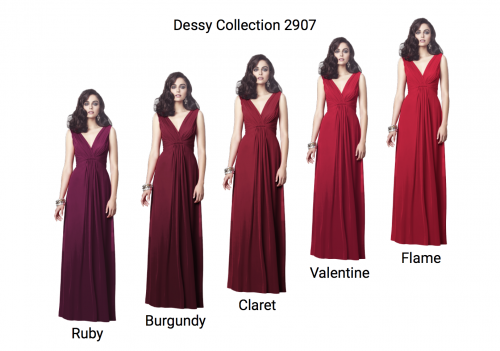 For your make-up, I'd got for smoky eyes and a pale complexion; for your lips, choose a long-lasting lipstick in the deepest of reds; and for your nails? It would have to be the appropriately named Vamp by Chanel, previously known as Rouge Noir as made famous by Uma Thurman in the 1990s cult classic, Pulp Fiction. And get that sultry attitude on for those photos!
But the most fun you'll have is choosing your food and drink, particularly the cocktails and wedding cake. You'll find great ideas on Pinterest, such as the blood red cocktails with black sugar at the top of the page, and the most fantastic red and black Halloween wedding cakes...I'm torn between the Black-iced Red Velvet cake and the 'Eat Your Heart Out' one below left - although the wedding cake below right with the brains spilling out at the top and the blood trickling over the layers is quite something too! Which would you choose?