Eight inspiring ways to decorate bride and groom chairs
Want your wedding to look just perfect in every detail? Of course you do.
So take a tip from creative wedding stylists here and think about how you can style up your bride and groom wedding chairs.
Because at a wedding, a chair isn't just a chair. Oh no. It's most definitely a styling opportunity that you cannot miss.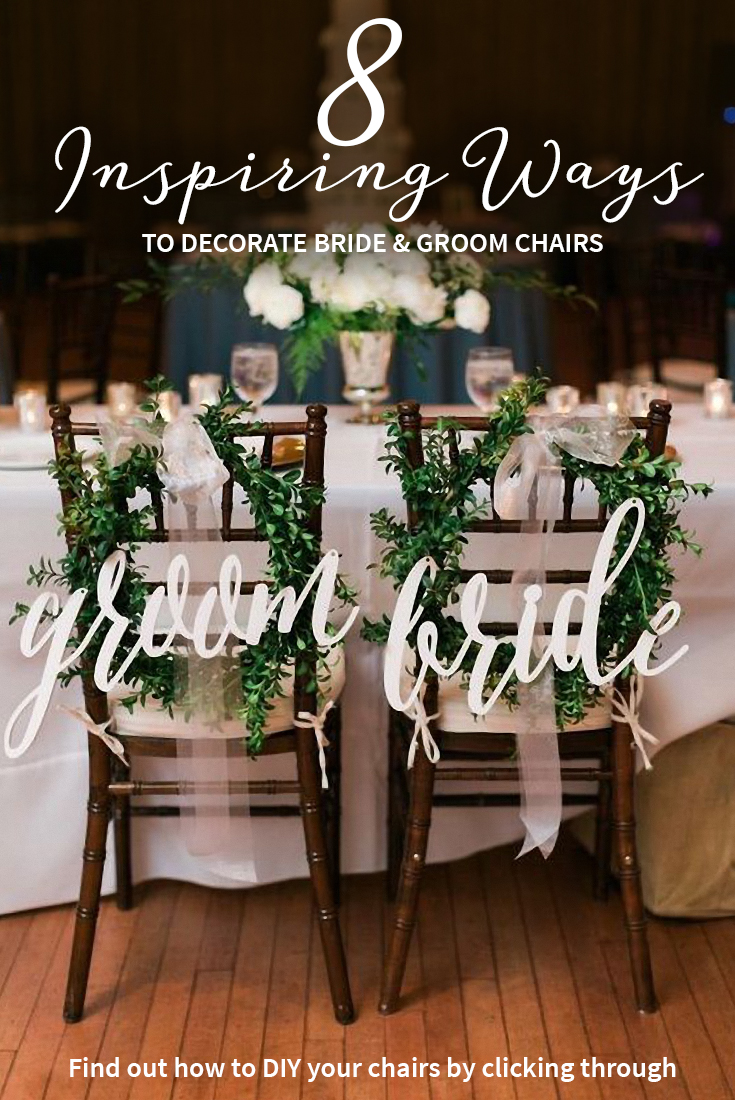 Whether you've chosen to have a rustic style wedding day, a bohemian event, whether your wedding has a real vintage thing going on or maybe some upscale glamor - your chairs can play a major part in this. Your chairs are going to take center stage at the wedding ceremony itself when you say your vows.

After you're married, you'll be seated at your wedding reception on your own chairs - either at a top table or - as becoming increasingly popular - at a table for two, set aside just for the newly married couple.
Here we're going to talk about special ways of decorating the bride and groom's chairs. Think of them as thrones if you like! After all, you two are royalty on your big day!
Practice different looks at home on your own kitchen chairs to see what you like. Consider how different fabrics will create different moods. Burlap for country style, lace for vintage, satin and velvet for a chic evening event ...
What sort of mood will you want to create? Here are some ideas …

1. Keeping it simple
One of the easiest, swiftest - but most effective - ways of decorating your chairs is by tying beautiful fabric or ribbon around the back in a novel way. If you want to be super co-ordinated, remember that you can buy fabric from Dessy that matches your bridesmaid frocks, in a myriad of different colors and finishes.
And if you need some advice on tying bows and arranging fabric, here's a useful tutorial to watch.
Takeaway tip: This is one you could easily do yourself without the help of a stylist.

2. Flower corsage
This would look equally beautiful at either a country garden wedding or a chic city wedding. Have your florist wire a spray of flowers along the side of the bride and groom chairs for a Midsummer Night's Dream effect. If you're having a city wedding, you might want to choose deep red or white roses. For a rural look, mix up wild flowers, ranunculus, daisies … your florist will have some ideas …
Takeaway tip: Make sure the flowers are well-misted with water to keep them looking fresh

3. Streaming colors
Another easy one. Buy spools of ribbon and cut in lengths. Drape over the back of your chairs and secure with a discreet staple. Choose different styles of ribbon for different effects - for example gingham would work well for a barn wedding or lace for vintage theming. Choose one color of ribbon or go for a multi-colored effect. Or choose different single colors for each chair for a contrast. Match them up to the bridegroom's accessories!
Takeaway tip: Make sure all the ribbons are cut to the same length for even draping.

4. Personalised signage
Think up a quirky message that means something to you both and have it written on a pair of signs. Slates work well for this or you could ask your stationer to create signs when you're putting in your order (match up the calligraphy too). Make sure they are of a size that will fit the chair and easy to read.
Takeaway tip: Soften the sign by having a spray of greenery attached to the side of the chair, as shown above.

5. Bride and groom signs
Keep it easy by buying bride and groom signs online (there are some beauties here) that are ready-made. Then decorate the rest of the chair as you wish - you could use the ribbon idea described above if you wanted.
Takeaway tip: Really shop around these signs, there are plenty of options out there.

6. Keep it seasonal
If you're having a Christmas wedding, then make it suitably festive. Tie a Christmas decoration or a pine cone onto the chair back and maybe add a small spray from a fir tree.
Takeaway tip: You could also use a readymade Christmas wreath here.

7. DIY vintage
This is one of the simplest but most effective ideas we've seen. Scour charity shops for some old lace tablecloths and then experiment by draping around the back of your chairs. Pin the fabric together then hide the pin with a well-placed flower.
Takeaway tip: Ask your florist which flower would look best

8. Keepsake chair
s
If you'd like your chairs to remain as a reminder of your big day, then have director's chairs personalised with 'Bride' and 'Groom' or 'Mr and Mrs' as you wish. You could stencil them yourself if you wished - here's an easy guide on how to stencil on canvas.
Takeaway tip: These might make good wedding gifts from somebody
Credits: All images from Pinterest, in order from top: DIY Projects for You; MODWedding, Rock N Roll Bride, Want That Wedding, Laura Ashley, Mod Wedding, Jay C Winter for Wedding Chicks