Giving your wedding a GOLDEN glow
The BIG wedding news of the moment has of course to be Prince Harry's wedding to Ms Meghan Markle.
It's a golden moment for weddings indeed. And actually, your wedding day should be one of the most golden moments of your life.
So this inspired us today to think of using the color gold on your wedding day.
Why is gold a glorious color for weddings?
Because traditionally it's the color of wedding bands
It's a precious metal
Gold signifies security
It also denotes real value - "she has a heart of gold"
Any month of the year
Gold looks wonderful at any time of year. It's warm and embracing in the winter (and of course is a given at a Christmas wedding) but also adds sparkle and shine to a summer wedding. Spring is a golden time too, with naturally golden flowers like daffodils and tulips in abundance and as for fall - well you have all the golden colors from the trees to be considering.
In different venues
If you're having a city wedding, then a gold theme would be ritzy glitzy enough for the smartest venue
Of if you're getting married on the beach, the whole wedding party could be dressed in white with gold accents (like jewellery, sandals ...) The bride and bridesmaids could wear goddess-style dresses like this one from Dessy.
Ways to use golden accents on your big day
Well, you could go all out and have a golden wedding dress. There are some beautiful ones around. But if that feels a bit too much for you then consider a frock with golden thread woven through it, on the bodice maybe.
Tie the look in by dressing your maids in Dessy's spectacular gold sequinned dresses - or put them in gold sequin separates (which they will LOVE wearing).
You could also have your wedding veil edged with gold.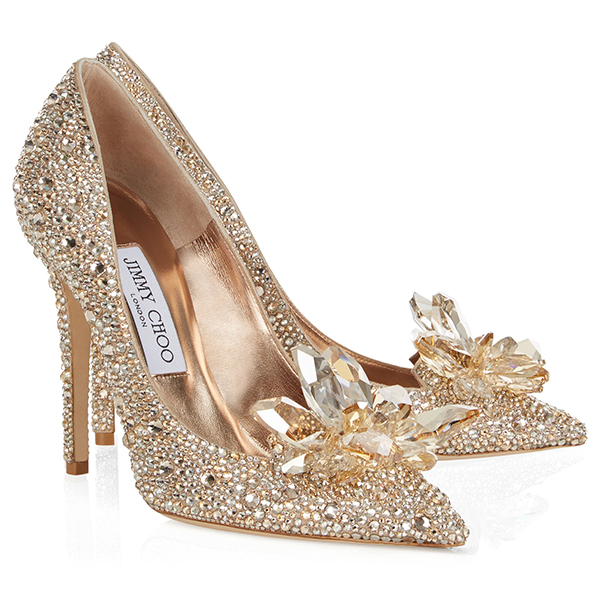 We always love it when brides choose metallic shoes - particularly as you're much more likely to wear them after your wedding day than traditional white or ivory. (So it's time to treat yourself to those strappy metallics you've always had your eye on).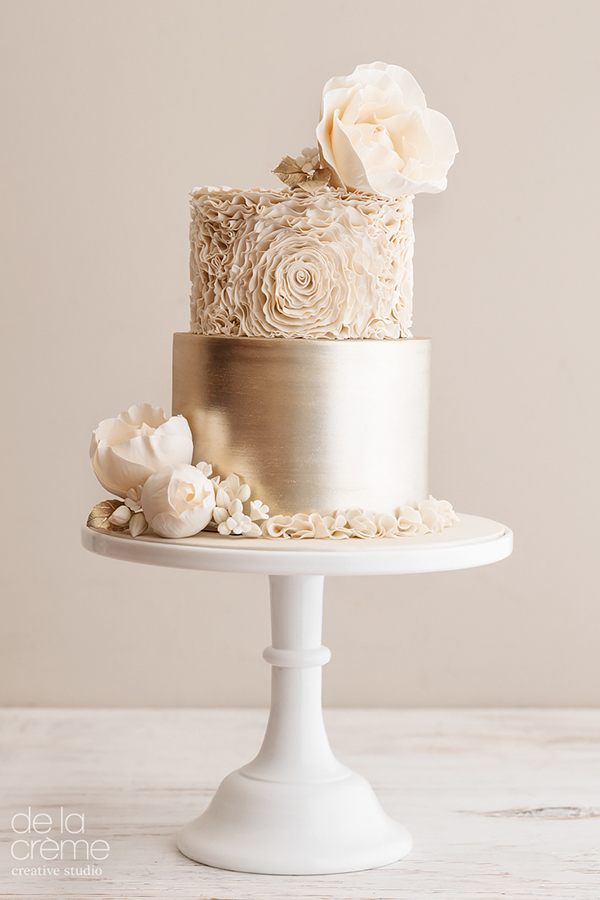 Image credit: De La Creme Creative Studio
Gold leaf on your wedding cake would look AMAZING.
And you could investigate using gold on your place settings.
As for your stationery, gold has just so many options. You can be ultra traditional and have gold edged wedding invitations on white card. Or gold calligraphy.
Have your seating plan written in gold calligraphy and place it inside a golden frame.
We could go on ... there is just so much potential with this theme. But just check out the images we've found here and then take a look at Dessy's gold weddings board on Pinterest which is just packed full of inspiration.