15 reasons why the convertible twist dress is a bridesmaids' favorite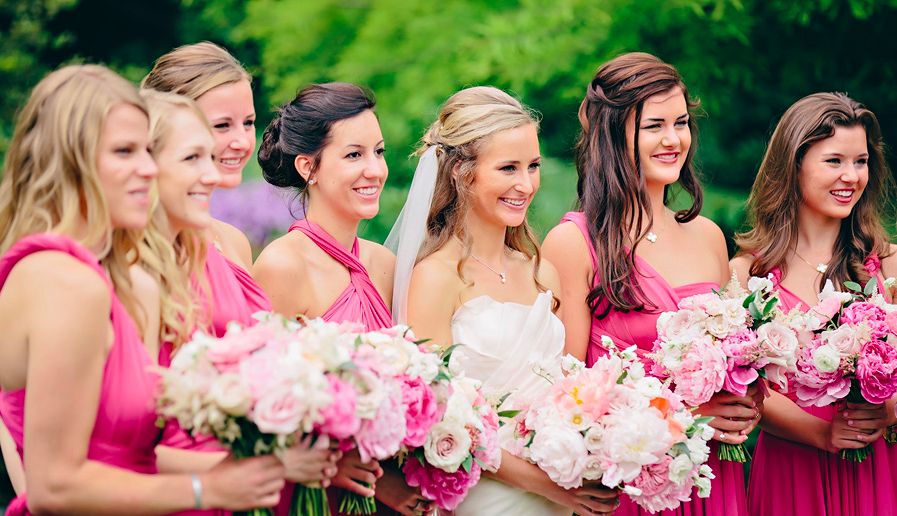 Every girl gets to wear a style that flatters her figure. Love your shoulders? Show them off. Self-conscious about your waistline? Adjust the draping.
The Twist Dress comes in a variety of gorgeous fabrics and lengths.You can choose jersey, a chiffon overlay, long, cocktail length, add a bandeau ...that's why they're convertible.

Trousers at a wedding. Why not? The Twist Wrap Shimmer Jumpsuit drapes so elegantly ...
Want to look demure at the afternoon wedding but smokin' hot at the evening party? Adjust your dress accordingly.
With 32 different Pantone colors from which to choose, you can mix and match to your heart's desire. Every girl gets to choose a color that suits their complexion.
It's easy to create an ombre effect all the shades on offer - platinum, heather and tahiti shades would look just fine.
Metallics? Yep, you got them. There's a Soho Metallic Twist dress, a shimmering jersey dress and of course the Metallic Jumpsuit.
So the wedding is on a tropical island and you forgot to pack an iron? The Twist Dress is a perfect traveling companion and just shakes out, fresh and ready to go, with no wrinkles from long haul flying.
This really is a bridesmaid dress that will be worn over and over again. Rather than a curiosity that hangs at the back of the closet, taking up space for no particular reason.
Create color combinations by working a bandeau in one shade with a twist dress in another. Maybe monochrome. Maybe shades of pink?
The Twist Wrap Dress is a modern day classic so it's not going to look hilariously dated in photographs. The look is all in the cut and the drape, not in fussy details that are going to scream "that was 2018" or whenever.
If you've added a few pounds or lost a few in the run up to the wedding, then a Twist Dress won't mind too much. It's forgiving that way.
A Twist Dress is a great option to wear during pregnancy. Wrap your bump in whatever way makes you feel comfortable.
Nobody feels like an identikit bridesmaid. Unless of course you girls all decide to wrap your dresses in the same way. Your call.
We've yet to see a photograph of a bridesmaid looking unhappy in a Dessy Twist convertible dress.