How to style a Great Gatsby wedding theme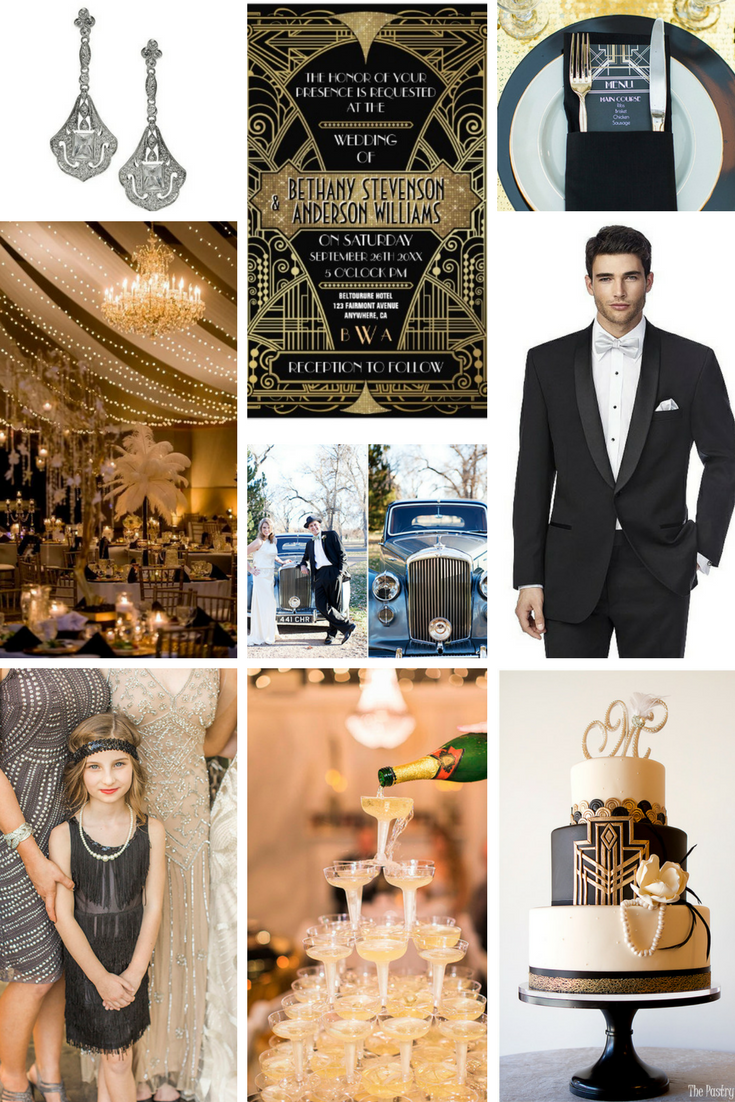 Love vintage style?
Love Art Deco? The glamor of the 1920's? Want to learn to dance the Charleston?
Want a fabulous, unforgettable wedding theme?
Then a Great Gatsby-styled wedding day could be super cute and perfect for you.
The music
We think a live band if at all possible. In the 1920s it was all about the Charleston and Jazz.
The dress code
To really make this style of wedding work, it would be best to guide your guests on what to wear. Put 'Great Gatsby style' as your dress code and see what happens. You're probably going to see plenty of Daisy and Gatsby lookalikes.
The 1920s was a very elegant era and the flapper style of dress suits many different shapes of women. And what man doesn't look good in a tuxedo?

Your colors
Black and gold work really well for this wedding theme. Although you could also have silver and black if you prefer.
On your tables, have centrepieces of white and black fluffy ostrich feathers
Have black charger plates and gold cutlery
Make sure your invitations and place settings are printed in classic Art Deco style.
Entertaining your guests
Have some paparazzi dressed as old-style journalist hacks, taking photographs as your guests arrive (and make sure there's a red carpet.
(By the way, make sure you arrive in a vintage car.)
You could have a speakeasy bar for your guests for serving drinks.
Then maybe some blackjack tables in a corner.
Have a photobooth with dress up clothes. We're thinking feather boas, long strings of pearls, 1920s style flapper hats, trilbys for the men, some sharp double breasted jackets.
On a wall you can have some old black and white movies playing (without the sound). We're thinking Some Like It Hot?
The drinks
Cocktails ruled supreme in the 1920s so a cocktail bar, complete with a barperson and a cocktail shaker, is a must if you want to get the mood just right.
This is a theme that's going to razzle dazzle you.
Main image credits clockwise from top left: Art Deco earrings by Dessy, Deco invitation via Zazzle, Place setting via Pinterest, Tuxedo by Dessy, Art Deco wedding cake by The Pastry Studio , Wedding Chicks, Wedding Chicks, Pinterest.