Watch this video and you'll be surprised at how wedding gowns have changed in the past 100 years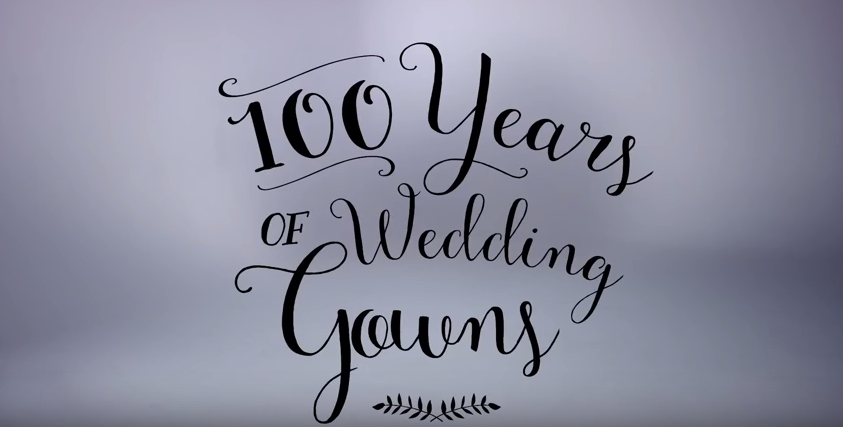 Click below for the video. It'll be interesting to know what you think. We actually thought that it was interesting how little wedding dresses have changed - and how some trends have even come back.
The first dress - a Downton Abbey-style wedding gown dating from 1915 - actually showed the bride wearing a veil that was very similar to the one that Meghan Markle wore at the Royal Wedding recently, right down to the scalloped edges. Just shows that real style never goes out of fashion.
Next up was a flapper style dress from the roaring 1920s - the decade of dancing The Charleston. Actually 1920's style dresses have never really lost popularity and many couples today decide to have a 1920s-styled day. In particular, the veil style - slightly bunched up around the ears - is a favorite with vintage brides.
One of the most timeless dresses - give or take a few details - is the 1935 wedding dress. Based on a bias cut slip dress, it's overlaid with a long lace coat. Change the collar a little and you could wear it today. The buttoning at the front is exquisite. (Actually we LOVE the idea of having a long lace 'coat' over a slip dress. Perfect afternoon to eveningwear.
The 1940's style wedding looks a little dated - and today's brides tend to prefer a gown that is more fitted.
Moving onto the 1950's dress. Today's brides styling a vintage style wedding day would just love to find a dress like this. A full skirt is overlaid in lace and lace is right back in style now. Really pretty. Did your great grandmother wear something similar?
In our view the most dated veil and headpiece is the one worn by the 1960s bride, with an oversized bow. The skirt has a tulip shape which you don't see so much now either but it's certainly a very romantic dress.
Moving onto the 1970s. If you're aiming for a boho-style day, then this is a dress we think you're going to love.
The 1980s style dress is certainly of its time, right down to the puff sleeves. Perhaps we'll leave things there.
The mid-1990s dress hasn't really dated much. You could wear that today and you'd look very chic. Again, you might want a more fitted gown but the off-the-shoulder look is right back in style.
Moving up to more recent times we have a strapless wedding dress - very popular with today's brides still and then a dress that is a nod to the gown worn by the Duchess of Cambridge at her 2011 wedding.
Wonder what the future holds for wedding dresses? What do you think?