5 Beauty Mistakes NOT To Make Before Your Wedding Day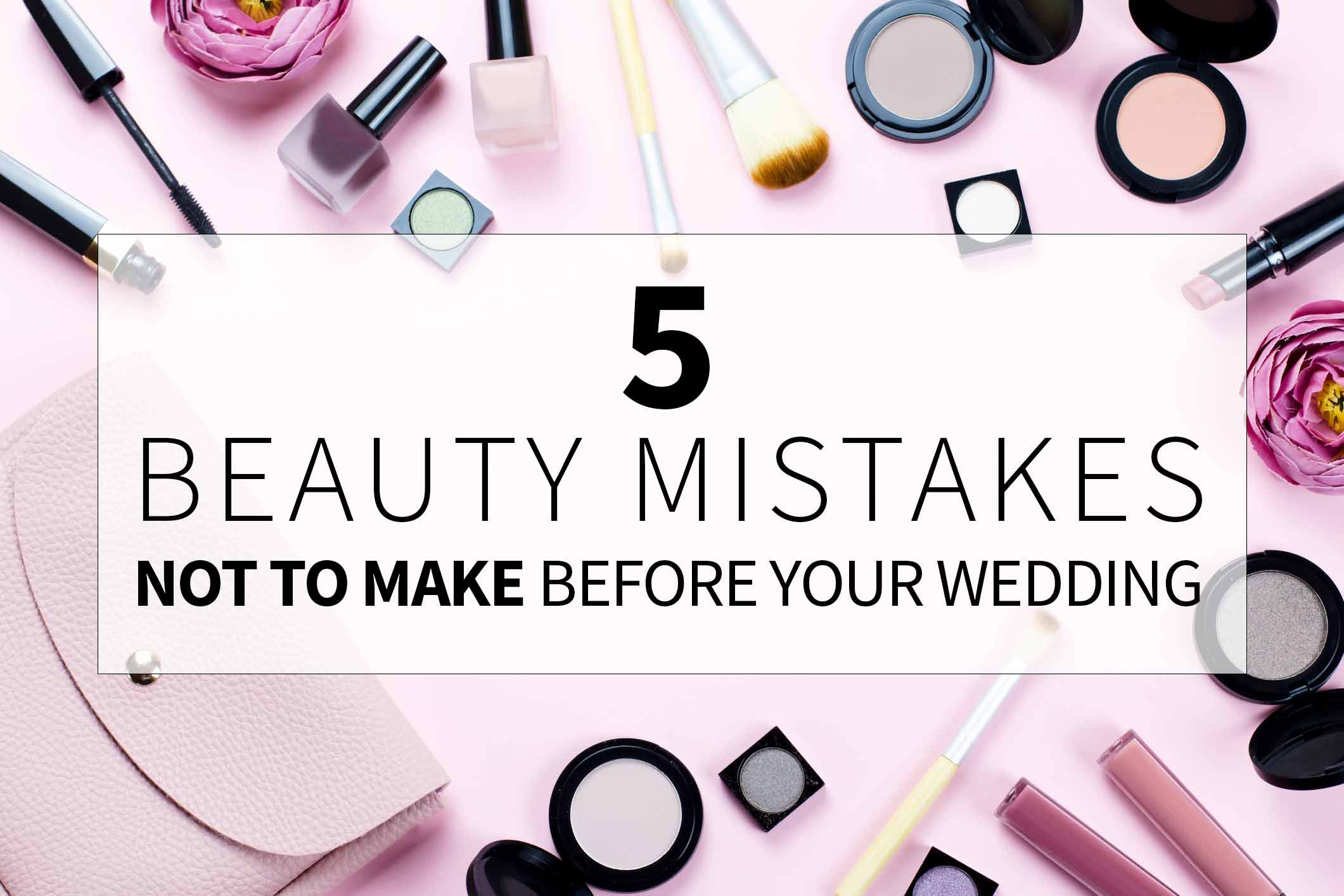 Sadly some brides make classic beauty mistakes before their wedding day and have to live with them long afterwards. Every time they look at their wedding photographs. Not something YOU want to be doing.
So here are five key bridal beauty errors to avoid ...
1) Getting tan and having strap marks which show at the neckline of your wedding dress. This is an easy one to forget about until it's too late. I've seen several photographs of brides with visible white strapmarks showing above their dress - and that goes for the bridesmaids too. So if you're trying to get a bit of a glow before your wedding day, watch what you're wearing and make sure your tan isn't going to leave visible marks - you need to have even skin color at the neckline of your wedding dress and you don't want to be trying to patch things up last minute with fake tan. Far better to be careful in the weeks before your wedding when you go out in the sun.
2) Completely changing your make-up. You may lack the confidence to do your own make-up on your wedding day and decide to use the services of a professional make-up artist. In that case, give her plenty of photographs of you so that she can see what your normal look is. You don't want to walk down the aisle looking nothing like your normal self - your bridegroom will get a shock and he fell in love with the way you look - not somebody who looks like a stranger. Oh, and ditch the lip gloss on your wedding day - it's likely to stick to your veil.
3) Overplucking/waxing your eyebrows before your wedding. Again, this comes under the advice given above - don't make drastic changes to your look. If you've never waxed your brows you might have a reaction to the procedure so you don't want to do it just before your wedding anyway. Your eyebrows frame your eyes and are a key part of your face - so don't change them dramatically in the build-up to your wedding. Get them professionally shaped by all means - but don't do anything too much.
4) Having a facial in the week before your wedding. Facials are supposed to wake up your skin, brighten and get rid of toxins. Which means that you're stirring everything up and those toxins are likely to come out in the form of spots and blemishes. (Ewww - not a good look for those all-important wedding photographs.) So have a facial a few weeks before so that your complexion has time to calm down.
5) Dyeing your hair a completely different color, having extensions for the first time, having a drastic hair cut. Again - you really don't want to have something done that you can't change before your wedding day and which doesn't suit you. Certainly, you should have your hair trimmed and deep conditioned so it looks its glossy best but don't become a platinum blonde if you're a brunette (or the other way around). If you must, save hair style explorations for after your big day when the photographs are safely taken.
Have you ever been to a wedding where you a) Didn't recognize the bride because her look had completely changed? b) Heard of pre-wedding beauty disasters? Let us know on our Facebook page to warn other brides to be!