A Match Made in Heaven: Six Tips for Choosing Mix-and-Match Bridesmaid Dresses
We've got good news for the bride-to-be who believes that one size should not fit all! Ultra-trendy mix and match bridesmaid dresses are here to stay. With mismatched styles, the bride's crew can sport dresses in different colors, styles and textures for a totally unique and one-of-a-kind approach to bridesmaid styling.
Why mix and match? This trend is both high-style and highly practical — because let's face it, your girlfriends are not carbon copies of one another. It allows them to select gowns that are figure-flattering and complement their personalities. When your girls feel like themselves, they'll shine like the stars they really are!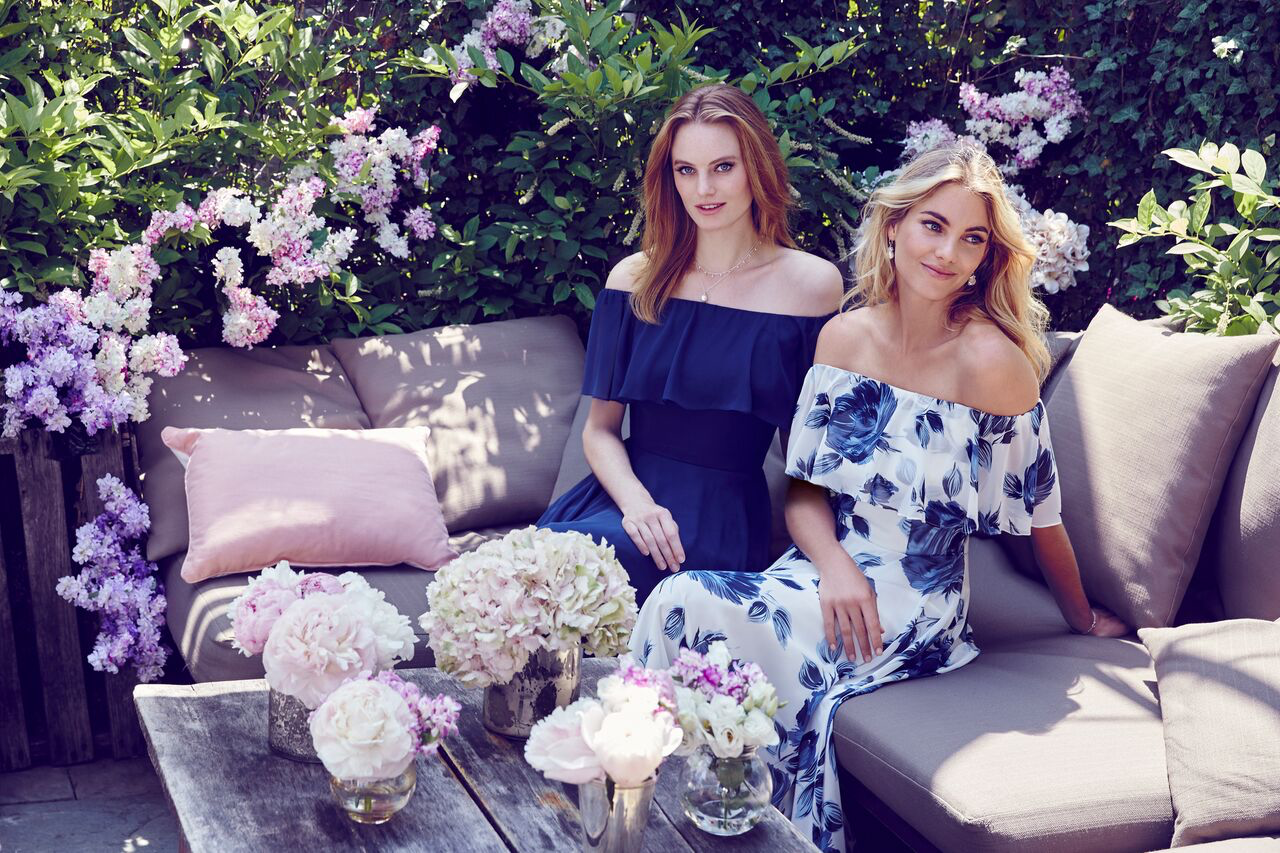 Ready to hop on the mix and match bandwagon? Here are some of our best tips for choosing mismatched bridesmaid dresses that please all bridesmaids and still play into your dreamy bridal theme.
Pick a Base Color — If you like the idea of a little bit of matchiness, you can start by choosing one main color and then ask your ladies to pick gowns in different variations of the same theme. For example, if you've decided that you want blue bridesmaid dresses, decide on a few specific shades of blue and then allow your ladies to choose the one they like the best. You can mix turquoise, dusty blue, navy blue, berry blue and more to create a cohesive look that doesn't feel forced.
Pick Complementing Colors — Not keen on going all in one shade? No worries! Think about creating a color palette that includes a wide range of complementary colors and then allow your bridesmaids to choose the hues that speak to them. Popular palettes include soft hues, pastels and jewel tones. You can also pick just two colors, like pink and gold, to create a two-toned look.
Go Convertible — One of the simplest and most popular ways to achieve the mismatched bridal look is through convertible bridesmaid dresses. These dresses are designed so that they can be worn in an assortment of ways, from cap sleeve to halter to one-shoulder to backless. The beauty of going the convertible route is that your crew can match in color and texture (or you can opt to mismatch there too), but everyone gets a totally flattering fit. These are also some of the best bridesmaid dresses for destination weddings because they're made with packable fabrics.




Mix Different Textures — Color isn't the only thing that you can mix and match! You might also consider pulling together different fabrics to add a the-same-but-different feel to your bridesmaid style. Pair chiffon with velvet, jersey material with satin or mix them all together for a totally multidimensional look that still looks intentional and tailored. You can also mix and match with finishes. Pepper in lace, rhinestones, beaded trim, mesh, pleats and more for a fun take.
Add Some Prints — Who says bridesmaid dresses have to be solid-colors? Not us! In fact, patterned bridesmaid dresses are some of the trendiest options du jour. Dress a few ladies in floral prints, stripes, dots and other fun patterns, then ask the other bridesmaids to sport solid-colored gowns in matching hues. This is the perfect way to bring a little bit of excitement to the bridal party style without the overdone feel of dressing everyone in busy patterns.




Think Beyond the Dress — Some bridesmaids won't feel comfortable wearing a dress, and it doesn't hurt that nothing is more in-style than the dressy jumpsuit. Allow one or two of your ladies to swap the traditional gown for a bridesmaid jumpsuit that screams chic! You can have the entire crew don the jumpsuit or just include it here and there for a runway-ready feel.
Matching Is for the Birds
When you're picking out bridesmaid dresses, remember one thing: There's no formula to fashion. Don't feel like you have to follow a specific set of rules or prescriptions when you're tying together your wedding theme. If you're all about breaking boundaries or if you want your best girlfriends to feel their absolute best on your big day, you can't go wrong with a little mixin' and matchin'!