Playing with Pinks: Rose Gold, Pink and Blush Bridesmaid Dresses
Ah, pink — the color of caring, compassion, sweetness and unconditional love. With such strong meanings attached to it, is it any wonder that various shades of pink have found their way into so many weddings?
If you've fallen in love with the color pink and want to include it in your wedding color palette, why not start with your bridesmaid dresses? Playing around with different pink hues can give you the inspiration you need to officially settle on the perfect color combination for your big day.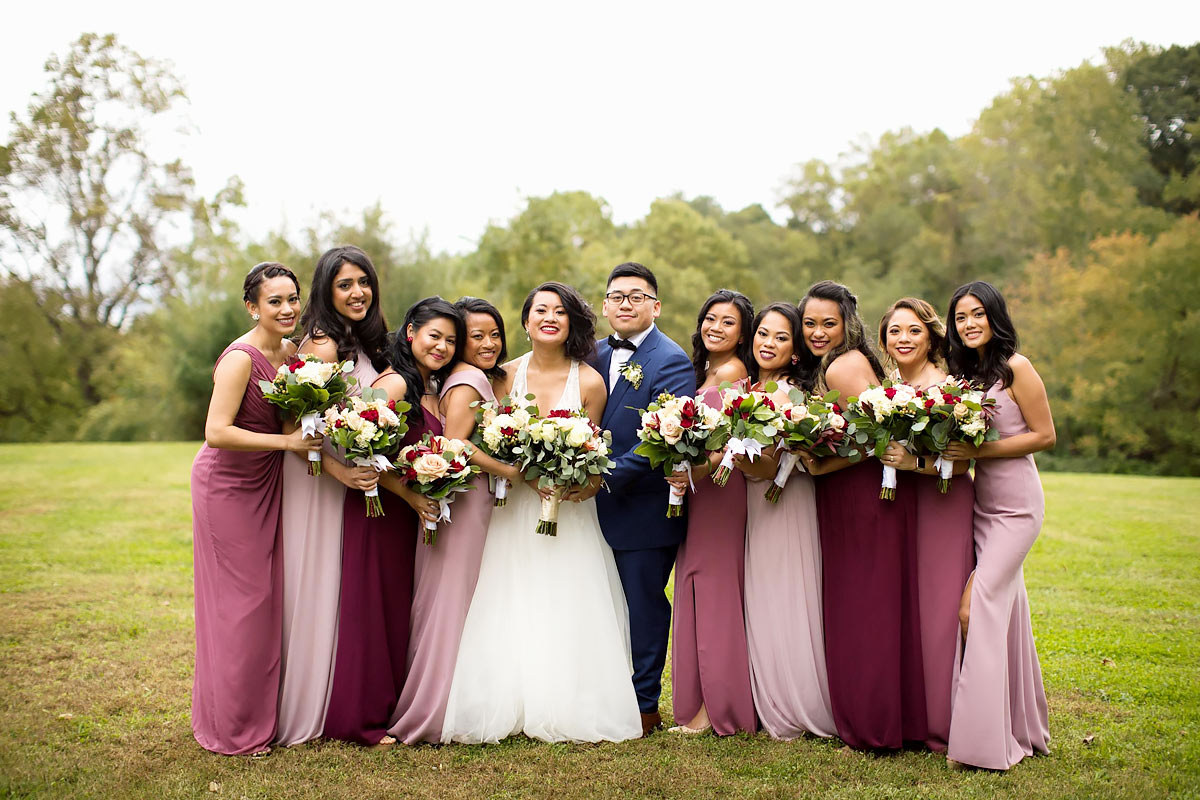 DESSY REAL WEDDING | Dessy: 3019, 2905, 3013 | Alfred Sung: D692, D691 | Social Bridesmaids: 8186, 8190, 8183 | Photographer: @richardbflores
Ready to fall in love with the perfect shade of pink? From romantic pale pink to rose gold and blush, these pink bridesmaid dresses will bring your wedding day vision to life:
Rose Gold
Yep, rose gold is still in vogue. Although it was Pantone's Color of the Year in 2016 under the moniker Rose Quartz, the lux glow of rose gold was just too good to let go after only one season.
It's easy to see why brides and their bridesmaids adore this color. Stunning, feminine and classy, rose gold is universally flattering on nearly every skin tone and can make wedding details pop.
Here are our favorite wedding combinations for rose gold:
Rose Gold, Ivory and Blush — Rose gold is a beautiful metallic color that has a big visual impact. If you want your wedding to be luxe yet dreamy, consider pairing rose gold with softer colors such as ivory and blush.
Rose Gold and Navy — For a bold look, create a wedding color palette with navy and rose gold. Strong yet feminine, this color scheme will please both your bridesmaids and the groomsmen.
Rose Gold, Charcoal and Pale Pink — If your wedding is in the fall or winter, incorporate charcoal to darken the illumination of metallic rose gold. Keep things ultra-feminine with a soft pink.
Rose Gold Bridesmaid Dresses
There are few things more stunning than rose gold bridesmaid dresses in a range of shades. Your leading ladies are guaranteed to wow in these gorgeous sequin bridesmaid dresses:
Pink
From bright pink to dusty rose, there is a shade of pink for every modern bride. With so many variations, you'll have plenty of ways to make your wedding truly unique.
Need some pink color combos for your wedding? Here are some of our favorites:
Jewel Tones — Dress your maids in punchy pinks, purples and reds for a bold yet playful color scheme.
Pink, White and Ivory — Let soft pink take center stage by pairing it with white and ivory. Pale pink accents will give your wedding a sweet, romantic vibe.
Pastels — Trying to find a suitable pink color scheme for a winter wedding? Add a hint of warmth to a blue winter wedding with suede rose bridesmaid dresses.
Fuchsia, Orange and Lime Green — When done correctly, this bright and lively wedding color palette is breathtaking. To achieve perfect balance, be sure to use plenty of white in your décor to lower the intensity of these bold accent colors.
Pink Bridesmaid Dresses
From English rose to carnation, it's difficult to settle on the perfect pink for your wedding. If you're still undecided, try imagining your maids in these pink bridesmaid dresses that are designed to impress:
Another trend you might consider is floral print bridesmaid dresses. Check out the many floral options at Dessy and find the perfect pink floral for your summer wedding.
This Jenny Packham dress in style JP1007 is perfection.
Blush
Blush is the ultimate fairytale wedding color. This dreamy color has become so popular that some modern brides are choosing blush colored wedding dresses for their big day!
One of the perks of a blush wedding is that it's both timeless and versatile. Here are a few wow-worthy blush wedding combos that will make your big day one to remember:
Blush, Navy and Gold — Navy will give your blush some edge, while adding gold gives it a luxe vibe.
Desert Hues — For a boho-chic, desert-inspired wedding, let your bridesmaids choose dresses in brown, tan, blush and English rose. Play up the desert theme with potted cacti, succulents and copper tones.
Sage, Light Blue and Blush — These three soft colors come together for an absolutely gorgeous, whimsical wedding. For a similar color scheme that's slightly bolder, swap marsala for light blue.
Blush Bridesmaid Dresses
If you want to ensure that all your ladies look gorgeous on your big day, you can't go wrong with blush bridesmaid dresses in both short and long styles. Here are a few of our favorites:
Let Dessy Help You Find the Perfect Pink Bridesmaid Dress!
Still stumped for pink bridesmaid dress ideas? Check out our wedding inspiration styleboards and play around with more colors. Whether you put your girls in pink or something else entirely, you'll be confident that you've made the right choice. Happy picking!