Stunning Sparkles: 7 Reasons to Choose Sequin Bridesmaid Dresses

Real Dessy Wedding | Photographer: Emily Nicole Watkins
Want to make your leading ladies shine with a hint of Old Hollywood glam? Give your squad some sparkle on your big day by outfitting them in sequin bridesmaid dresses.
Opulent and gorgeous, sequin bridesmaid dresses come in an array of colors and styles to suit any bridal style. With their timeless appeal and glamorous vibes, this trend has taken off in the bridal fashion industry.
As you can see, we're definitely loving this on-trend look for bridesmaids. If you're still undecided on whether to rock this trend, we have a few convincing reasons for why you should consider sequin bridesmaid dresses for your upcoming nuptials.
1. Sequins Are Timeless
If history is anything to go by, you can always count on sequins to be a recurring fashion trend. They've been bedazzling famous people for thousands of years, from ancient pharaohs to iconic music groups.
Unlike other bridesmaid dress styles, chances are good that you won't look back at your wedding pictures and cringe at what your gals are wearing. Timeless and elegant, sequin bridesmaid dresses are one of the safer trends you can rely on to age well in photos.
2. Get a Luxe Look for Less
If there is any dress style that will make your squad look like a million bucks, it's dresses embellished with luxe sequins. Best of all, it can give the high-end look for less! Don't believe us? Check out these stunning sequin bridesmaid dresses, all of which are under $300:
3. Make Your MOH Stand Out in a Sequin Gown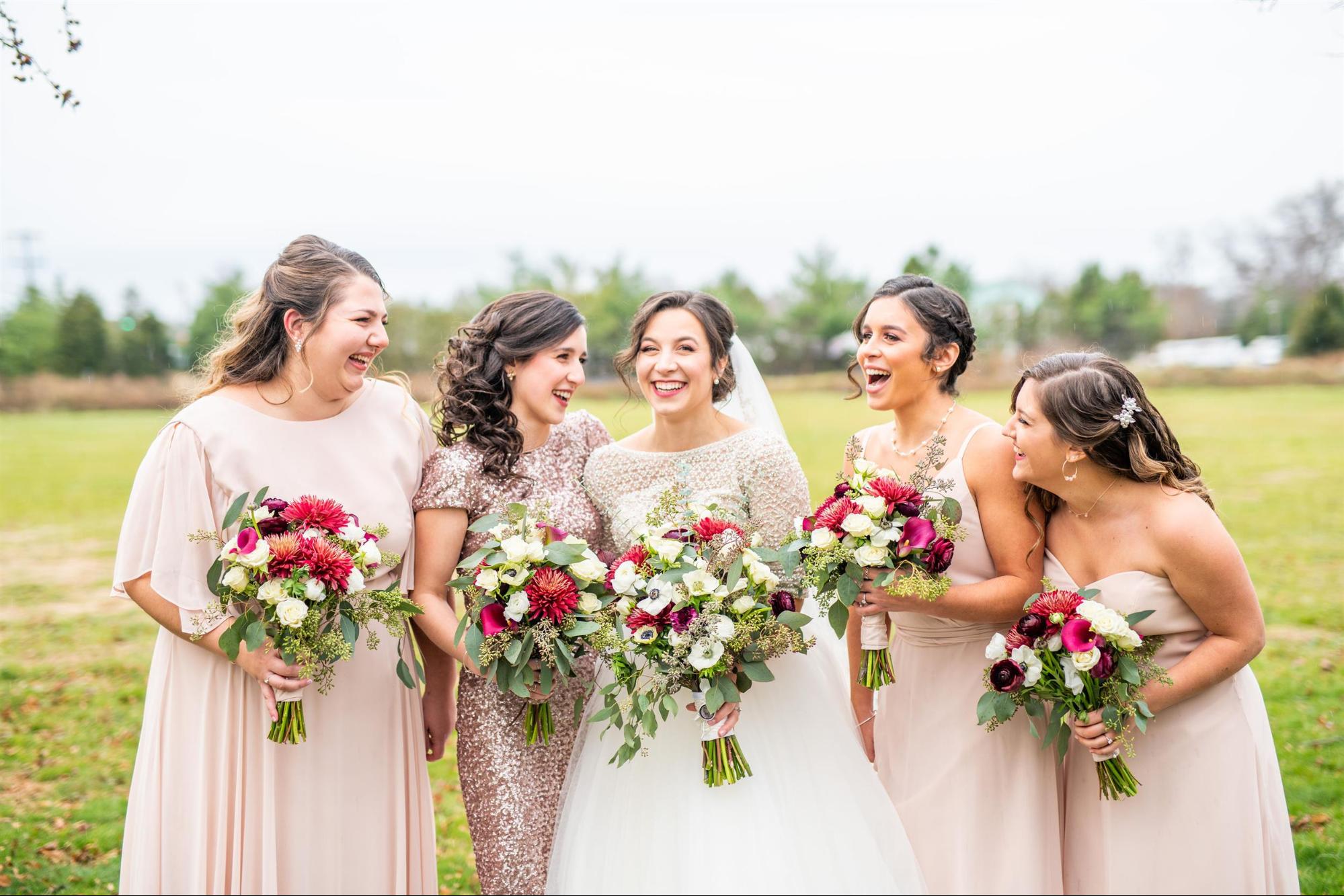 Real Dessy Wedding | Photographer: Kaitlyn Ferris
If you don't want to go overboard on the sequins, consider outfitting your maid of honor (MOH) in a sequin dress while the rest of your crew wears chiffon bridesmaid dresses. This is an excellent way to make your maid of honor stand out and give her the special recognition she deserves as your right-hand woman.
If your MOH would rather pass on the sequins, you can still keep the trend to a minimum by taking advantage of the mismatched dress trend. Have all your maids wear the same dress style and let them choose complementary colors within your wedding color palette. The bridesmaid with the sequin dress will pop against the other colors, creating a multi-dimensional look that's on-trend.
4. Perfect Option for Fancy Wedding Venues
Whether you're getting hitched in a swanky hotel or tying the knot on a private estate with a gorgeous ballroom, sequin bridesmaid dresses are evening wedding perfection. A bit of luxe shimmer and shine enhances the sophistication to floor-length bridesmaid dresses and fits in perfectly at any glamorous wedding venue.
When your maids are wearing sequins, you also don't need to worry so much about donning bridal accessories to elevate the look. The sequins are a statement in themselves, making them effortlessly elegant for your high-end nuptials.
5. A Style Your Maids Are Guaranteed to Love
Finding bridesmaid dresses that all your leading ladies adore can be tricky. Even though everyone has different color and style preferences, you still want to do your best to ensure they all love what they're wearing on your big day.
Even if your maids aren't huge fans of the color you chose for them, they may have a change of tune if the dress is adorned with sequins. Don't ask us why, but the love of all things sparkly appears to be hardwired into our DNA.
6. An Option Your Ladies Can Wear Again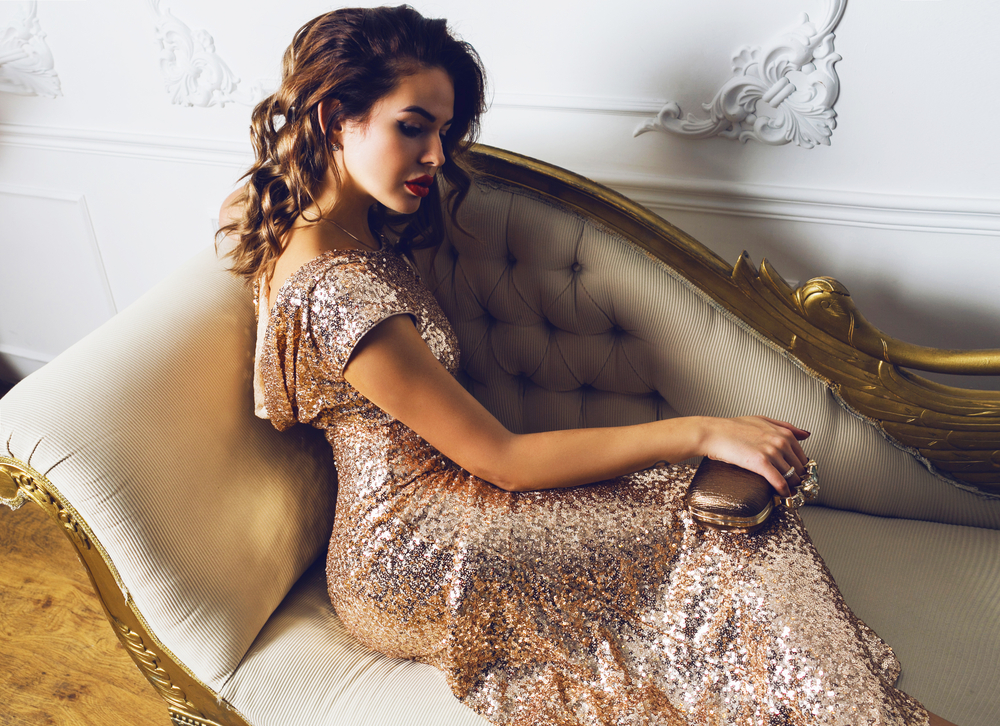 Many brides will swear up and down that her maids will find ways to re-wear their bridesmaid dresses. In the case of sequin bridesmaid dresses, this is completely true.
Sequin dresses are incredibly versatile and timeless. Perfect for New Year's Eve parties and evening galas, your gals will have no trouble finding ways to re-wear their gowns after your wedding day.
7. Sequins Make the Dress Color Pop
Sequins have a magical ability to make any dress color pop. From dark green to ivory, bridesmaid dresses of every color will pop with a hint of shimmer.
If you love the rose gold bridesmaid dress trend, you'll definitely fall in love with rose gold sequin bridesmaid dresses. Rose gold and sequins are a true match made in heaven.
To take the rose gold sequined dress trend up a notch, consider outfitting your maids in rose gold sequin separates. A sequin top with a romantic skirt will look effortlessly chic and give your leading ladies a truly custom look.
8. Make a Statement with Sequins
Still undecided on whether your squad should wear sequin bridesmaid dresses? Browse through Dessy and the Wedding Chicks collection and get dress inspiration for your big day. No matter which style you choose, make sure that you pick a style that flatters each of your leading ladies.