Destination Wedding Guide: 15 Essential Tasks to Add to Your Checklist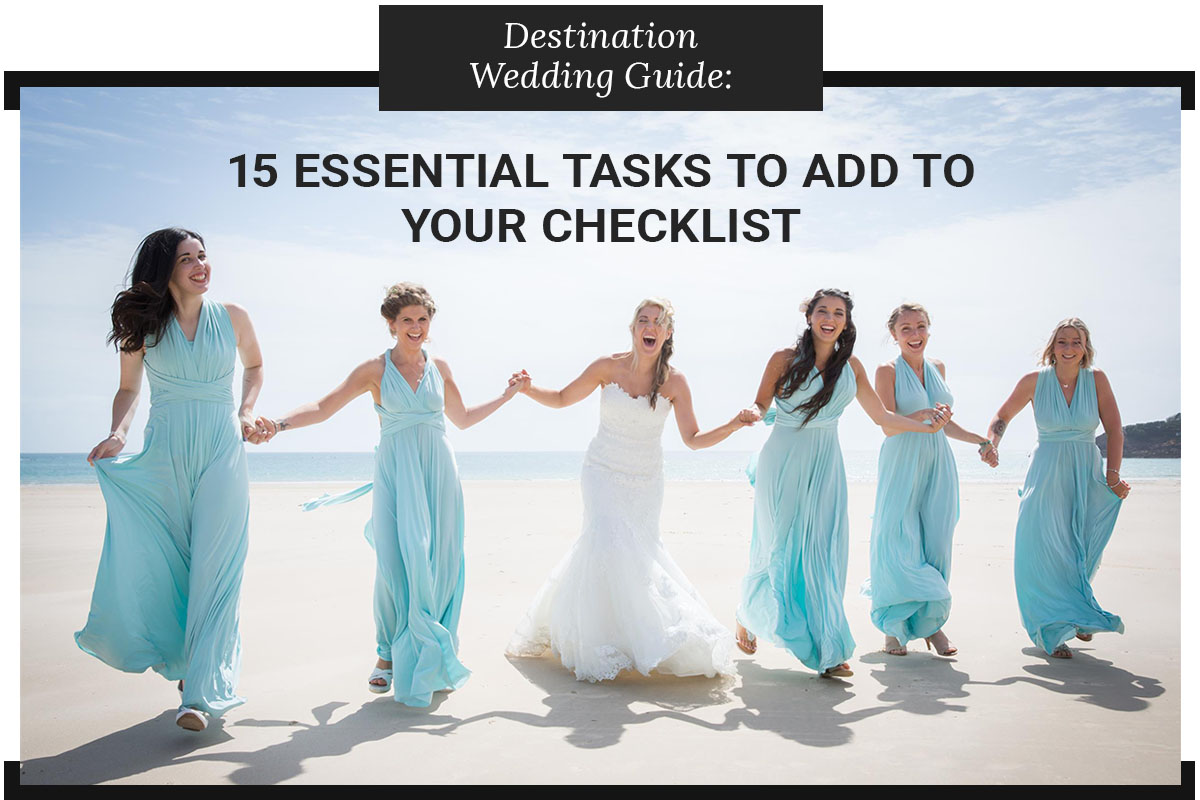 #DessyRealWeddings - Bridesmaids: Twist Wrap Dress; Color: Canal Blue; Photographer: Paul Wright Photography
Planning a wedding is no easy feat, regardless of where you ultimately decide to tie the knot. But when it comes to planning a destination wedding specifically? Well, let's just say that it's not as easy as hopping on a plane and saying, "I do."
You and your guests are in a foreign place that is full of uncertainties. There are travel logistics to consider, local laws to carefully abide and, above all, destination wedding etiquette to keep in mind.
Are you still with us? Good, because a destination wedding is also well worth the effort you put into planning your far-flung nuptials. With that in mind, here are 15 important tasks that simply can't be left off your destination wedding checklist.
1. Come Up with a Budget
Before you choose a wedding destination, book a venue or even start thinking about the gorgeous wedding dress you'll wear, you need to set a wedding budget. While your guest list will likely be smaller (one of the many perks of a destination wedding), there are other wedding expenses that can quickly add up if you aren't careful.
What are those expenses, exactly? Here are a few things you'll likely pay more for when getting hitched away from home:
Travel and accommodations. In addition to paying for your own travel and accommodations, consider chipping in for your bridal party as well. Though it's completely optional, it's a kind gesture.
The guest experience. It's proper destination wedding etiquette to pay for at least one pre- or post-wedding party on top of your rehearsal dinner.
A wedding planning team. A wedding coordinator and a travel agent are both absolute must-haves for a destination wedding—especially if you're getting hitched abroad.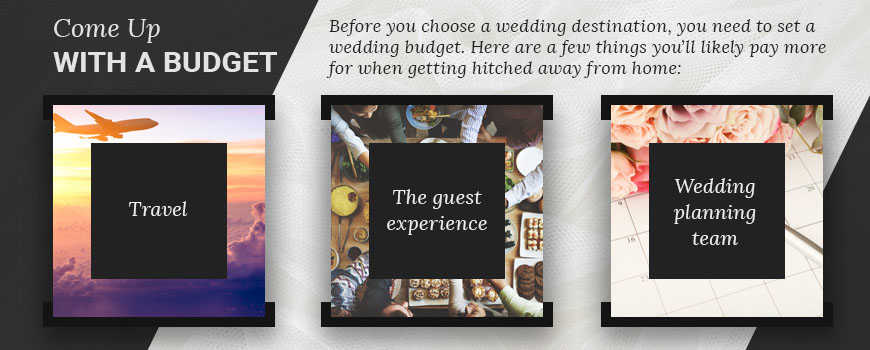 2. Determine Your Guest List
Next, you'll need to draft a guest list for your destination wedding. Since you're getting married out of state or possibly out of the country, your guest list will naturally be smaller than it would be if you were having a traditional wedding.
A smaller guest list can be a blessing – and a curse. On the one hand, you get to keep things intimate and small. On the other hand, it raises the difficult question: Who gets to make the cut?
Start with your family and your current friends first. That old college friend that you hardly ever speak to anymore? Just because you still like her photos on Instagram occasionally doesn't mean she needs an invite to your far-flung nuptials.
3. Pick a Wedding Destination
With your budget set and a guest list drafted, you can now make one of the biggest wedding decisions of them all: Choosing the perfect destination to say your I Dos. But, where do you even begin?
One of the easiest ways to narrow down your search is by making a list of places that hold special meaning to you and your fiancé. Did he propose in Kauai? Consider planning the ultimate beach wedding in Hawaii.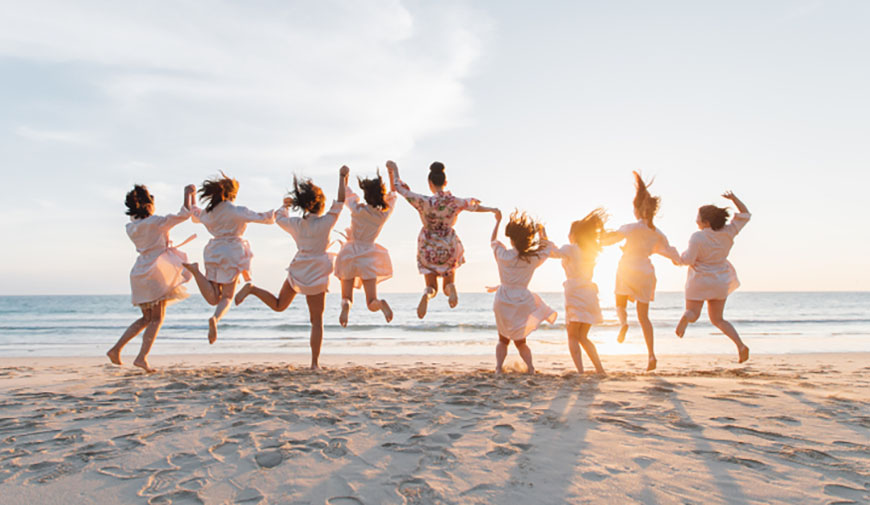 Did the two of you fall in love in Florence? Add it to your list of places abroad to research later. By choosing a destination that holds a special place in your heart, it will make your big day that much sweeter.
Once you have a decent list, narrow down your options further by considering the following:
Seasonal issues. Before you finalize the date of your wedding, make sure that it doesn't coincide with any seasonal obstacles, such as heavy tourism or extreme weather. The last thing you want is for your dreamy nuptials in the Caribbean to be ruined by a hurricane!
The needs of your guests. Will grandma have a difficult time getting to your destination? Will the trip be easy enough for families with little ones?
Your budget. Even with a smaller guest list, getting hitched abroad can be ridiculously expensive. Make sure that your destination works within your budget before making a final decision.
4. Choose Your Bridesmaids
If you thought that whittling down your guest list was difficult, just wait until it's time to decide who will be in your wedding party. Choosing your bridesmaids is a daunting decision regardless of where you're tying the knot, and a destination wedding adds even more pressure to the role.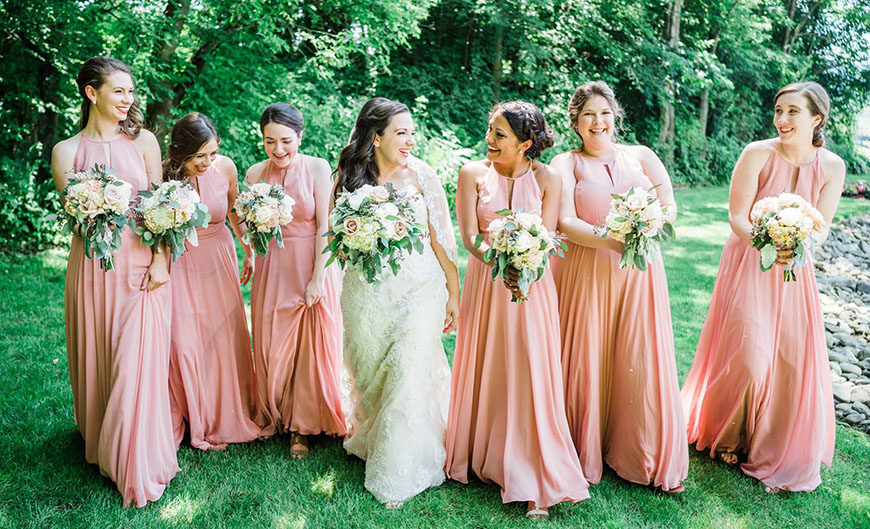 #DessyRealWeddings - Bridesmaids: After Six 1502; Color: Desert Rose; "The dresses were absolutely STUNNING!!!!!! They were truly one of the focal points of the wedding and looked absolutely gorgeous on each and every one of my bridesmaids. Several girls had different body shapes (some were short, one was 7 months pregnant!), and they fit the girls perfectly! I absolutely loved how the fabric flowed, as you can see in the photo. My girls were all very happy with the dresses! Thank you for making this style in this gorgeous color!"
When picking your bridesmaids, be considerate of their financial restraints. Being a bridesmaid is expensive enough without the additional costs of travel and lodging.
You can help reduce some of their costs by choosing budget-friendly bridesmaid dresses and by paying for their lodging. Taking care of their hair and makeup is also a kind gesture that won't go unappreciated by your girls.
Lastly, don't forget to be considerate of bridesmaids with young families. If one of your friends recently had a baby, she likely won't be in a good position to handle the responsibilities of being a bridesmaid for your far away nuptials.
5. Hire a Destination Wedding Coordinator
We get it: You're trying to keep costs down in any way you can. Why would you want to pay for a wedding coordinator?
We'll give you two good reasons: Your sanity and your wallet. First and foremost, hiring a destination wedding coordinator can reduce a lot of the stress that comes with trying to plan your nuptials from afar.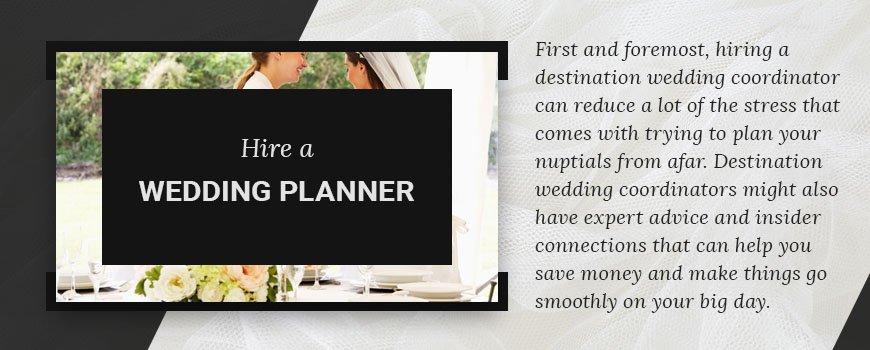 Destination wedding coordinators might also have expert advice and insider connections that can help you save money and make things go smoothly on your big day. Start doing your research and scoping out wedding coordinators now—you'll thank yourself a million times over a few months from now.
6. Nail Down Lodging Options
Scope out lodging options for your guests before you finalize your wedding date. You don't want to send out your Save The Dates only to realize that your ideal lodging choices have no open availability on the dates you need.
When choosing lodging for a destination wedding, make sure to give your guests several options. This way, they can pick an option that fits into their budget.
Another thing you'll want to consider is transportation for your guests. Even if your proposed lodging is within a couple of miles of the venue, it's recommended that you arrange transportation to and from their hotel.
7. Send Out Save the Dates
With your guest list finalized, it's finally time to send out your Save The Date cards. You should plan to send these out at least eight or nine months in advance to give everyone a heads up.
Wondering what all you need to include on your Save The Dates? Don't worry—apart from the expedited send out deadline, they probably won't be too different than a typical Save The Date.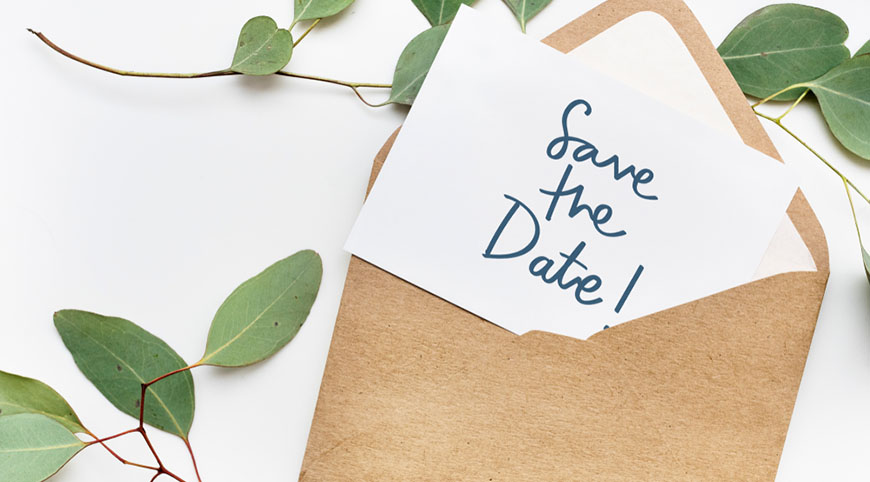 Here is the basic information you'll need to include:
Names
Wedding date
Location
Wedding website
If you have any more details to add, resist the temptation to squeeze them into your Save The Date. Instead, add them to your wedding website and give guests a heavy hint to take a look.
8. Buy Wedding Insurance
Okay, let's talk wedding insurance. We know—total snooze, right? But while purchasing wedding insurance may not be the most exciting part of the wedding planning process, it's something that shouldn't be overlooked.
For a destination wedding, there are two types of insurance you should buy: Travel insurance and wedding insurance. Travel insurance will help cover the financial loss in case you need to cancel your flights or if you need to return home early, while wedding insurance may cover damage, injuries or vendors that simply fail to show up.
Both types of insurances can tack on a few hundred dollars to your wedding budget. Though you might not be thrilled at the idea, we guarantee that the peace of mind is well worth the additional expense.
9. Do the Paperwork
Ah, paperwork: A not-so-fun aspect of the wedding planning process. Unfortunately, things can get a bit complicated if you're getting hitched abroad.
Since marriage laws vary from country to country, you'll want to check with the country's embassy to see what documents you'll need before saying I Do. Some countries have residency requirements and may even require a blood test (nope, we're not joking), so be sure to give yourself enough time to figure out the logistics of getting hitched in a foreign country.
10. Send Out Your Wedding Invitations
Plan to send your wedding invitations at least three months in advance (sooner, if you can). This will give your guests enough time to apply for visas (if necessary), request time off from work, book their travel and make arrangements for childcare.
Be aware that destination weddings require you to give your guests a lot—and we do mean a lot—of information. You want to make sure that everyone knows exactly when and where to go, along with how to get there.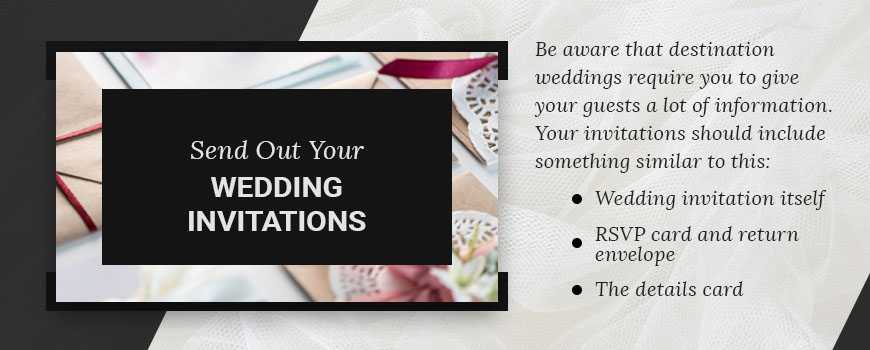 Obviously, you don't want your invitations to be so overloaded with information that they require a magnifying glass to read. That being said, your invitations should include something similar to this:
The wedding invitation itself. Include the date, time, location.
The RSVP card and return envelope. Include the deadline for responding and meal choices if necessary.
The details card. This can include lodging information and a plug for your website for additional information.
11. Schedule a Visit in Advance
Planning a wedding from afar can be difficult, especially when it comes to choosing vendors. If you can swing it, try to visit your wedding destination at least once before your special day to get everything in order.
While you might be tempted to turn your visit into a mini-vacay, resist the urge and stick to the task at hand. Picking the right wedding vendors for your big day is essential to turning your dream destination wedding into a full-blown reality.
In other words, treat your quick trip like you would a business trip—because let's face it, that's pretty much what it is.
12. Create an Itinerary for Guests
Is an itinerary for your guests required? No. Is it a key part of destination wedding etiquette? Absolutely.
Planning a few activities for you and your guests is a great way to keep everyone together and provide some familiarity in an unfamiliar place. This will also cut down on the amount of text and calls you'll get from family and friends as they arrive at your destination.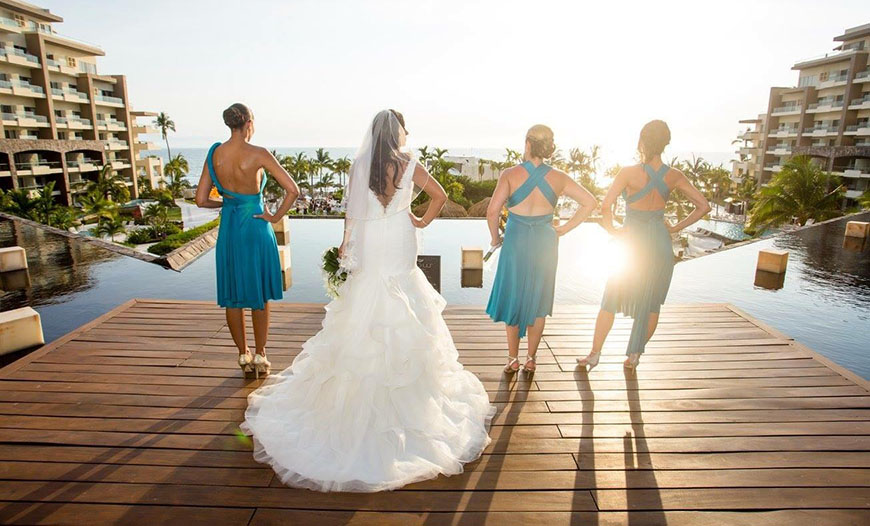 #DessyRealWeddings - Bridesmaids: Twist Wrap Dress; Color: Oasis; "We got married in Puerto Vallarta, Mexico. The twist wrap dresses were easy to pack, wrinkle resistant, and lightweight and comfortable in the warm, humid climate. Plus, the wide variety of color selections meant I could find the perfect color!"
13. Pack Your Wedding Attire
With the big day almost here, it's time to start making a packing checklist and considering how you'll transport your wedding attire. So, how exactly do you pack a wedding dress or a bridesmaid dress so that it doesn't get wrinkled—or worse lost in baggage claim?
If your wedding dress has a slim silhouette, the best option might be to pack it in a garment bag and carry it on the plane as a checked bag. Just be sure to call your airline beforehand to ensure that it fits the requirements for carry-on luggage.
After spending weeks choosing your wedding shoes, don't forget to consider how you'll transport them, too. To ensure they arrive at your destination with nary a rhinestone out of place, pack your wedding shoes with care by placing them in a protective box and stowing them in an overhead bin.
14. Give Guests a Warm Welcome
Your guests may arrive at your location at different times, making it impossible for you to greet them all in person. Instead, why not leave a welcome bag in their hotel room?
Though it's also not required, a welcome bag is another part of destination wedding etiquette that your guests will surely appreciate. Consider leaving a personalized canvas bag on their beds filled with a few practical items (think water bottles, sunscreen, ibuprofen, etc.) and some high-quality favors, such as Cuban cigars for the guys or cozy pashmina shawls for the women.
15. Plan a Graceful Getaway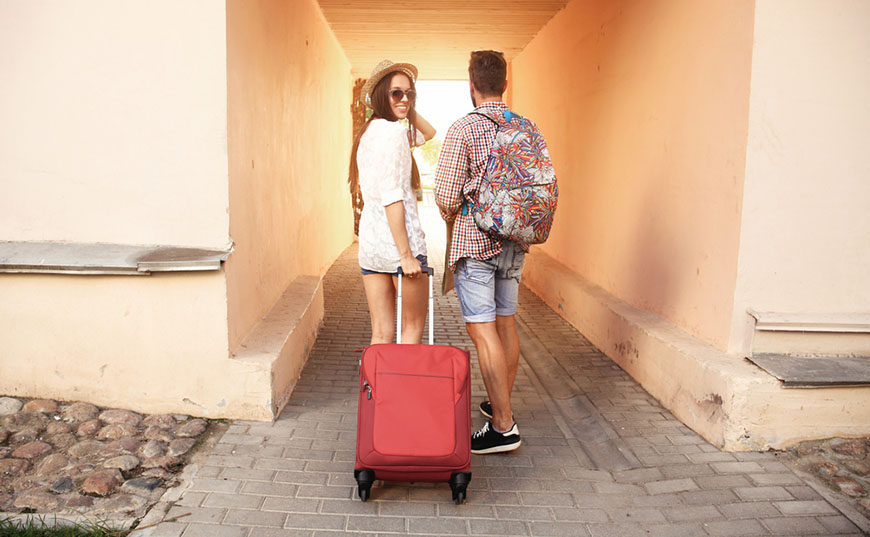 In a typical wedding, the bride and groom seal the deal with a kiss and partake in wedding celebrations before setting off on their honeymoon. But in a destination wedding, you're presumably already at your honeymoon location—or at least, close by it.
To ensure that you get to enjoy alone time as a couple, make sure to plan in advance. Consider hosting a final brunch with your guests before you and your beloved move to another resort, region or country.
You can also list the exact time you'll be breaking away on the wedding itinerary so that guests know the drill. This way, you can have a proper send-off without running into your weird uncle or aunt who takes away from your precious newlywed time.
Planning a Destination Wedding to Remember
Getting hitched away from your home turf can be a wonderfully unique experience for all involved. To pull off the destination wedding of your dreams, remember to do your homework and read up on the specific region where you're tying the knot. With a little due diligence, you can throw an unforgettable soiree that your guests will be talking about for years.