8 Reasons to Have Short Bridesmaid Dresses for Your Big Day
Deciding what your bridesmaids are going to wear is one of the most difficult things to figure out when planning your wedding. Sure, you thought searching for your own dress was hard, but now you have to find the perfect dresses for at least two other women, right? All things considered, we at The Dessy Group have figured out that short dresses are the way to go. Here's why.
Your Wedding Is Outside. We think this is the number one reason to have your bridesmaids wear short dresses. When having an outdoor wedding, especially in the summer months when it's really warm, you'll want to consider your bridesmaids' comfort. Short dresses will keep them cooler, especially if they are helping you tear down your decor or running around to help serve the cake. They're already going to have to sit through multiple hair and make-up touch-ups because of the heat, so do them a favor. Your bridesmaids will thank you for picking shorter dresses, especially if your wedding is outside in the middle of August.
Your Bridesmaids Will Be More Likely to Re-wear Them. Short dresses are great if you want your bridesmaids to wear their dresses again. If your bridesmaids frequently attend business events, birthday parties or other special occasions, consider having them wear cocktail length bridesmaid dresses. Their bridesmaid dresses won't sit in the back of their closets collecting dust for years if they are able to pick something they know will work at other occasions, too!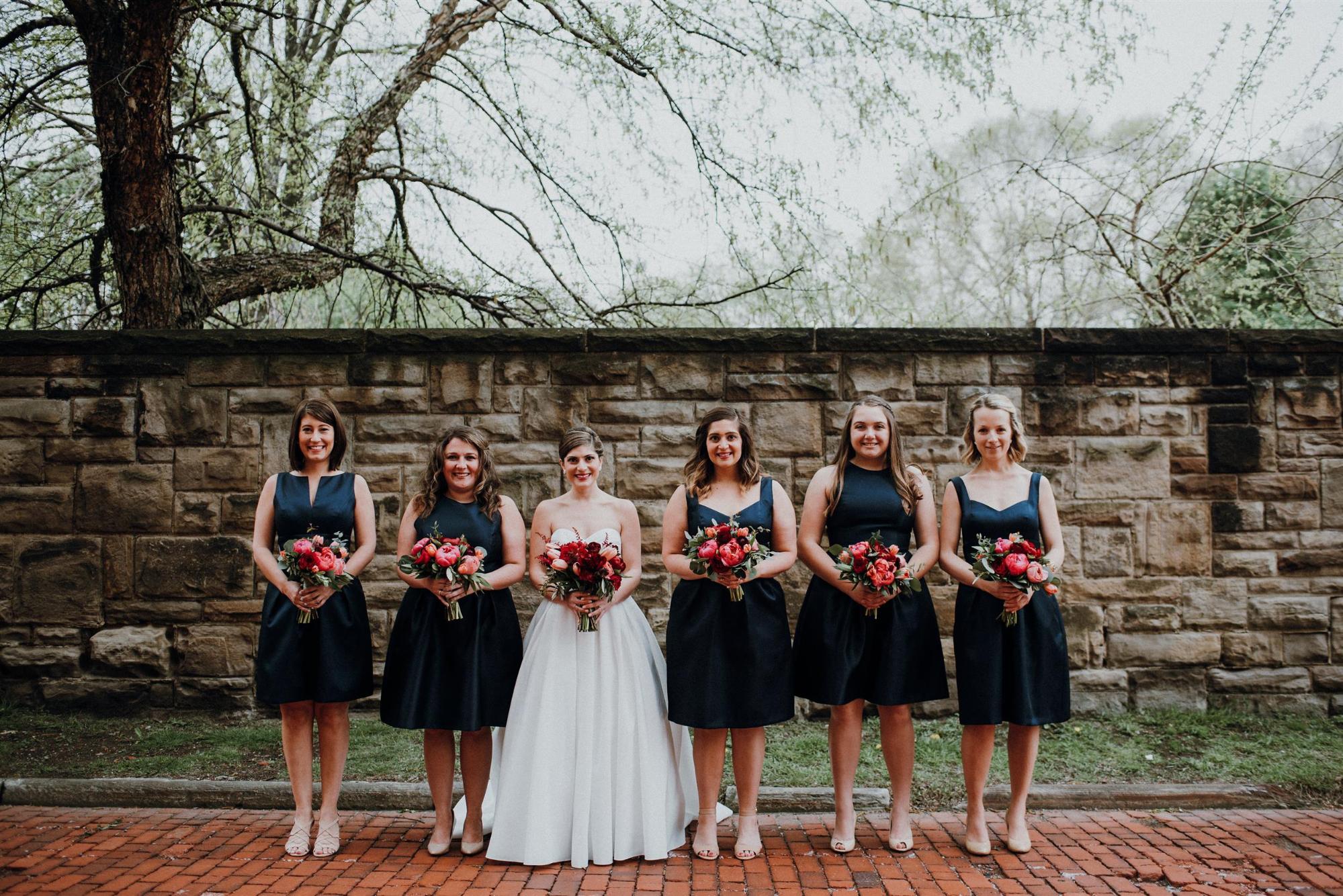 #DessyRealWeddings - Bridesmaids: Alfred Sung, Mix and Match Dresses; Color: Black; Photographer: Suzuran Photography
They're Fun! Everyone knows a short dress is fun to twirl and dance in! Your bridesmaids will be so ecstatic to have dresses they can enjoy the reception in. They won't have to worry about ripping them, tripping themselves up or guests stepping on their dresses during any dancing they do.
Your Bridesmaids Are Shorter (or They Are All Different Heights). Long dresses aren't always the best for shorter women. If your bridesmaids don't have the time or money to get their dresses altered, shorter dresses are the perfect way to go. You can even consider high-low dresses if your bridesmaids want to have longer dresses but you don't want them to trip over the hem of their dresses while walking down the aisle. They might not realize it now, but they definitely don't want to spend your wedding day in the emergency room for face-planting while being escorted toward the altar. You will find it difficult to pose them in pictures, too, because the longer dresses will swallow up the shorter bridesmaids. So save everyone the hassle and have your bridesmaids wear short dresses!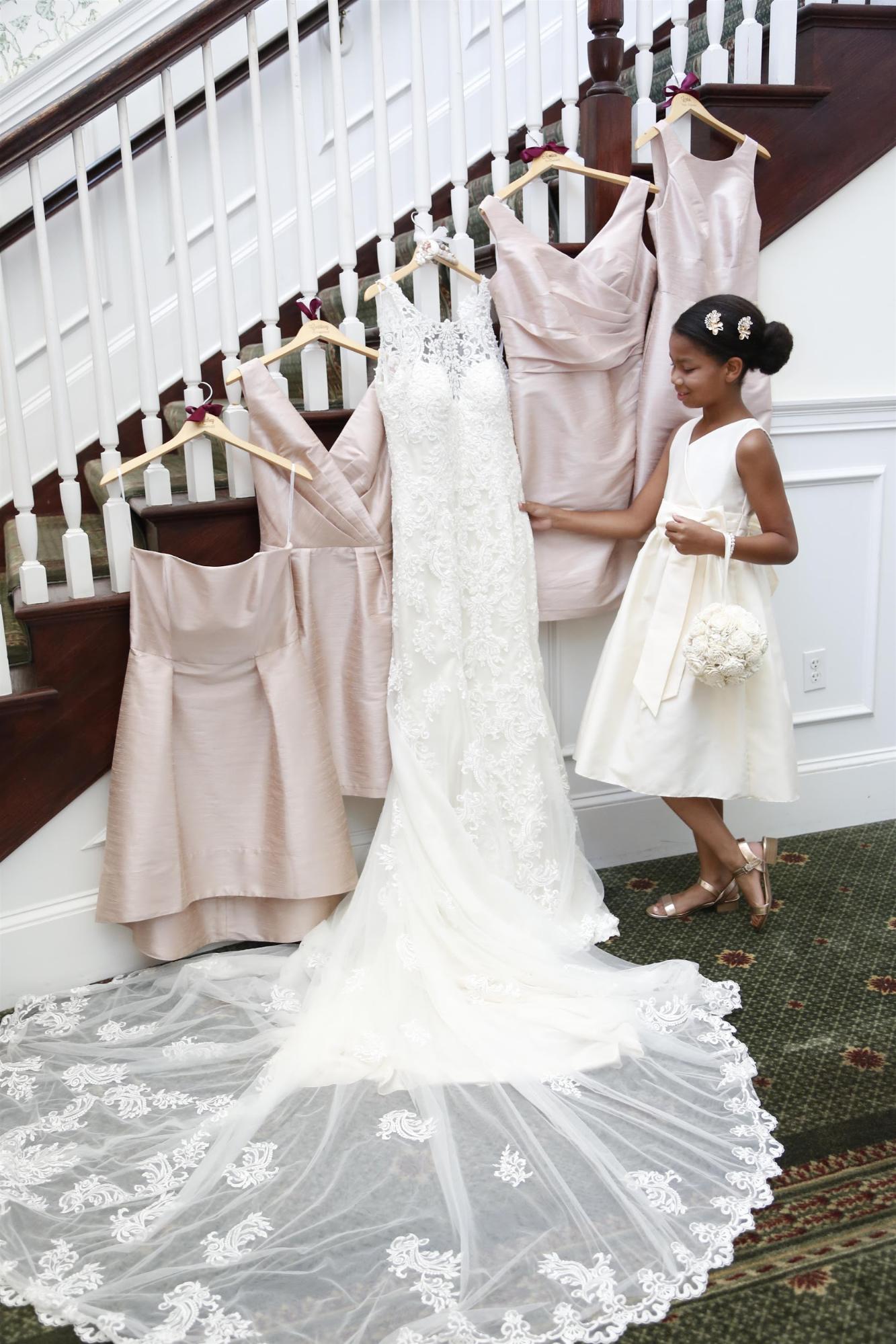 #DessyRealWeddings - Bridesmaids: Alfred Sung D522, D642, D580, D595; Color: Pearl Pink; Photographer: @meyerphotovideo; "thanks to the Dessy NYC showroom for helping us pick out the perfect bridesmaids dresses!"
Your Bridesmaids Are on a Budget. Not everyone has hundreds to splurge on a bridesmaid dress–and that's okay! Shorter dresses are typically less expensive than longer ones, but they don't look any less beautiful. For bridesmaids who are conscious of what they're spending, a shorter dress is the perfect way to go.
You Want to Show Off Their Shoes. Have you and your bridesmaids created your own shoes? Decided to wear Converse instead of heels? Shorter dresses are perfect if you want your guests to see the kicks your bridesmaids are wearing–especially if you all splurged and purchased designer shoes for the wedding! You'll want to show your shoes off to your guests, so short dresses are the way to go!
You're Not Stressing the Formalities. If you're having a brunch wedding, an intimate wedding or an entirely unconventional wedding, try casual, short bridesmaid dresses! Traditionally, bridesmaids wore long dresses because weddings have been considered an overly formal event. Brides today are throwing many traditions to the wind and making their events exactly how they want, even if it's different than all the brides before them. If you want your wedding to be remembered as a casual, relaxed affair, pick out shorter dresses for your bridesmaids.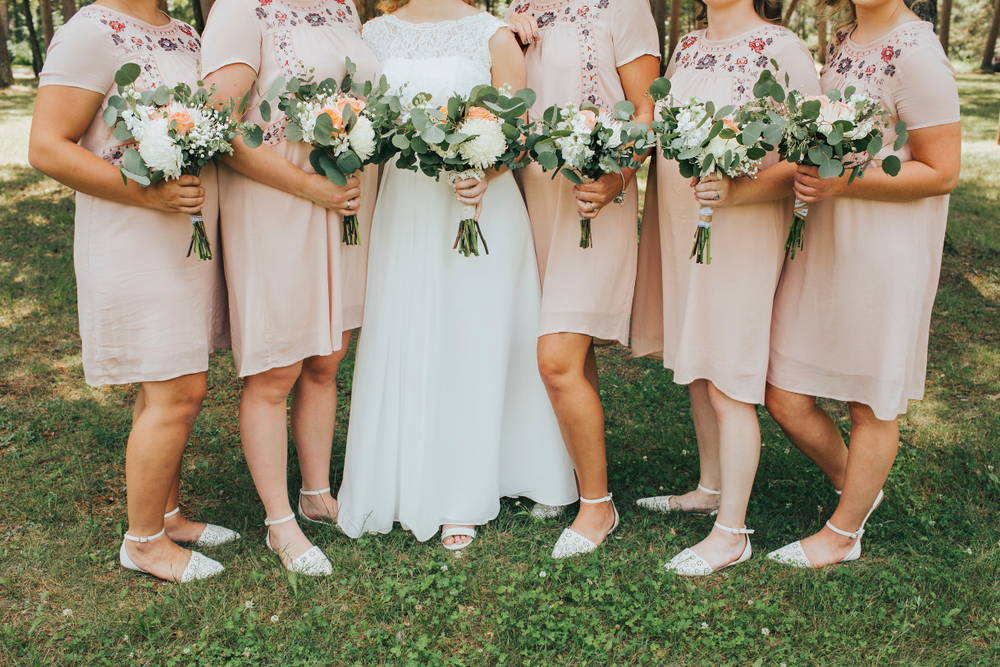 You Just Really Like Short Bridesmaid Dresses. This is a no-brainer! If you really like the look of shorter bridesmaid dresses, then tell your bridesmaids that's what you want them to wear. It's your special day. You deserve to have everything you want, including the type of bridesmaid dress. Even if your mother-in-law-to-be is trying to convince you otherwise, stick to your original plan. You won't regret choosing to have your bridesmaids wear the type of dresses you want them to.
Even if you decide you want your bridesmaids to wear short dresses, don't forget to have them all try on their short dresses together. Line them up in the way you want them to be at the altar so you can make a final decision on whether or not short dresses are the way to go. No matter what you decide, we know you'll have made the best decision to ensure your special day is just that–special.