Planning an Outdoor Wedding: Choosing the Perfect Bridesmaid Dresses, Decorations and More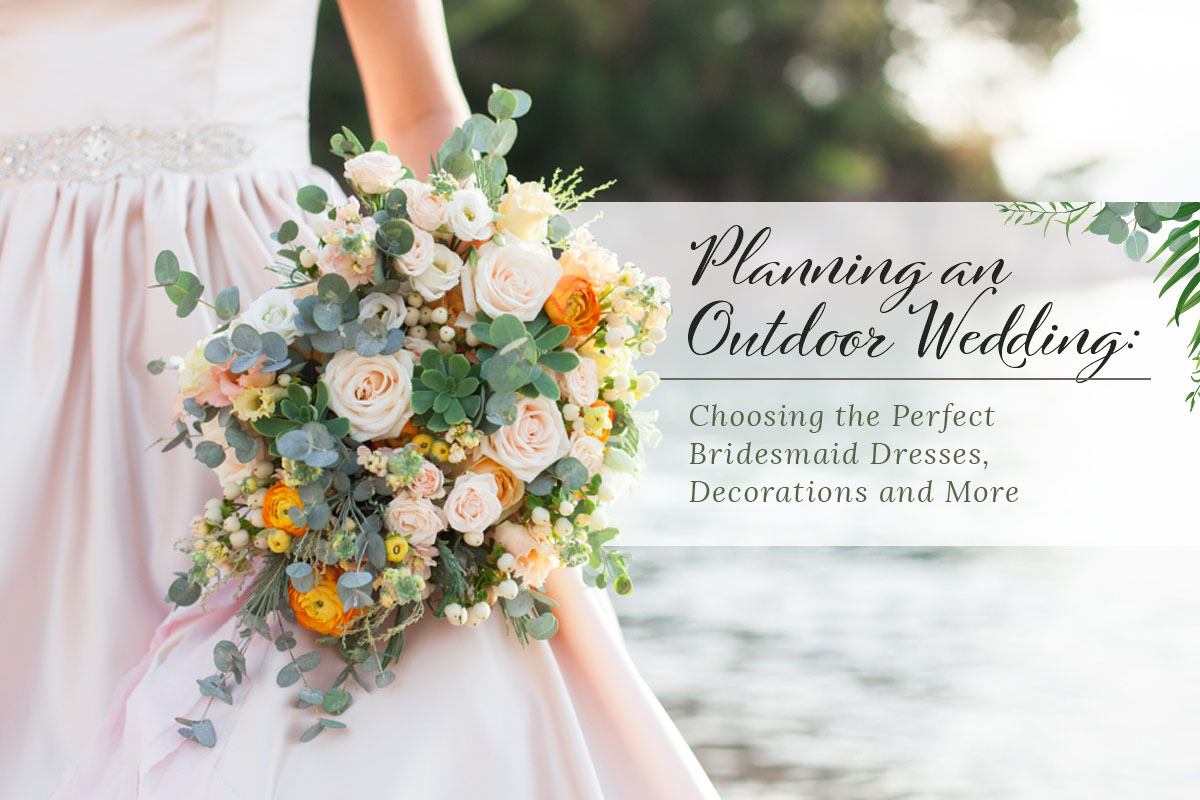 Who doesn't love an outdoor wedding? The sun is shining, the skies are bright blue and the stunning scenery always makes for some incredible wedding photos.
At least, that's how outdoor weddings are supposed to go down. In reality, the weather may not cooperate, bugs will probably try to feast upon your guests and there's a 50/50 chance that the wind is going to blow away all your beautiful wedding decorations.
Let's face it–there's a lot that can happen when you're having your nuptials in the open air. But with careful planning and a foolproof contingency plan, your outdoor "I dos" can be as picture-perfect as you always imagined.
From keeping your guests warm and cozy to choosing seasonally-appropriate bridesmaid dresses for your squad, consider this your go-to guide for planning an outdoor wedding.
Check Your Expectations at the Door
Think about it. Is it really a good idea to have your boho-desert wedding in the middle of July when temperatures will be scorching hot? Or, conversely, to have your Minnesota nuptials entirely outdoors in late January?
Do yourself a big favor and accept early on that you probably can't have it all with your outdoor wedding. If your carefully-chosen wedding date is in December and your dream outdoor wedding venue doesn't have an indoor/outdoor space, something's gotta give.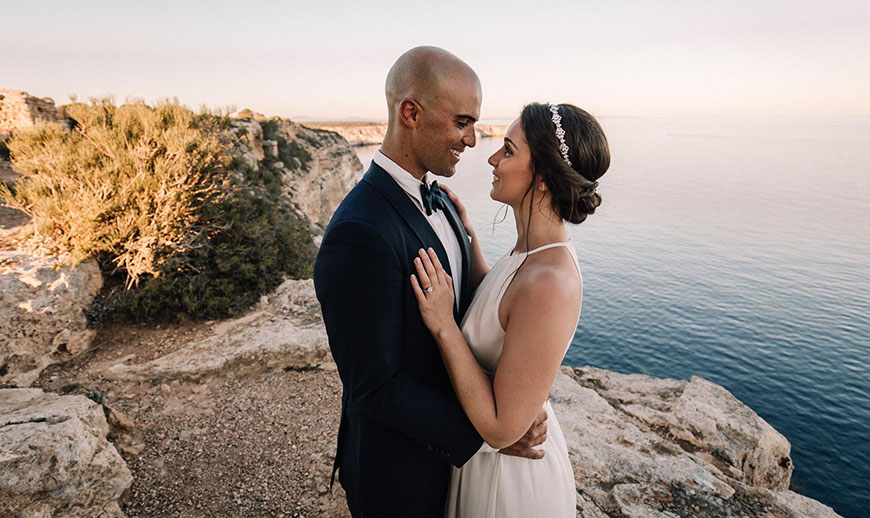 #DessyRealWeddings - Bride: Studio Design 4511; Color: Ivory; "I wore this dress on our honeymoon for photos we took in Mallorca, Spain!"
Be reasonable with your outdoor nuptials. But more importantly, be flexible. Otherwise, you're just setting yourself up for an epic wedding meltdown when things don't go according to plan.
Pick Your Venue Wisely
Choosing a wedding venue isn't easy, regardless of whether it's indoors or outdoors. But when it comes to choosing an outdoor wedding venue, there are a few things you'll definitely want to keep in mind.
First and foremost: Mother Nature. She has an unfortunate way of ruining even the best-laid plans, so make sure that you have a wedding contingency plan. If possible, try to find a space that has an indoor location onsite that you can use in case the weather takes a turn for the worse.
Oh, and pick your pop-up tents carefully as well! Be sure to choose tents and canopies that can hold up against strong wind, rain, heat—you get the picture.
Choose Wedding Colors to Complement the Scenery
After finalizing your outdoor wedding venue, picking your wedding colors will be the next item to tackle on your wedding planning to-do list. Remember: You're saying "I do" surrounded by stunning scenery. Take advantage with an equally gorgeous wedding color palette!
While you're gathering inspiration for wedding color palettes, think about which hues might best emphasize the natural beauty of your outdoor locale. Are you getting hitched by the sea? Play up the beach vibes with a wedding color palette consisting of light pink, aquamarine and oyster.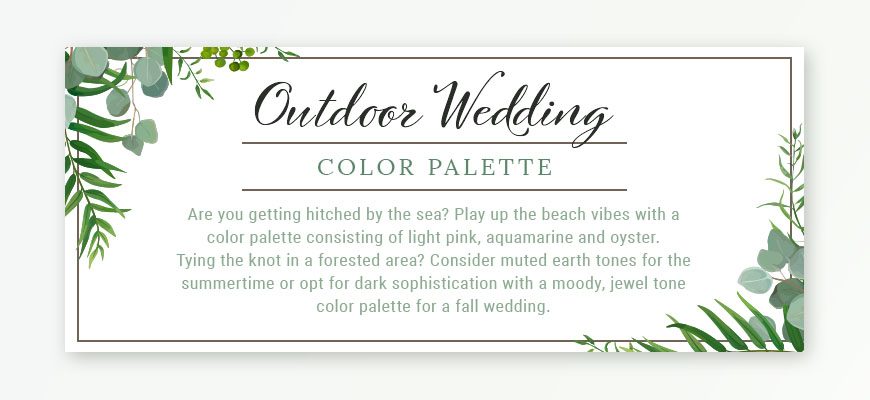 Tying the knot in a forested area? Consider muted earth tones for the summertime or opt for dark sophistication with a moody, jewel tone color palette for a fall wedding.
Keep Bugs and Wind at Bay
Bugs and wind will likely be your two biggest enemies for your outdoor nuptials. Luckily, there are a few effective methods at keeping both from ruining your big day.
To keep the bugs from eating your guests alive, choose plants that naturally repel mosquitoes, such as lavender and mint. You can also decorate your tables with citronella candles (in tall glasses to prevent the wind from blowing them out) and give guests bug spray as wedding favors that say something like, "Be smitten, not bitten!"
Speaking of plants, you'll definitely want to choose your florals carefully. Hydrangeas have been known to wilt in humidity, whereas roses, zinnias and dahlias are all hardy options that won't fall over at the slightest breeze.
Be Strategic with Decor
When planning an outdoor wedding, look specifically for wedding décor that combines function and style. For example, twinkling lights and walkway lighting can set the mood and illuminate the path towards restrooms at night, while heavier centerpieces can be used to prevent tablecloths from being disturbed by the wind.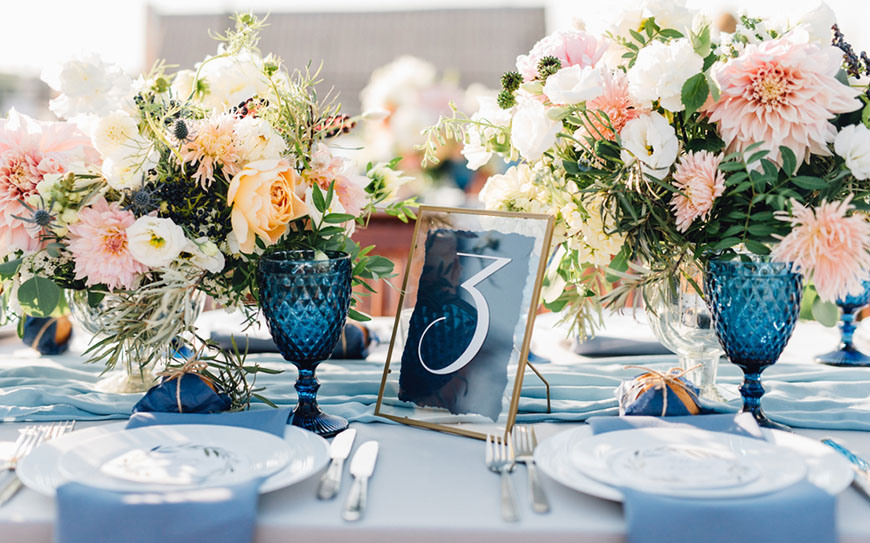 Make your space more inviting to your guests by adding plenty of lounge furniture and pillows. Not only will it make it feel cozier inside your tent, but the added furniture will also block some of the wind.
Just don't forget to pick versatile décor that works with your contingency plan. Linen tablecloths may be easy to fold and transport, but your dreamy, 200-lb. reclaimed wood tables? Not so much.
Keep Your Guests' Comfort in Mind
Remember, your guests are there for you and your betrothed. Some of them may have come a long way just to see you tie the knot. The least you can do is make sure your guests feel comfortable—from start to finish.
In case of cold weather, consider providing your guests with pashminas or wraps that they can cozy up in while you exchange vows. You can also give them a chic umbrella to fend off the rain.
Rented heaters are something to consider for your fall or early spring nuptials. You'll be glad you did if temperatures for the month hit record lows.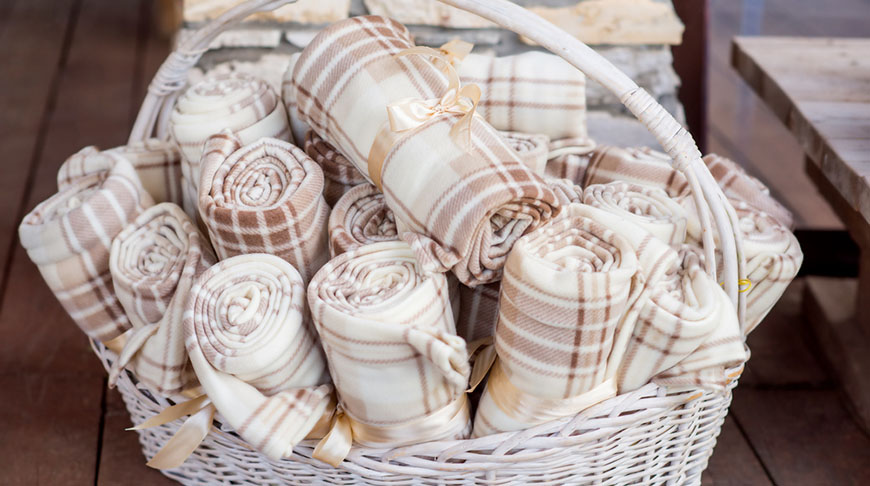 For warm weather weddings, keep guests cool during cocktail hour by offering seasonal refreshments and supplying plenty of shade. Once the festivities kick off, ensure everyone's comfort by renting AC units and having fans blowing—which, BTW, will also help keep bugs away.
Figure Out Your Restroom Situation
Yep, planning an outdoor wedding means talking about the unglamorous parts, such as your restroom situation. If your wedding venue doesn't have easily-accessible restrooms onsite, then you'll need to rent restrooms for your guests and figure out how to place them strategically.
While you probably don't want to spend your precious wedding budget on restrooms, consider getting a bathroom trailer for your guests. A bathroom trailer is pulled by a truck and features a high-quality interior with running water and lighting.
Yes, it's more costly than your standard porta potty, but it's also nicer and arguably expected at luxurious weddings. However, the most important thing is that you provide enough stalls for your guests.
Weatherproof Your Bridal Look
One of the biggest challenges of planning an outdoor wedding is figuring out how to stay stylish and comfortable on your big day. The last thing you want is to be shivering in your dress or sweating your makeup off mid-ceremony.
Dressing for Cold Weather
If your wedding is in early spring or late fall, look for a wedding dress with heavier fabric that will help keep you warm against the biting chill. You can also throw on a fancy stole or pashmina to elevate your bridal style while being uber practical.
Also, don't forget to choose closed-toe wedding shoes to keep your poor toes from turning blue from the cold. If your wedding ceremony is being held in a grassy area, you may also want to avoid pointy heels altogether. Nothing ruins the magic of the moment like getting stuck in the grass as you walk down the aisle!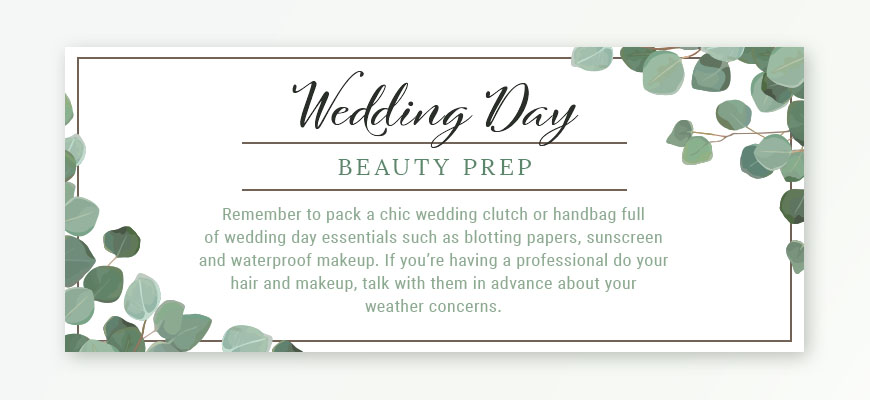 Dressing for Hot Weather
For warm weather weddings, choose a sleeveless or short sleeve wedding gown in a light and breathable fabric, such as organza or chiffon. If it suits your wedding theme and personality, you can also pick a wedding gown with a glamorous slit for added breathability.
Oh, and FYI, your wedding day beauty prep might be a little more extensive with an outdoor wedding. Remember to pack a chic wedding clutch or handbag full of wedding day essentials such as blotting papers, sunscreen and waterproof makeup.
If you're having a professional do your hair and makeup, talk with them in advance about your weather concerns. They can help you come up with a strategy to weatherproof your look.
Dress Your Bridesmaids for the Season
Figuratively speaking, your bridesmaids would weather any storm for you. But literally speaking? Well, that's another story.
To ensure your bridesmaids' comfort, think carefully about your choice of dress fabrics, shoes and accessories. If you're getting hitched in the summer or somewhere tropical, stick to warm-weather dress fabrics (chiffon is a failsafe choice for summer) and flowy dress styles to keep everyone cool and comfortable.
Are you getting hitched outside in September? Since autumn can be chilly, you may want to choose fall bridesmaid dresses with longer hemlines and sleeves. You can also gift everyone stylish pashminas or stoles for added warmth.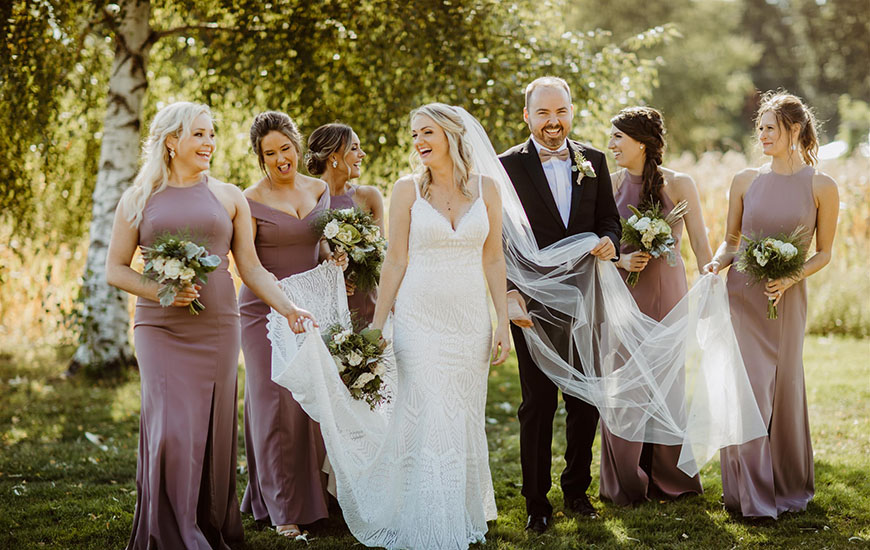 #DessyRealWeddings - Bridesmaids: Mix and Match; Color: French Truffle; Photographer: Molly Quill; "They were mix and match styles of the dessy crepe in French Truffle. They were absoutely perfect."
Get Creative with the Menu
Planning an outdoor wedding gives you the ultimate freedom to have some fun with your menu. Think delicious barbecues or an oyster bar—things you wouldn't normally find in a fancy estate wedding or in a luxe ballroom.
No matter what food and drinks you're serving, remember to keep the season in mind. For warm-weather affairs, stick to refreshing drinks and foods. Iced tea and lemonade are perfect for nonalcoholic drinks to serve when the weather is hot.
In the fall, warm up your guests with savory drinks and comfort foods. Hot cider and hot cocoa will please adults and kids alike. Complete the menu with roasted meats and autumnal soups that evoke the spirit of the season.
Embrace the Mishaps
Let's be real—even the most carefully-planned nuptials often experience one or two minor hiccups. With outdoor weddings especially, something is bound to go wrong at the last minute.
Just embrace the mishaps as best you can. So what if it rains on your big day? Roll with it. In fact, rainy pictures make for some absolutely GORGEOUS wedding photos. Seriously, have a look at some rainy day wedding photos for yourself and tell us that they aren't absolutely dreamy.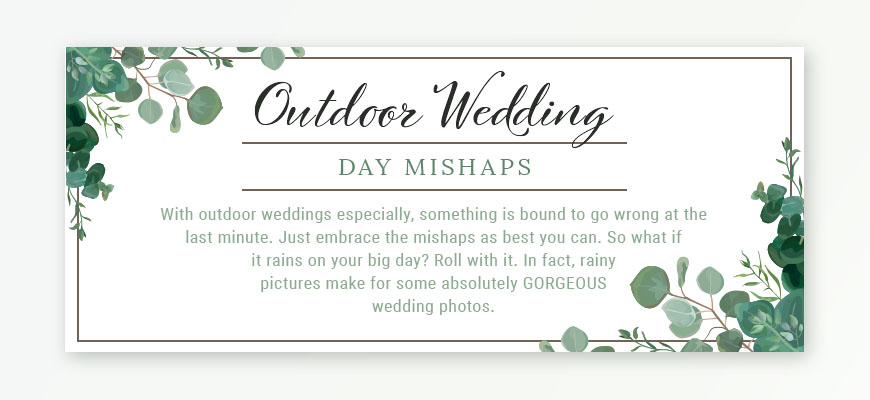 Additional Tips for Planning an Outdoor Wedding
If you're having your celebrations al fresco, there are a lot of little things you need to think about. To help you cover all of your bases, here are a few things you definitely don't want to overlook when planning an outdoor wedding:
Obtain the right permits. Getting hitched outside often means acquiring at least one or two permits, usually for the venue or noise restrictions. Talk with your vendors and/or wedding planner about permits and apply for them as early as possible to ensure availability.
Weatherproof your cake. Throwing a summer soiree? Get a cake with fondant. You'll thank us later when the icing on your cake isn't melting off in the scorching heat.
Protect your dress. Getting mud on the bottom of your wedding dress before your wedding is a huge bummer. You can avoid this scenario by purchasing an underskirt or having your seamstress bustle your wedding dress to gather up the extra fabric.
Set a budget (and stick to it). With additional rentals to consider and permits to acquire, the cost of planning an outdoor wedding can quickly add up. Be prepared to sacrifice a few wedding details (like those luxe wedding invitations you fell in love with—sob) in order to make it work.
Consider transportation. Is your ceremony taking place off the beaten path? Make sure guests have easy access to your ceremony and reception. Consider supplying their transport altogether to avoid guests getting lost on the way to your outdoor nuptials.
Call up an electrician. The last thing any bride wants is a power outage on her big day. Consider having an electrician check out your wedding tent to ensure both safety and proper power requirements have been met.
Remember: Public spaces are open to anyone. You can't kick people out of a public space. If you don't want curious onlookers to watch your vows, think twice before having your nuptials at a park.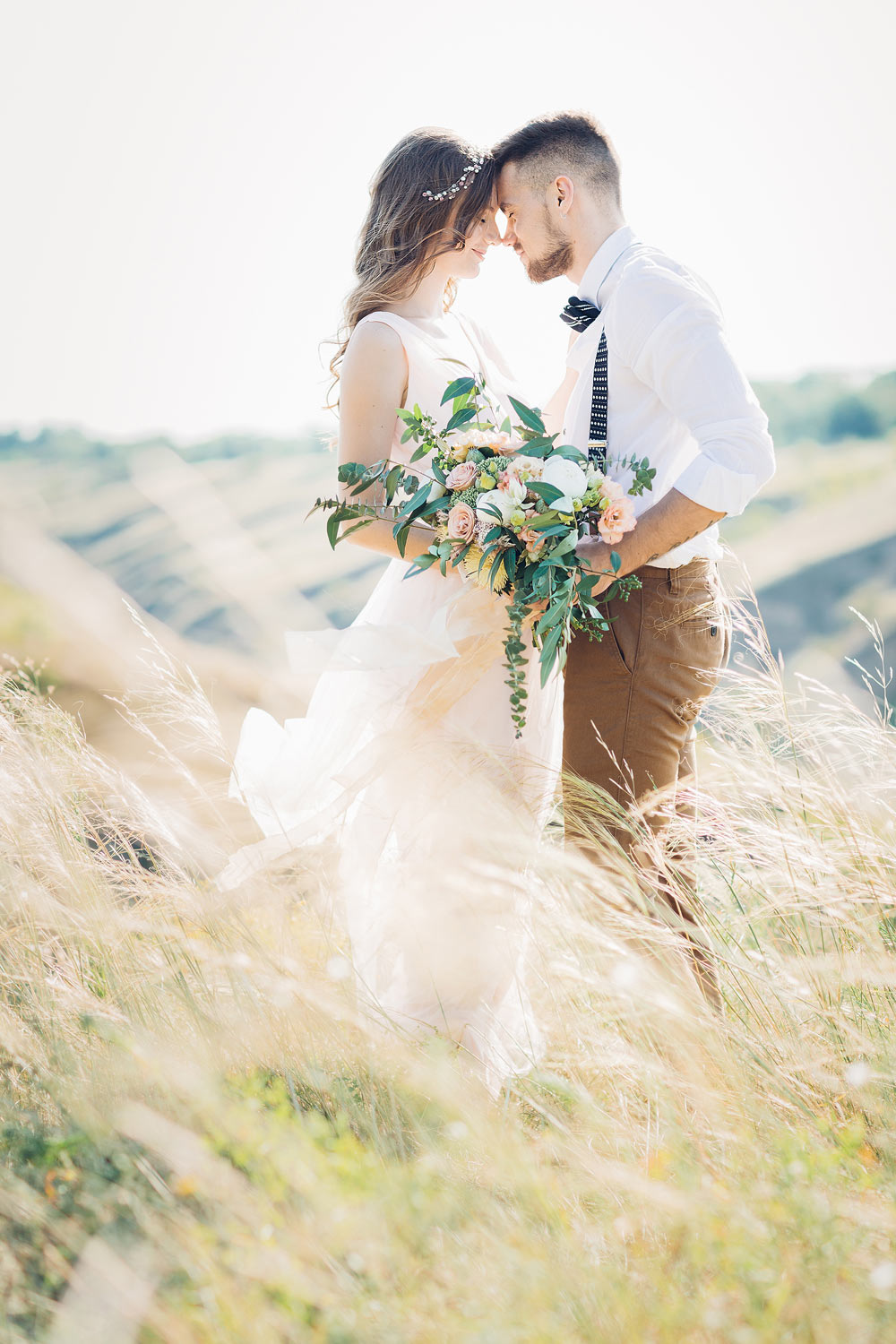 Celebrating in the Open Air
With outdoor weddings, there are a lot of moving elements. There's also no guarantee your big day will go down the way you expected it to.
But then again, does any wedding go exactly as planned? Although having your nuptials al fresco can be a ton of work, we promise that the stunning scenery and open air is well worth the effort.