50 Wedding Tips You Really Need to Know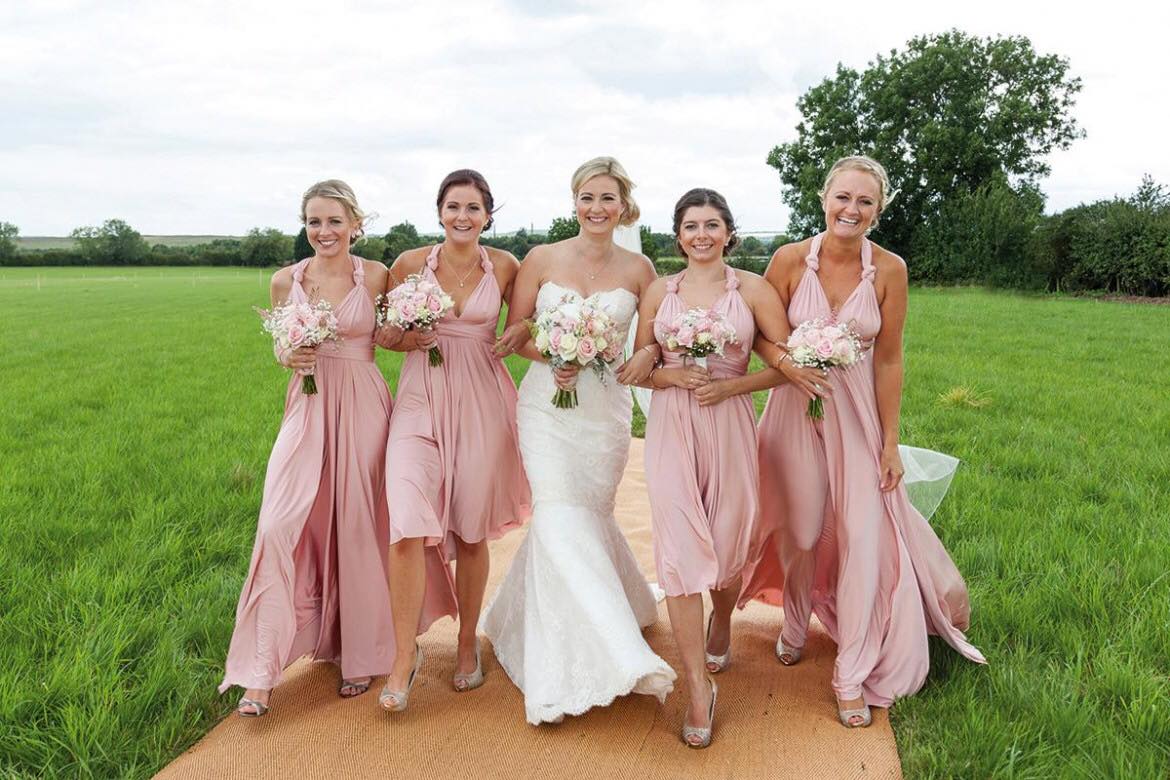 (Twist wrap dresses by Dessy in blush pink.)
It's always easy to be wise after the event. Hindsight is 20/20. And when it comes to your wedding day, you don't want to be left saying: "I wish I'd known..." and "Why didn't somebody tell me...".
So to help you in the run-up to your wedding day, we've asked some past brides what they wish they'd known while planning their wedding. Here's what they had to say.
The 50 pieces of wedding advice to keep in mind
Hire a videographer. Not having a wedding video, capturing such a monumental day, is top of the list of bride's regrets.
Remember to break-in your wedding shoes before the big day. On carpet. At home. Your feet will thank you.
Practice walking in heels. If you're wearing heels on your big day, and you usually wear flats, then start practicing ASAP. You want to glide, not stumble.
You don't have to wear white or ivory shoes. A bright hue like Royal Blue or Emerald Green, or a Metallic can look fabulous (and you're likely to wear those shoes over and over again).
DON'T wear high heels at a beach wedding. DO have a pedicure. (Groom included.)
Practice holding your bouquet at hip level - not at waist level. Trust us, it will look much more natural in photographs.
Make sure the ushers know what being an usher means. That is, showing people to their seats and handing over the order of service. Not standing chatting. People milling about, not sure where to sit is not how to make your guests feel welcome and relaxed.
Remember that there will be a few unforeseen glitches on your wedding day. So go with the flow and don't over-stress. (Like the weather, a guest turning up wearing white, guests being late.)
Offer a chill out space for young children to watch a DVD, play and snooze during the evening reception.
Have somewhere comfortable and quiet for guests to sit, chat and catch up after the reception - a must if you're planning on having noisy music! And the oldies really like it.
Serve plenty of soft drinks, tea and coffee after the reception. Also plenty of water on the tables - jugs of tap water are quite acceptable.
Prebook taxis for your older guests or have a local taxi firm on standby.
If your wedding gown is strapless, you could cover your shoulders with a lace shrug for the ceremony and then unveil a new look for the reception and evening party.
Ask your bridesmaids what style of dress they feel would flatter them. And then offer them suitable choices.
Some bridal registry companies let guests contribute to the cost of a honeymoon.
Check real wedding photography to see what style suits you. It might be editorial. It might be something more traditional. Give yourself time to research different photographers in your area.
Marry in winter or mid-week and you'll find your budget stretches further, and you'll have more venue options.
How about wearing a colored petticoat peeping out from under your wedding dress?
Investigate wedding dress sample sales if you're on a tight budget - you could find the designer dress of your dreams at a cut price.
Flower girls don't have to hold bouquets. Perhaps baskets of flower petals or confetti?
Don't have a facial just before your wedding day because you'll risk a breakout. No later than 10 days before your wedding probably best.
Have a singles table at your wedding reception and see what happens. Don't lump the singles with the marrieds. Mix everyone up. They want to have a bit of a party. Flirt.
Save money on transport and ask a relative or friend with an amazing car if they could drive you to the church and reception.
Use a wedding budget planner on your phone to help you keep track of spending.
Set your wedding budget first before you do anything.
Your best friend might not be your best chief bridesmaid. You need somebody who is super efficient and organized.
Marry at lunchtime and have an evening party and you're going to have to feed guests at least twice - which can be expensive. Maybe consider a late afternoon wedding instead?
Consider having a mini-moon after your wedding day and a more extended honeymoon later on.
Show your hairdresser snaps of the neckline of your wedding dress so you can be advised on the most flattering hairstyle.
Choose a neckline to suit your figure - strapless, one shoulder, sweetheart ... more tips here.
Think about your dress fabric and the time of year. Duchesse satin in winter. Light chiffons in warmer weather.
Bridesmaids can get chilly with bare shoulders. Drape a color co-ordinate pashmina around them while they are waiting for photographs (they make a good bridesmaid gift too).
You don't have to have a formal sit down dinner. Buffet style might suit you a lot better - with free seating for the guests.
Let men know the dress code. Lounge suits, morning suits or black tie. It's embarrassing to turn up in the wrong clothes.
If your venue location is perfect but you find the inside of the room uninspiring, consider room draping to turn it into something spectacular.
Wedding wellies are the perfect way to go if you're having to walk to and from the car on a potentially wet wedding day.
Don't underestimate the amount of time a DIY wedding actually takes - really, how long will it take you to handcraft 150 invitations?
Buy a good quality, plain iced supermarket tier cake - and then decorate it with fresh flowers to save money.
Serve substantial canapes and you could may not have to offer a starter.
Give each of your bridesmaids, flowergirls and pageboys a framed photograph of you all together on your wedding day.
Ice cream vans and a dessert table work well at summer weddings held in marquees.
Choose wedding flowers that are in season rather than expensive exotic blooms that have to be flown in.
Let your groom get involved with the wedding planning - split up the tasks between you.
If your mother in law wants to help, then let her. Give her some jobs that you're happy to delegate to her.
Remember it's your wedding day and should follow the format you want (although if you're having financial help from parents they are allowed some say in it!).
Marrying abroad (in Italy) can be a much less expensive to tie the knot and it would be just as super gorgeous.
Save The Dates are essential in these busy times if you want most of the invited guests to be able to attend.
Bridesmaids don't have to wear the same style or dress or even the same color. Choose co-ordinating colors or go for an ombre effect.
If you're having a first dance together then practice. You might even want to take some lessons.
You are marrying your soul mate. The One. Nothing else matters really.