How to choose your wedding veil so you look beautiful in your photographs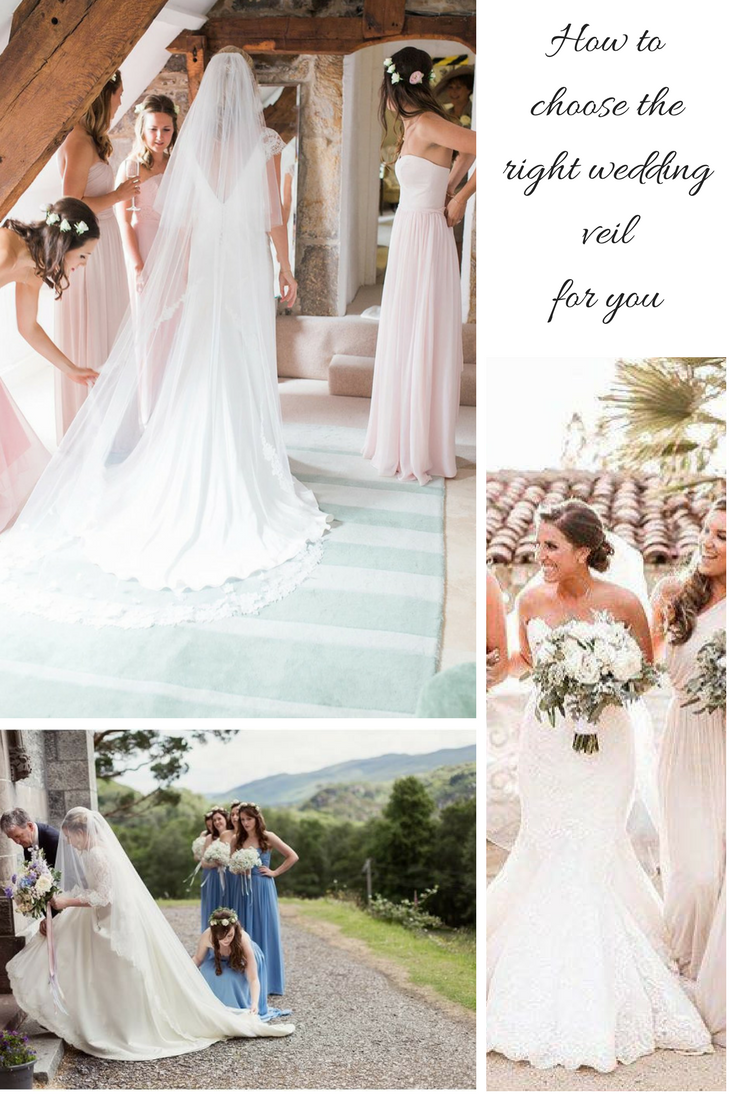 There's something about a wedding veil that is so romantic. A veil will soften your whole look, give you a dreaminess and add an air of mystery as you walk down the aisle.
Your wedding veil should be a soft whisper and not overpower your dress in any way.
When choosing it you need to think about these three key things.
The length length
The trim / edging and detail
Its position on your head and how it will work with your hairstyle and tiara
1. Length
The length of the veil you choose will depend on the style of your wedding. A cathedral length veil will not work in a small intimate civil ceremony. Equally a funky vintage birdcage will not work in a cathedral!
Cathedral is full length and will come to the end of your train; this length is dramatic and almost ethereal and just frames any gown with a soft mist of tulle - so so dreamy. Tall and small girls can make this length work well.
Hip Length is also known as fingertip and literally ends at your fingertips, these look best on tall girls as they make petite girls look smaller. They are perfect for girls who simply find the whole full-length veil overwhelming and they are best for less formal weddings.
Shoulder length is precisely that. It sits just beyond your shoulders and will work on any height of bride. These can look soft and gentle and are simply lovely and really easy to wear.
2. Trim/Edging - what will go with your dress?
This can get complicated. There is ribbon edge, soft stitched edge, cut edge and a lace edge. Ribbon and soft stitched are classic and non fussy and will work with most dresses, lace edge looks fabulous with lace dresses to enhance the vintage feel or to dress up a plain gown. Plain cut edge will work with any dress and create a soft tulle halo.
Make sure your choice enhances your look and remember that the veil is the accessory not the show stopper - it's all about you in the dress!
3. Position of your veil - and where to wear your tiara / headband
The most modern way to position your veil is to wear it towards the back of your head, just behind the line of your ears. This will mean it sits behind your shoulders, it will also feel less intrusive to wear. If you are wearing the blush over (that's when you wear it up the aisle) then you will need it further forward or it will simply stick to your lipstick - which is not a good look on your finest hour!
Most brides wear a tiara or headband and the veil should sit comfortably behind your tiara. If you are wearing a side set comb then the veil should still be worn centrally.
Make sure your hairdresser secures your veil into your hair style so that it doesn't slip on the day.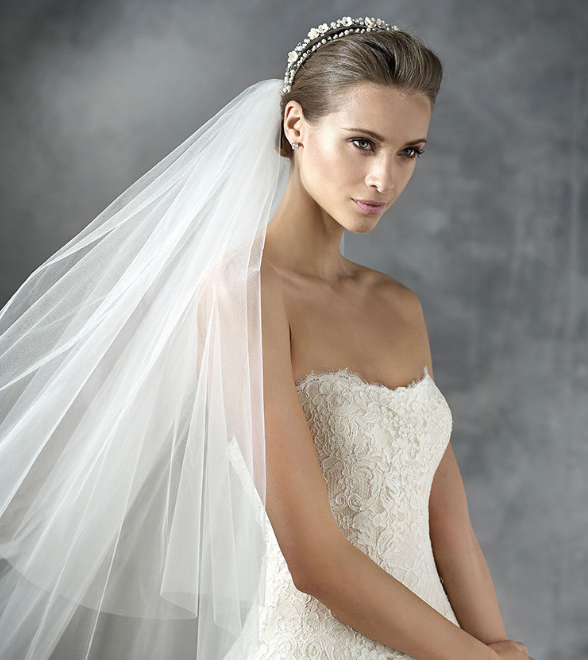 Getting your wedding veil photographs to look beautiful
You're obviously going to want your carefully chosen wedding veil to feature in your photographs - but getting your look right and photographed perfectly is a real art. Here are some key tips for being photographed beautifully in your wedding veil.
Ideas for veil shots
Cathedral length full veils should really be shown off at their best fully displayed out behind the gown. Just think of Kate Middleton on her wedding day.
Ask the photographer's assistant to fluff the veil (as if you were shaking a quilt) so the veil flies up and the photographer gets a shot of the veil in the air falling.Getting a bride to spin around whilst holding the veil out lets it spin round, offering a energetic and fluid photograph.
The bride and groom both under the veil can work but ONLY if the couple are facing and looking at each other. Eyes towards the camera is a big no-no as they can look like they are caught in a fishing net!
The MUST HAVE shot is the bride's father putting the bride under the veil before setting off down the aisle to meet the groom - and the moment when the groom or father removes the veil from the bride's face and she sees her bridegroom at the altar. Whatever happens it will always be a shot charged with emotion.
The bride shot from above walking down a staircase, veil trailing behind her.
Veil shots to avoid
Check when the groom is holding the bride in an embrace that the veil isn't being pushed into an unnatural shape or worse bunching up above her head.
If it is really, really windy, seriously consider removing the veil for some of the bridal portrait shots. If it is a full veil it will be blowing everywhere and the bride's expression might not be that relaxed.