Say "I Do" to Your Wedding Hues: The Ultimate Guide to Choosing Wedding Colors
Choosing the colors for your wedding is one of the first decisions you'll make as a newly engaged bride-to-be. While you might think this step is an easy one, you'll soon realize that there is more to picking your wedding colors than you might think — a lot more, in fact.
It's not just about picking two colors that you think would look fabulous for the season. You also need to be aware of which colors go together and how they will set the mood for your wedding.
If you're a thoughtful bride, you'll also need to consider how your wedding colors will look on your bridal party and your groom as well.
Overwhelmed yet? No need to worry! Before you get into a frenzy over the details, read this guide from Dessy to help take the guesswork out of choosing the perfect wedding color palette for your big day:
Choosing Colors: Things to Keep in Mind

Before we get into the nitty gritty of color choices, there are some key things you need to keep in mind before searching for the perfect hues. We've touched upon seasons and setting the mood for your wedding, so let's dive in a little deeper:
Wedding Venue
One of the biggest color mistakes brides make is choosing a color palette that doesn't fit the vibe of their wedding venue. If your venue is an industrial warehouse space complete with Edison lightbulbs and rustic brick walls, it's probably not going to look as good with super flashy colors such as bright orange or hot pink.
For venues that are somewhat of a blank slate, the world is your oyster. You can play it up with bold color combos such as purple and gold or enhance the romance with rose gold and navy décor.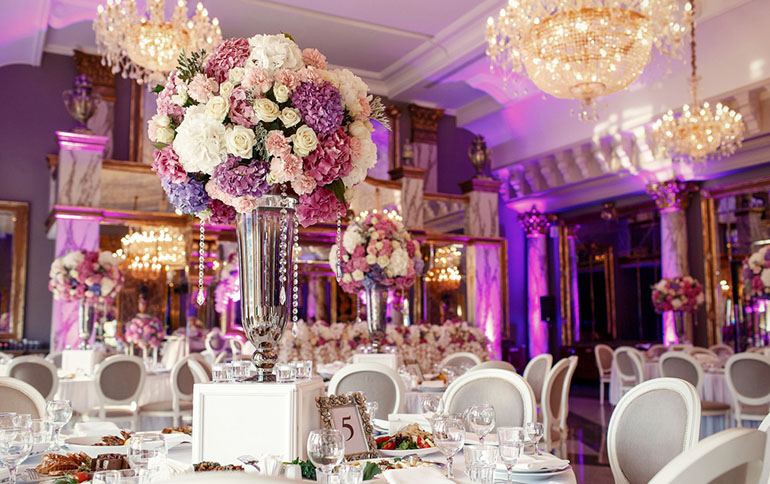 If you haven't chosen a wedding venue yet, do that before making a final decision on your wedding colors. That way, you won't have your heart set on a color palette that clashes with your venue.
Season
You don't need to be a color wheel genius to know that a color palette of marsala, burnt orange, red and chocolate brown is more suited to the fall than the spring. While this specific color combo may not work for a spring wedding, you can still get away with using some traditional fall colors on their own.
For example, you could brighten up marsala with peach and pink to make it fit in with a summer or spring wedding. In this scenario, you'd probably want peaches and cream bridesmaid dresses with hints of marsala in the bouquets to avoid creating too much darkness for the lighter seasons.
Wedding Theme
Your colors should fit with the theme of your wedding — or at least the vibe you're going for. If your wedding has a Bohemian feel to it, your color palette might include cranberry, burnt-orange, marigold, purple and light blue.
If romantic and whimsical is more your wedding style, your color palette could consist of soft pinks, slate gray and mauve. Play around with color combinations to see which colors evoke the mood and vibe that perfectly suits your style.
Flattering
Who doesn't want to look their best on their wedding day? No matter how much you love the color green, it may not be flattering to you or your bridesmaids.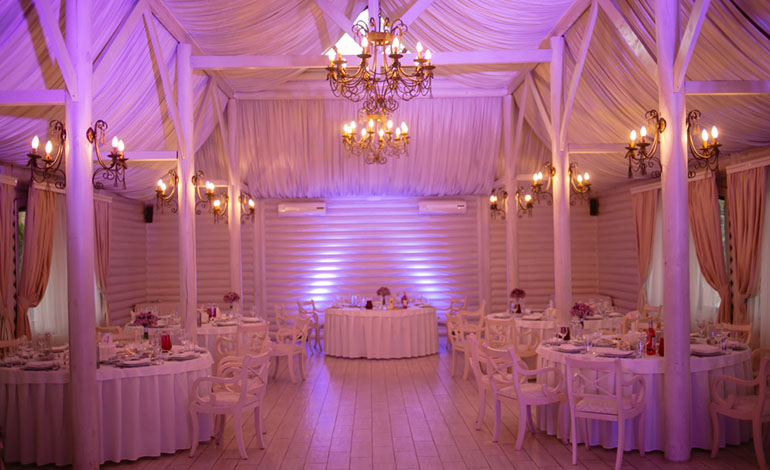 Sure, you'll probably be wearing a white dress. But if you choose to invest in uplighting to match your wedding theme, let us warn you right now — bright green is not a flattering color on anyone, and your photographer can only do so much editing to make your photos look better.
Don't forget the groom and his groomsmen as well. Picking your colors should be a decision that the two of you make together!
Trendy Wedding Color Combos

Once you know how to pick your colors, it's time to find the perfect wedding color palette that speaks to your sense of style. If a trendy wedding color palette is what you're searching for, you can't go wrong with these on-point color combos:
Coral Combos
Best for: Spring and Summer
If trendy is your middle name, you can't go wrong with coral. Named Pantone's 2019 color of the year, coral is bound to be in countless weddings this spring and summer.
Aqua and coral is a common color combo for summer weddings, but there are plenty of unique coral color palettes that you can use to switch things up. For example, your bridesmaids would look stunning in gradient colors featuring coral, ginger and peach: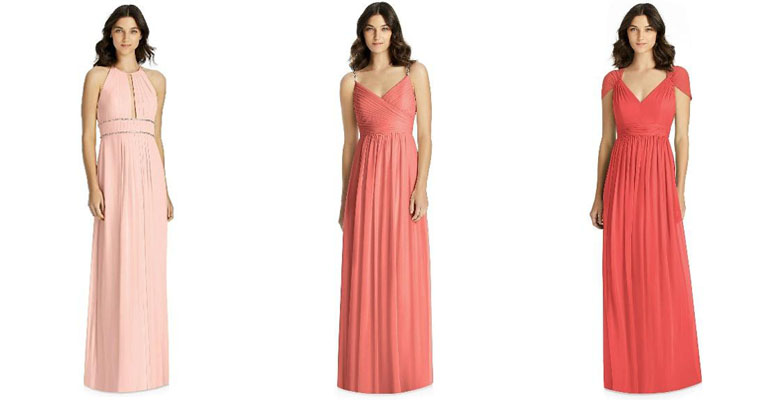 Jewel Tones
Best for: All Seasons
Jewel tone wedding colors consisting of ruby, emerald, amethyst and sapphire make for a bold color palette that can work for any season, depending on which colors you pair them with.
For fall and winter weddings, emphasize the moodiness of your jewel tones with rich purple, deep red and dark blue. You can also throw in a splash of gold to emphasize your deeper hues.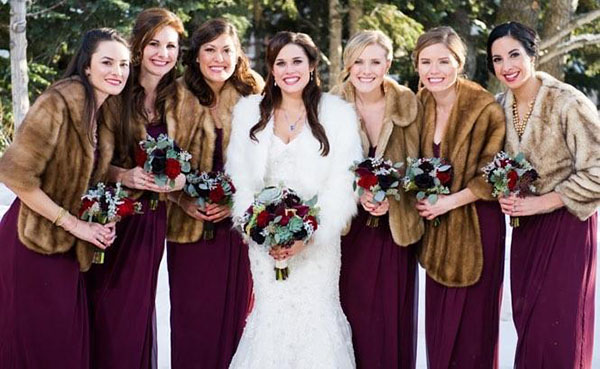 Want to brighten up those jewel tones for spring and summer? Keep the deep purple and ruby red while adding amber and turquoise to your color palette. The turquoise will instantly make this color scheme suitable for spring and summer weddings.
Sage and Ivory
Best for: Spring, Summer and Fall
Calling all minimalists and nature lovers! This color combo is for you. In recent years, more brides have opted to let nature be the focal point of their wedding by choosing a simple color palette of ivory and green.
This color combination could easily be boring — if done incorrectly. But a venue with lots of natural and wooden features will pop against the white and green, enlivening the décor with elegance.
You can also play up your venue with hints of pink or yellow in your floral arrangements. Just remember to keep them as accents to avoid distracting too much from your minimalistic style.
Dusty Rose Combos
Best for: All Seasons
Dusty rose is the perfect color choice for any season. Sweet and romantic, this classic color is super versatile and can go from moody and mystic to soft and whimsical, depending on what you pair it with.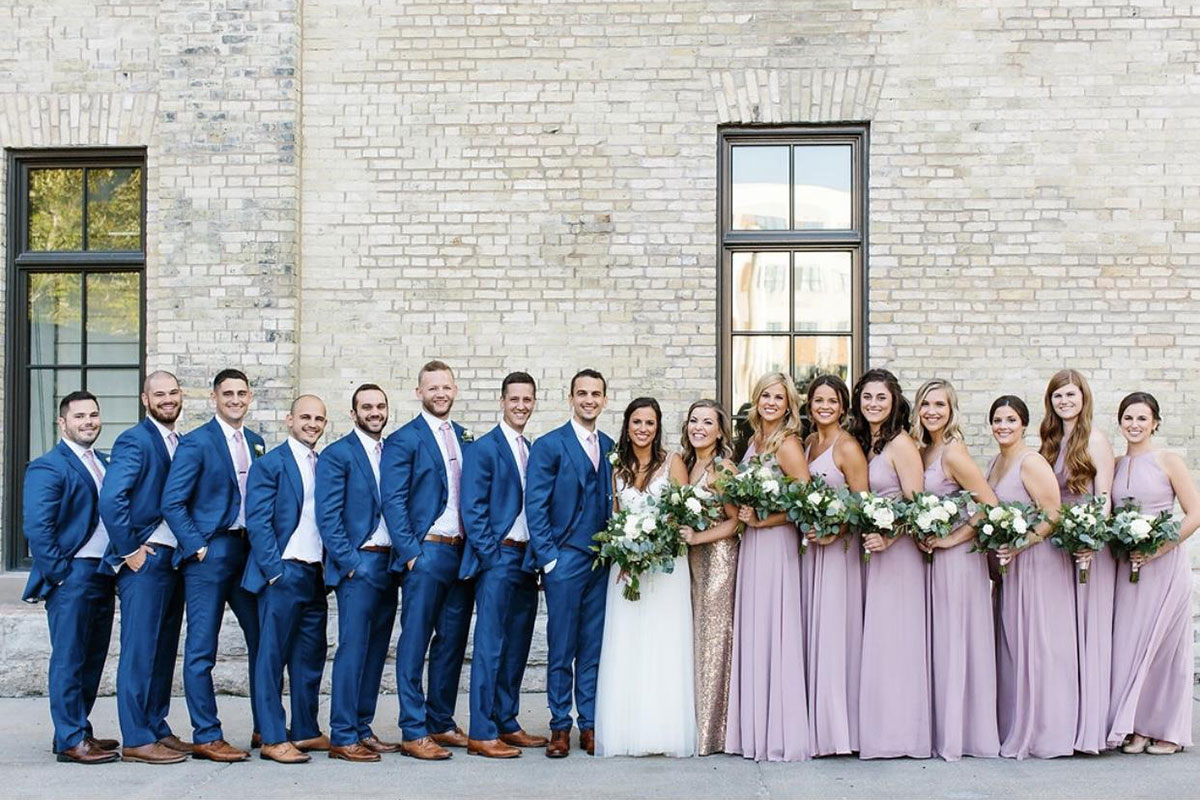 REAL DESSY WEDDING | Colors: Dusty Rose, Cinnamon Sequin | Mens: Dusty Rose Ties | Photographer: @kylekelleyphotography
For a moody aesthetic, dusty rose looks absolutely gorgeous with dark grey and burgundy. If you want to be more romantic and less moody, you can ditch the grey and use a maroon and dusty rose combo.
Dusty rose works for a winter wedding too. And because it is universally flattering, your bridesmaids are sure to stun in dusty rose bridesmaid dresses and beautiful fur shawls.
Black Combos
Best for: Fall and Winter
From black, white and gold to black, green and blue, creative brides are using all types of black color combinations. Some brides who are having a formal wedding stick to straight black and white for a timeless look.
If black on its own is too severe for your, consider opting for dark blue instead. You and your leading ladies will still look formal and classy in navy blue bridesmaid dresses — and navy tuxes will look on the gents.
Want to add some color to your black and white combo? Liven it up with a splash of gold to give your wedding a ritzy, glam vibe, or soften the black with apple green and chocolate brown.
Floral and Pastels
Best for: Spring and Summer
When spring arrives, everyone knows to bust out their best floral outfits. Why not make floral part of your spring wedding color scheme?
Floral prints and pastel colors such as rose quartz and baby blue fit right in with spring and summer weddings. Plus, there are endless options for your bridesmaids to sport flattering pastel and floral bridesmaid dresses.
Pairing florals with pastels will create a truly romantic effect. Dessy's blush garden and spring fling pair beautifully with blush or rose quartz, lavender garden looks divine with suede rose or celadon, and pairing bleu garden with cloudy makes for a dreamy match.
Rose Gold and Pink
Best for: All Seasons
Rose gold is having a moment — a very long moment, in fact. Although it doesn't seem to be going away anytime soon, you may want to hop on this trend before it makes an exit.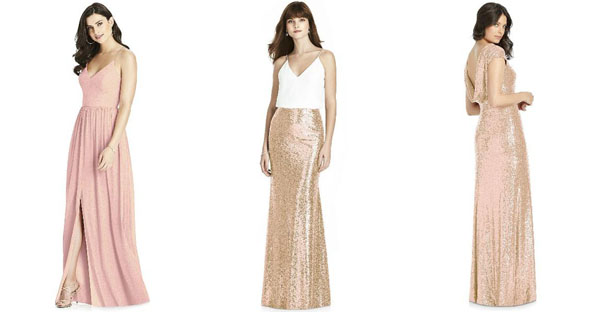 If pink on its own is too sweet and soft for you, this metallic hue will instantly add some glamour to your wedding without taking away any of the romance. One of the most popular wedding trends we're seeing is rose gold bridesmaid dresses.
From rose gold sequins to shimmer fabrics, your bridesmaids are guaranteed to look amazing in this color group. Plus, it will make for a stunning photo of all your dresses hanging up together.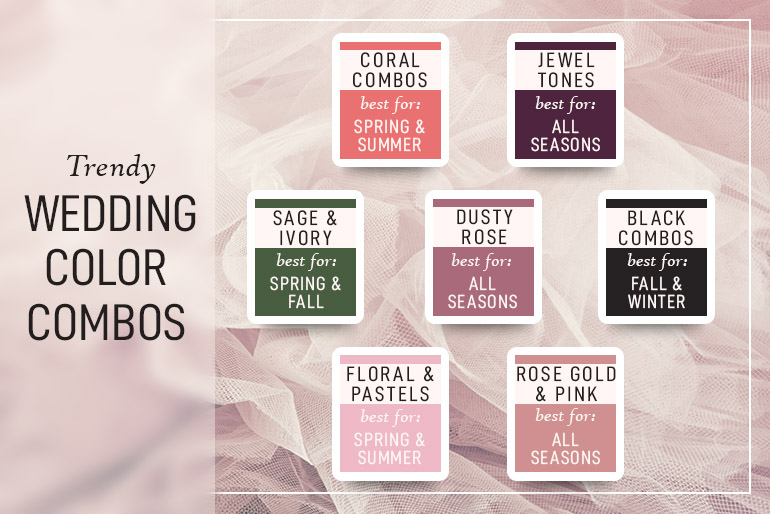 How to Incorporate Your Wedding Colors

Once you've chosen the right wedding color palette for your big day, you're probably wondering where you can incorporate these fabulous colors of yours. Here are a few of our favorite ways that brides have made their wedding colors pop on their big day:
Bouquets
Flower bouquets are a great opportunity to show off your full color palette, so don't let it go to waste. Find a flower expert as early as possible to help you craft an artistic array of flowers that contrast perfectly with your bridal party outfits.
Table Décor
Some brides keep things simple while others use their table décor to showcase their entire color palette. In this example below, the bride highlighted her mint green and gold colors from the name cards to the seat cushion.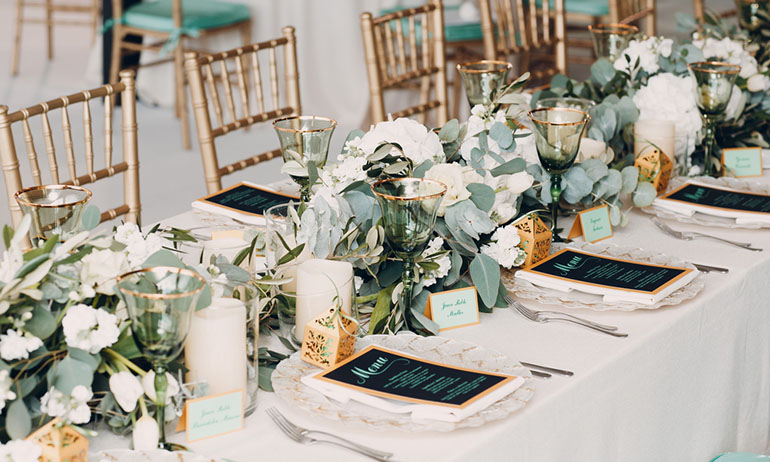 If you have gold in your wedding color palette, use it as an accent by setting the table with white plates and gold utensils. This couple did exactly that to create a chic, minimalistic vibe with a hint of glam: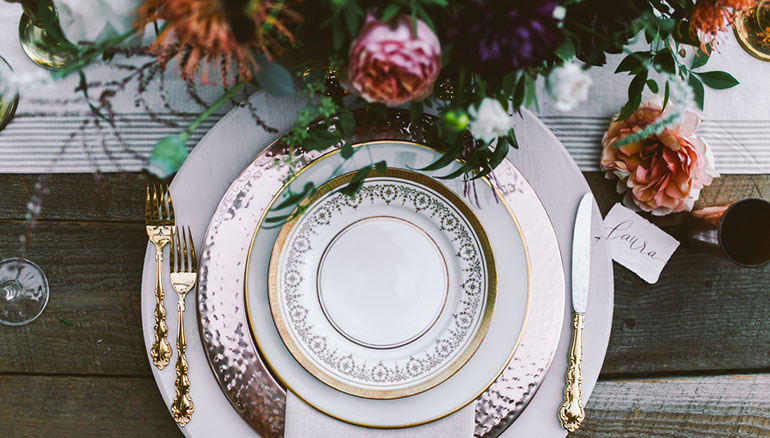 Bridesmaid Dresses
One of the more obvious places to highlight your wedding colors is through your bridesmaid dresses. While many brides choose to dress all their bridesmaids in a single color from the wedding color palette, this is no longer a hard rule.
Modern brides are mixing it up by having each bridesmaid wear a different color from her wedding color scheme. In the image below, the bride played off her color scheme of deep purple and lavender with some complimentary cool colors: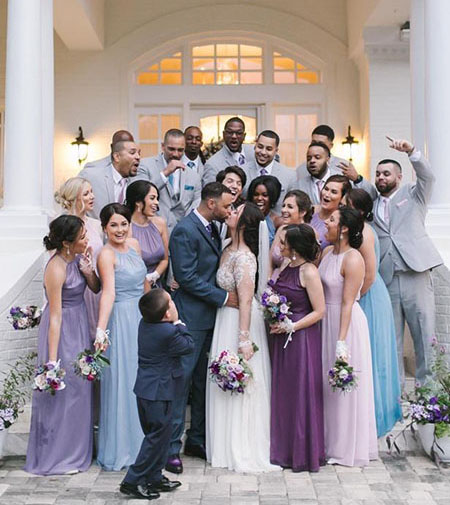 DESSY REAL WEDDING | Bella Bridesmaid: BB100 | Fabric: lux chiffon | Colors: Suede Rose, Dusty Rose, Cloudy, Windsor Blue, Larkspur, Aubergine | Mens: matching Ties & Pocket Squares | Photographer: Ashley Steeby Photography | "We absolutely loved our bridesmaids and groomsmen ties and pocket squares! Dessy helped make our day perfect!"
Groomsmen Outfits
Ties, bowties and pocket squares are all fair game for your wedding color scheme. Have your groomsmen wear ties that match your bridesmaid dresses and a boutonniere of a different color in your wedding color palette.
Cake
Some brides forget that their cake counts as décor. This sweet confection is another great opportunity to show off your entire color palette as well as your theme to your wedding guests.
Your guests will be taking pictures of your wedding cake, so you want to be sure its style and colors match the theme of your wedding. If your venue is rustic and your colors are rose gold and pink, consider placing your rose gold cake on a wooden cake stand.
Last Bit of Advice

One thing that few brides realize until it's too late is that their wedding colors will likely become their brand as a couple. Trust us when we say that everyone will give you gifts in your wedding colors for years to come.
In other words, your wedding color choice could likely affect you long after your wedding day. Think carefully before you pick a wedding color palette and sleep on your choice for a few nights to make sure you're as in love with it as you are with your spouse-to-be.