Southern Charm: The Best Suits and Bridesmaid Dresses for a Southern Wedding
If you've fallen in love with the idea of a Southern wedding, we can't say we blame you. With the South's time-honored traditions, rustic elegance and oh-so-polite mannerisms, there is something undeniably charming about getting hitched below the Mason-Dixon line.
Before you can throw the wedding of your dreams, you'll first need to decide what everyone in your wedding party is going to wear. Along with the typical wedding attire considerations, you'll also need to shop for bridesmaid dresses and suits with a Southern mindset.
Even if you're a born and raised in Dixie, finding the right wedding attire for a wedding in the South can be surprisingly tricky. With the help of this style guide, you'll be one step closer to achieving a dreamy Southern wedding that is just as beautiful as it is memorable.
Southern Wedding Planning: What All Brides Need to Know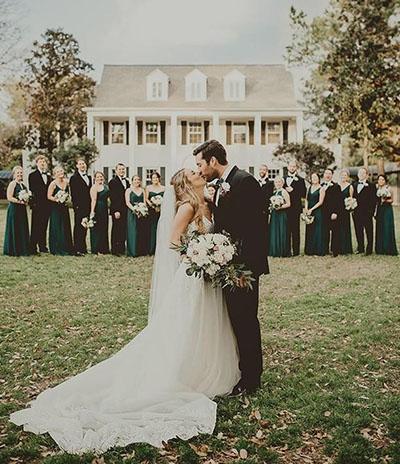 Southern weddings make for some of the most gorgeous, swoon-worthy affairs. From old oak trees to stunning gardens, the venues down South are undeniably some of the most romantic in the country.
But as every Southern wedding planner knows, there is a lot more that goes into pulling off a Pinterest-worthy wedding than meets the eye. To get a sense of what we mean, here are some things that all Southern brides must consider:
Weather — Planning an outdoor wedding in the South? Be prepared for temperamental weather. The warm weather season can bring insanely high heat and humidity, along with rain and potentially hurricanes. Always have a backup location in case Mother Nature doesn't play nicely.
Bugs — When Southerners say that they have the worst mosquitoes, they aren't lying. The South is well-known for having an unusually long mosquito season, thanks to its heat and humidity. Keep mosquitoes at bay by offering bug spray to guests and lighting citronella candles.
Football Season — There is a good reason why the majority of Southern brides schedule their weddings in the spring and summer. Scheduling a wedding during football season in the fall is a huge risk and practically a guarantee that some of your lifelong buddies—and even some relatives—won't make it to your big day.
Traditions — From seersucker suits to monogrammed wedding favors, Southern brides can't help but incorporate a few long-held traditions into their big day. These deep-rooted traditions are what make a Southern wedding unique, so don't be afraid to embrace them!

Southern Bridesmaids – Dress Styles and Considerations
As a Southern bride, there is a good chance that you've been a bridesmaid before. Now that it's your time to shine, you want to make sure that your leading ladies feel as good as they look in what they're wearing.
Along with general considerations such as the venue and the time of day you have your wedding, consider the following when choosing bridesmaid dresses:
Location — The weather in Dixie can be sporadic, so be sure to have a backup plan. In addition to a backup venue, you may want to have your maids bring additional footwear such as rain boots or flats.
Price — Even if they can't afford it, Southern gals are notorious for doing whatever it takes to afford the pricey gown the bride chose for them. Don't be afraid to consider budget-friendly bridesmaid dresses to help ease the financial strain that comes with being a bridesmaid.
Dress Fabrics — The heat and humidity in the South are no joke. Opt for lightweight, flowy fabrics in the summertime to keep everyone cool.
Wedding Colors — Keep in mind that darker colors will absorb the heat. To keep your bridesmaids from sweating up a storm on your big day, consider choosing wedding colors with at least one lighter hue for your gals to wear.
Must-Have Bridesmaid Dress Styles for Southern Weddings
Southern brides are known for their polished looks, big bouquets and graceful femininity. When shopping for bridesmaid dresses, look for details that embody these characteristics.
From romantic lace to feminine florals, there are some details that are rooted in Southern identity. Browse the following trendy bridesmaid dresses to give your bridal party some good ol' Dixie details with modern flourishes.
Floral Prints

It's not uncommon for Southern brides to have a lot of bridesmaids in their wedding party. The more the merrier, right?
With so many bridesmaids, you may want to consider breaking up the monochromatic look and adding pattern with floral bridesmaid dresses. Florals fit right in with the big blooms that Southern brides are so well-known for and will add a romantic yet playful touch to your wedding party.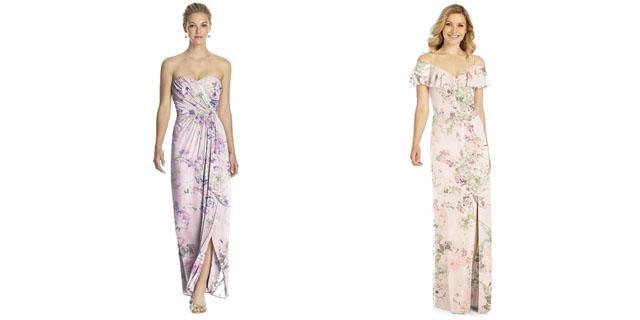 Florals are also an easy way to make your maid of honor stand out from the rest of your bridesmaids. You can choose between delicate blooms or big and bold florals to give her a subtle hint of romance or a statement-making print.
Wear-It-Again Styles

Southerners are always looking for an excuse to gussy up and throw a party. Consider opting for bridesmaid dress styles that can be worn again so that your gals can get more mileage out of them.

Cocktail Dresses
Cocktail bridesmaid dresses will fit right in at holiday parties and formal celebrations, while flowy chiffon dresses are perfect for garden parties, baby showers and summertime soirees.
Embrace the Lace

Lace details aren't just for the bride. Feminine and timeless, lace bridesmaid dresses can work with a variety of venues, from churches to barnyards and more.
Want your leading ladies to wear cowgirl boots under their dresses? Lace detailing is a great way to pretty up the look for a rustic farmhouse wedding.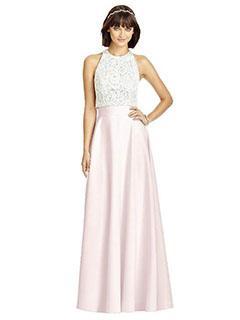 Lace Bridesmaid Dresses & Separates
For a dreamy and romantic vibe, consider outfitting your leading ladies with bridesmaid separates. Some of them can wear a lace top and crepe bottom, while others can wear regular bridesmaid dresses for a perfectly mismatched look.
Short and Sweet

When you're a bridesmaid in the hot and humid South, knee-length dresses with flowy fabrics are a godsend. Many Dixie brides love cocktail bridesmaid dresses because they're fun, playful and will no doubt have plenty of opportunities to be worn again.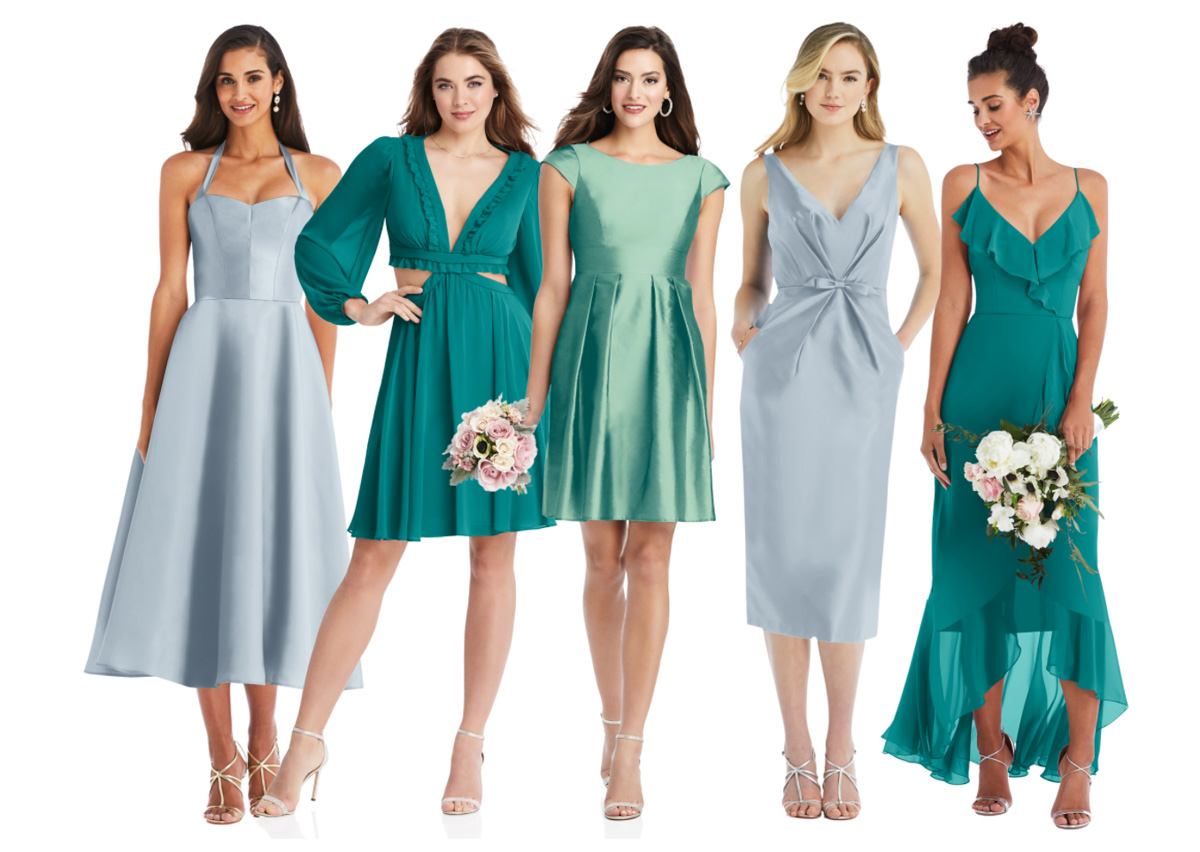 Besides, cocktail-length and midi-length dresses are easy to dress up if the venue calls for it. Just add a statement necklace, delicate earrings and an elegant pashmina for the ideal evening wedding look.
Pretty Pinks

We'll never tire of pink bridesmaid dresses. Pink is the color of compassion, nurturing and unconditional love, all characteristics which represent the modern Southern bride.
With their classic femininity and romantic vibes, you can't go wrong dressing your squad in any shade of pink. However, we can't deny that blush bridesmaid dresses are having a serious moment in the world of wedding fashion.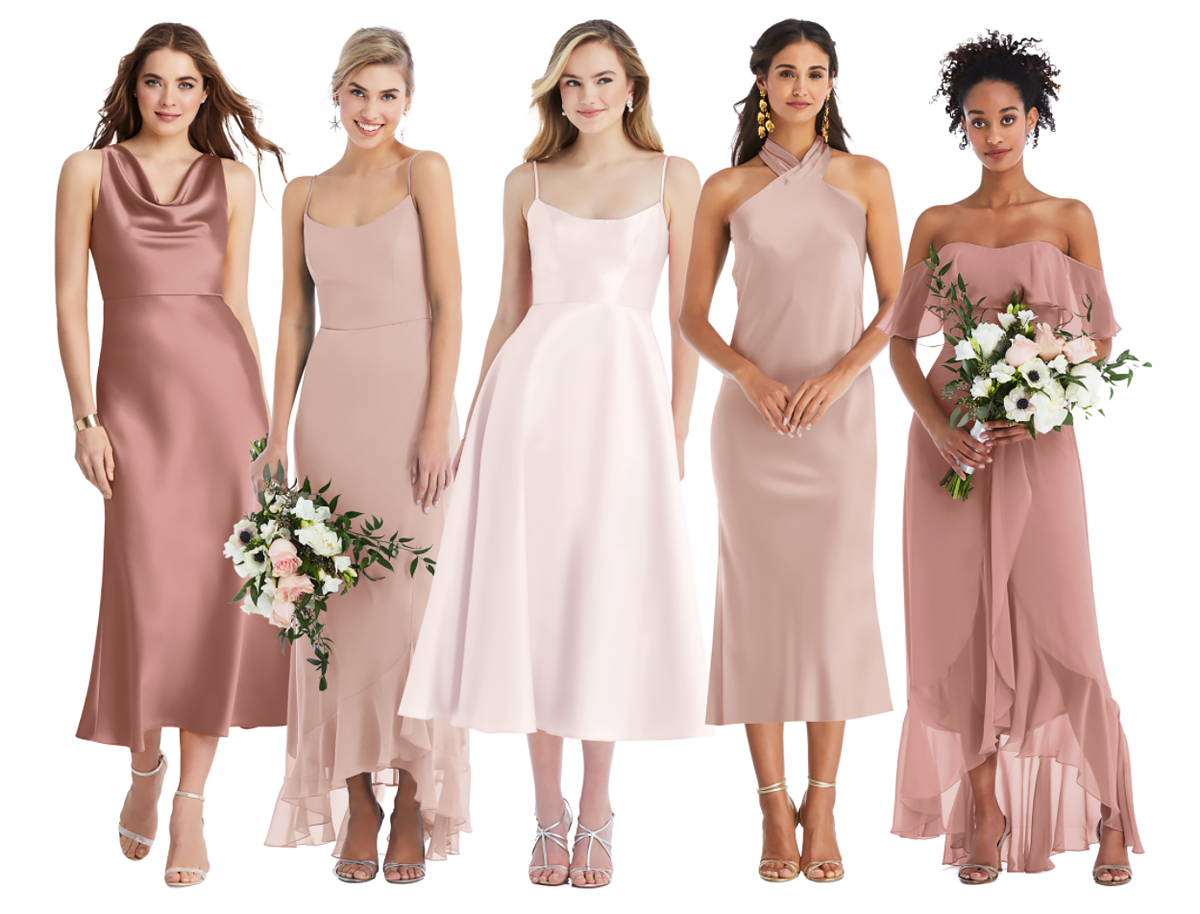 Pink Bridesmaid Dresses
Blush bridesmaid dresses are sweet without being too delicate and look gorgeous on every skin tone. Not to mention that there are an endless number of ways to make it your own.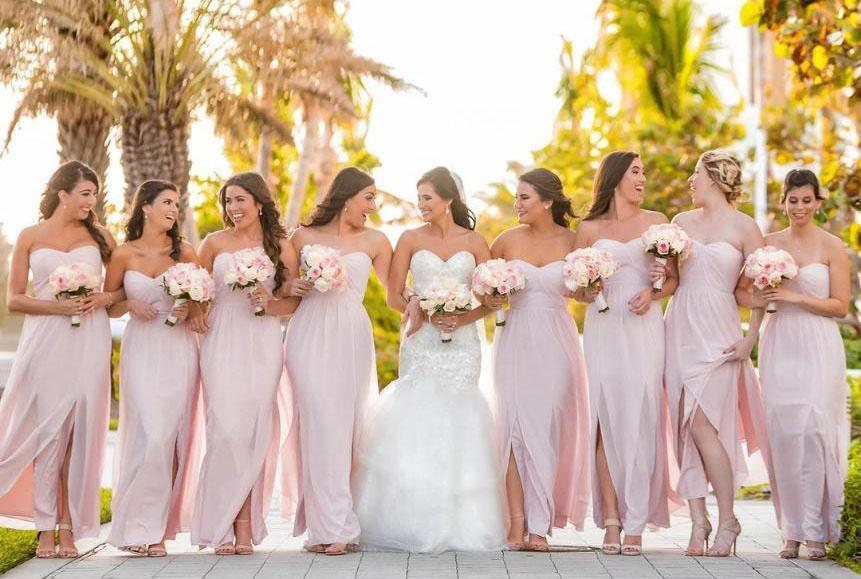 Real Dessy Weddings | Social Bridesmaids 8159 | Mario Munoz Photography
Dress down a long and lovely blush bridesmaid gown by skipping the jewelry and having your maids wear their hair down. If you don't want to have your bridesmaids all wear the same blush gown, switch things up and have a few of them wear gold sequin bridesmaid dresses for a dreamy and modern wedding.
Southern Groomsmen – Suit Styles and Considerations
With their show-stopping looks, the bride and her maids almost always steal the show. Although the bride is typically expected to outshine everyone else, this doesn't mean that the groom and his groomsmen shouldn't come dressed to impress.
Before we go over styles for the groomsmen, here are a few things to consider when shopping for wedding suits in the South:
Breathable Fabrics — To beat the heat in style, look for suits made with breathable fabrics. Popular choices include seersucker, linen, cotton and chambray.
Check the Football Schedule — Again, do not schedule fittings or any other important events around Saturdays during football season. If you do, expect for some guys to miss some of your wedding-related activities.
Best Suit Styles for Southern Groomsmen
There is perhaps even more pressure for the Southern groom to look dapper and put-together. Southern gentlemen are defined by their impeccable tailoring, lighter colors and warm-weather fabrics.
Seersucker – The Official Fabric of the South

If there is one fabric that is quintessentially Southern, it's definitely seersucker. Classic and distinguished, the men's seersucker suit is perfect for summer weddings and will be right at home in a historic mansion or rustic vineyard.
What's not to love about seersucker? In addition to its refined appearance and distinctive puckering, seersucker is an all-cotton fabric that will help keep the groom and his men cool in the sweltering summer heat.
If your wedding is on the casual side (casual for the South, that is), seersucker is sure to fit the formality of your event. For an added boost of Southern style, play up the prep with buckskin Oxford shoes and a colorful bow tie.
Don't want to be dressed from head to toe in seersucker? Incorporate it with your groomsmen accessories instead with a seersucker bow tie or pocket square.
Lighter Colors – Tans, Grays and Whites

Many places in the South have mild temperatures year-round, which means that lighter suit colors are on the table for spring, summer and fall. If you're getting hitched in the coastal Lowcountry, a laidback tan suit will look at home amongst swaying palm trees and white sand beaches.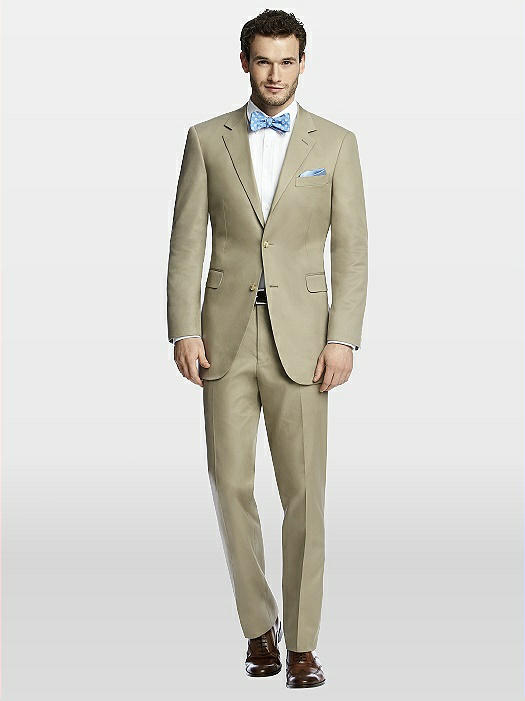 Getting married on a historic plantation, a la Blake Lively and Ryan Reynolds? Have your groom rock a similar look as Reynolds with a light gray plaid suit. A merino wool plaid gray suit will help wick moisture away on a hot day, keeping the groom cool and collected.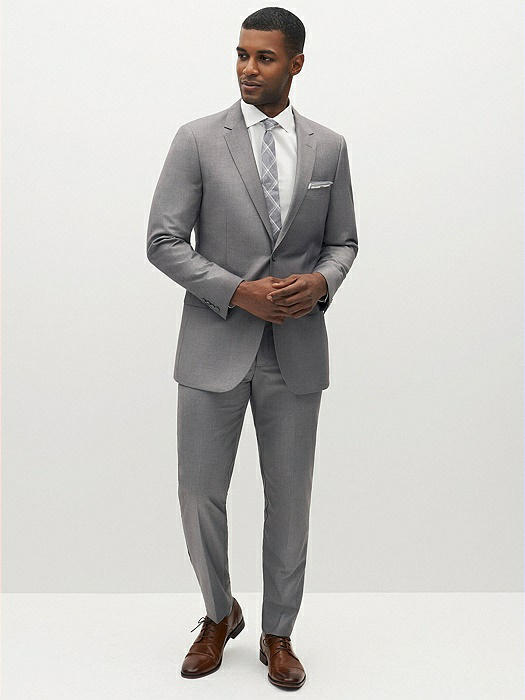 If you aren't feeling the plaid, there is always the tried-and-true light gray suit. Appropriate for daytime weddings, light gray suits are often worn for casual weddings. To take the formality up a notch, splurge on a fancier boutonniere or play around with a silk pocket square.
White Dinner Jacket with Black Pants

Timeless and elegant, shawl collar dinner jackets ooze panache and class. While black dinner jackets have long been standard for year-round evening attire, the white dinner jacket can be considered its warm-weather, daytime counterpart.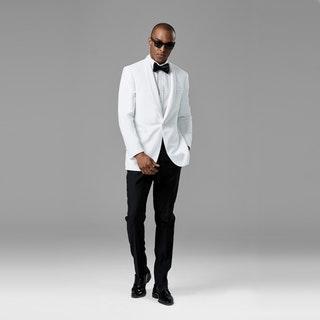 We won't bore you with the history of the dinner jacket, but just take our word for it when we say that the white dinner jacket is perfect for classy weddings in the South. In fact, it's almost exclusively worn below the Mason-Dixon line because it's associated with subtropical climates.
Often seen at high-end social gatherings in the summertime (think yachts and country clubs), the white dinner jacket is typically worn with black trousers. If you're worried about it being too formal for a daytime wedding, take a style note from this couple's playbook and focus on exquisite details with modern, Southern touches.
Preppy Accessories

In everyday men's style, accessories can make or break a man's attire. The same holds true for weddings.
Once you've chosen a stylish suit for your wedding, think carefully about which wedding accessories will go with your suit, the venue and your personality. For stylish, Southern grooms, you can never go wrong with prep-inspired accessories.
Preppy accessories such as bowties, suspenders and vests will help take your suit from everyday business wear to wedding sartorial greatness. Just remember to keep your wedding color scheme in mind so you can coordinate accessory accents with your bridesmaid dresses.
Mismatched Groomsmen

You may already be familiar with the mismatched bridesmaid trend. The mismatched groomsmen trend offers the same benefits including the ability for each groomsman to customize their look.
To pull it off correctly, there are similar constraints as well. To keep things cohesive, make sure that all the groomsmen mimic the groom's style and keep their outfits within the wedding color palette.
For example, each groomsman might wear a different color tie while all wearing the same suit. If your wedding is on the formal side, you'll need to be extra cautious to avoid going overboard with the mismatched looks.
A Stylish, Southern Wedding to Remember
There you have it! These bridesmaid dress styles and groomsmen suits are all oozing with Southern charm and sophisticated elegance that will make your wedding truly unforgettable.
Just remember to order your wedding attire within a reasonable time frame to give yourself enough time for alterations. While the time frame can vary based on whom you order from, it's generally recommended that you order wedding attire at least six months out.