Boho Bridesmaid Dresses: 5 Style Tips to Complete This Romantic Look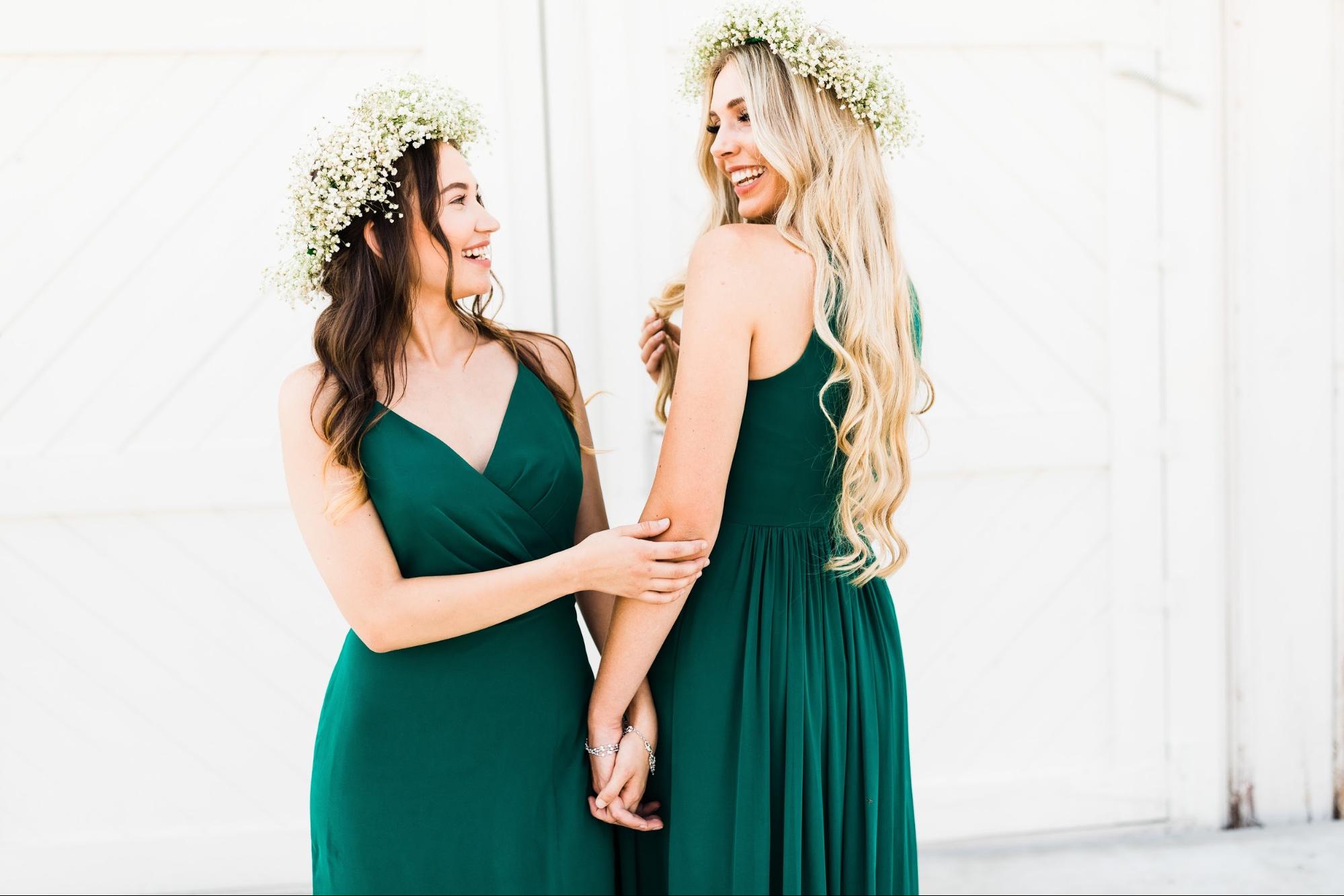 Dreamcatchers, flower crowns, crochet and lace details — yep, we can only be talking about bohemian-inspired weddings. Relaxed yet super romantic, modern boho-chic weddings have been trendy for years and show no signs of slowing down any time soon.
If you want to infuse your wedding party with boho-chic style, there are a few must-have elements that your bridesmaids will need to pull off the look. From earthy elements to relaxed bridesmaid dress styles, here are five tips to keep in mind for the ultimate boho bridesmaid look.
1. Seek Out Flowy Dress Styles
For a dreamy, boho-inspired look, choose full-length bridesmaid dresses with a flowy and relaxed style. Ideally, you'll want bohemian-inspired bridesmaid dresses that skim the body and fit loosely on your bridesmaids without looking sloppy or too baggy.
If you're shopping for plus-size bridesmaids, you'll definitely want to keep their body shape in mind for this particular style. Too much flowy fabric can be unflattering on larger ladies, so you may want to take advantage of the mix and match bridesmaid dress trend and opt for flowy yet flattering styles that skim all the right places.
2. Say 'Yes' to Flower Crowns
Is there anything possibly more boho than a wildflower crown? Perfect for spring and summer, flower crowns look gorgeous in wedding photos and effortlessly play up the romantic themes in your bohemian wedding.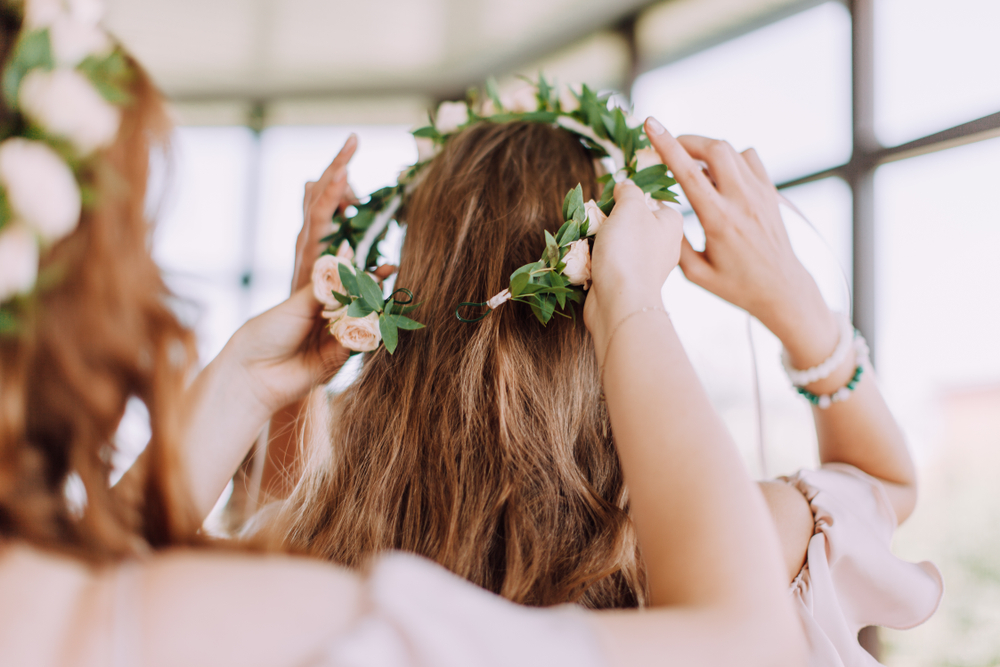 If you're wearing a white wedding dress, you can go big and bold with your flower crown with bright pops of color, or opt for soft hues of dusty rose for a romantic look. For DIY brides, consider making your own flower crown from scratch.
For your bridesmaids, focus on creating contrast. If they're wearing burnt orange bridesmaid dresses, have them wear white flower crowns that pop against the color of their dresses.
3. Consider Loose Hairstyles
One thing that will surely ruin the vibe of your boho-chic wedding is an updo that's too tight. To achieve a perfectly boho-inspired look, have your maids wear their hair in loose hairstyles that look natural and relaxed.
They don't necessarily need to wear their hair down and in loose curls (a la hippies from the late '60 s and '70s). If updos are your preference, ask your hairstylist to give them loose buns or half-up, half-down hairstyles with gorgeous waterfall braids.
4. Draw Your Style Inspo from Mother Nature
One of the hallmarks of bohemian style is its emphasis on earthy elements. Flower crowns, for example, take from the earth for a natural, hippie-inspired look.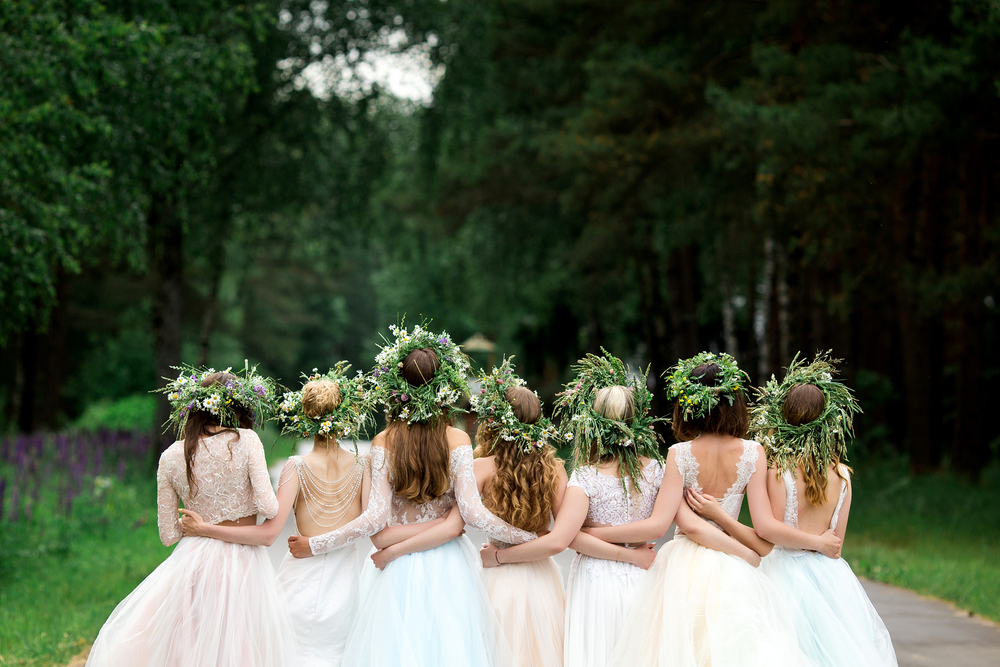 Another way to incorporate Mother Nature into your wedding is to add feathers or handmade bangles to your bridesmaids' ensemble. Just be careful not to overdo it with the feathers; otherwise, your maids might look like they came straight from a music festival.
5. Don't Forget Their Footwear
If you're committed to the idea of bohemian bridesmaid dresses, you can't have your maids walking around in rhinestone shoes. To keep with your boho-chic theme, look for bridal footwear that leans on the casual side — and, perhaps, untraditional side.
Open-toed sandals or heels made from brown leather are quintessential boho-chic footwear. You can keep them simple with braided leather detailing or add pops of color with turquoise beading or bright tassels.
If you're having a beach wedding, crochet barefoot sandals will perfectly fit your bohemian vibe. For chilly weddings in the fall, consider opting for suede booties that your bridesmaids can wear again after your nuptials.
The Best Boho Bridesmaid Dresses for Your Crew
Now that you know which elements to look for, it's time to begin your search for the best bohemian bridesmaid dresses for your entire crew. To help you pull off the trend with ease, we've rounded up a few must-have boho bridesmaid dress styles that each of your maids are sure to love.
Simple, Off-the-Shoulder Styles: Off-the-shoulder bridesmaid dresses are on-trend and perfect for warm weather weddings. Plus, their relaxed and casual look will fit right in at any boho-chic or boho-glam wedding.
Crochet or Lace Bridesmaid Dresses: Crochet, lace and other pretty detailing are synonymous with the boho look. For an especially romantic look, have your squad wear dreamy lace bridesmaid dresses or bridesmaid separates with a lace top and chiffon skirt.
Earthy and Muted Colors: Although there are many wedding color palettes that will give your leading ladies a boho-chic vibe, few colors are as suited for it as burnt orange bridesmaid dresses. If orange bridesmaid dresses aren't to your liking, muted colors such as taupe, slate gray, mauve, sage green and blush bridesmaid dresses also lend themselves well to the bohemian-inspired wedding.
Floral Prints: Why stop at just your flower crown? Beautiful blooms are decidedly boho-chic, so it makes perfect sense to choose floral bridesmaid dresses for your leading ladies. If you don't want to go overboard on the floral prints, consider dressing your maid of honor in a floral-print frock and have the rest of your gals wear solid colors.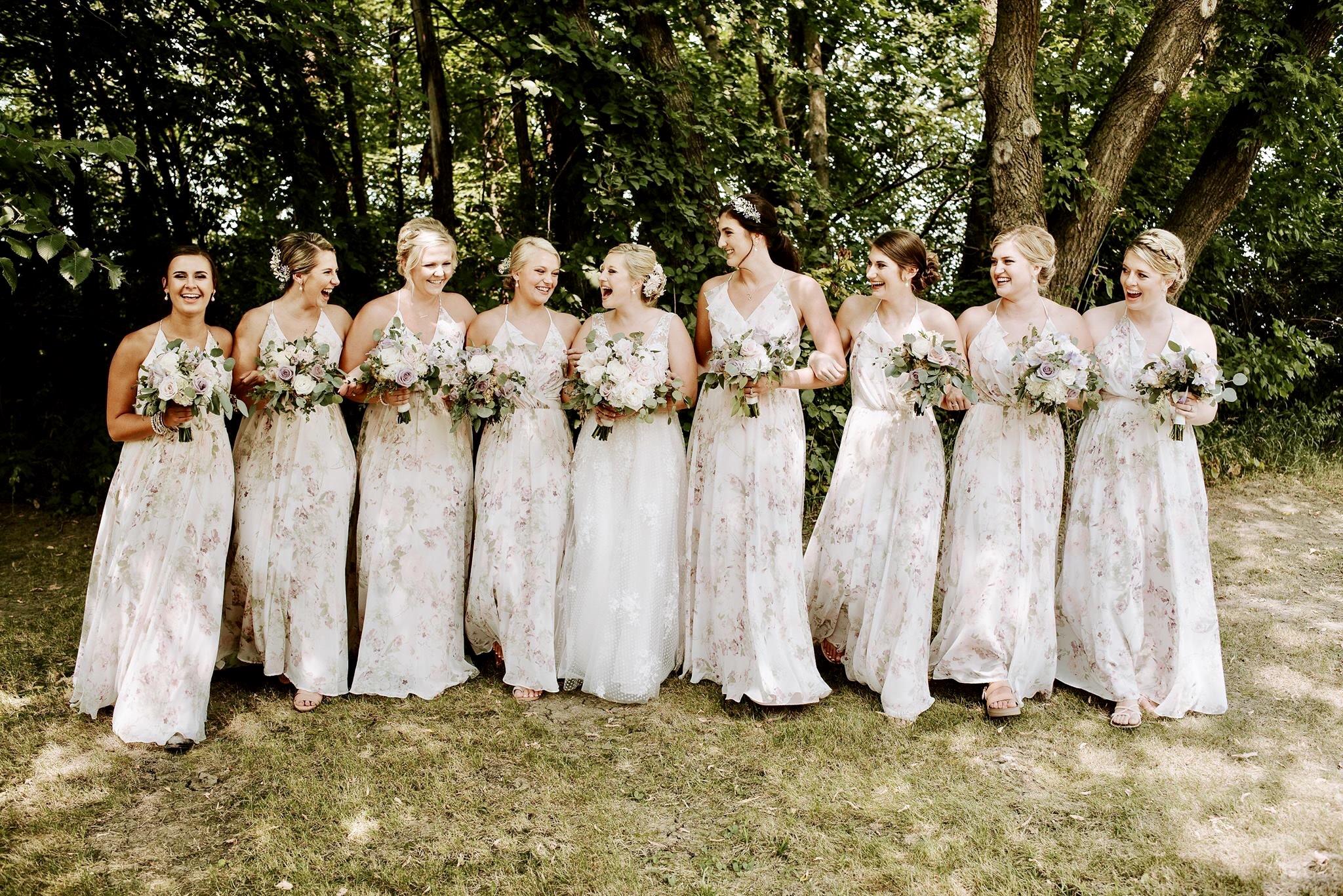 #DessyRealWeddings - Color: Blush Garden, "The blush garden dresses were absolutely perfect on all of my girls!!! I did my Jr's in rose quartz to compliment the big girls. The photos so far are turning out exactly as I had dreamed! Thanks to Dessy dresses I had THE BEST wedding EVER!!!" Photo by Ali Leigh Photography.
Pulling Off Boho-Chic and Romantic Bridesmaid Dresses
If you consider yourself to be a free-spirited bride, a bohemian-inspired wedding is calling your name. When done right, this whimsical and romantic style looks effortlessly chic. Just keep these signature elements of boho-style in mind and you'll be one step closer to achieving your dream bohemian wedding.
And remember, if you need assistance, we're always happy to help! Contact a Dessy stylist today and we'll help you find the perfect bridesmaid dresses to achieve your wedding day vision, boho-inspired or otherwise.