6 Things to Consider When Shopping for Flower Girl Dresses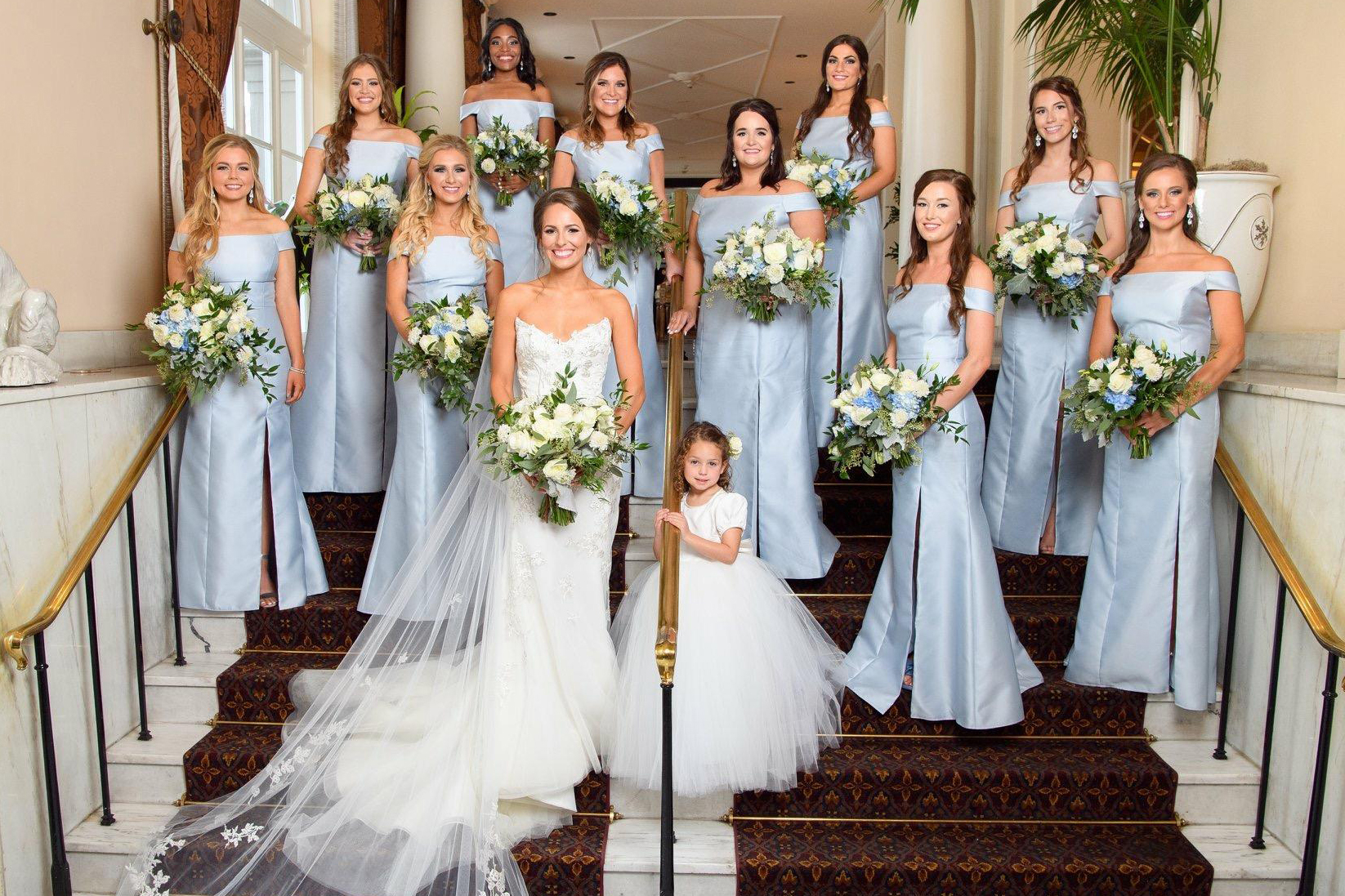 #DessyRealWeddings - Bridesmaids: Alfred Sung D751, Color: Mist, Photographer: @eyewanderphoto, "We loved how beautiful these dresses made all of my bridesmaids look & feel!! Couldn't dream of a better dress :)"
Everyone knows that the main goal of a flower girl is to look cute. Okay sure, she also precedes the bride down the aisle, scattering rose petals as she goes — but truthfully, no one is going to be judging her petal-throwing skills.
Instead, they'll be focused entirely on how utterly adorable your littlest attendant is, which has a lot to do with the dress she's wearing. From classic ivory frocks in lux chiffon to trendy rose gold sequins, there are plenty of chic styles that will help her shine on your big day.
Before you start shopping for flower girl dresses, there are some important things you'll want to keep in mind. To ensure that your youngest attendant feels comfortable and confident, here are six things to consider:
1. You Don't Need to Pick White or Ivory
There is no hard rule that says your flower girl dress must match the color of your wedding dress. While some brides will opt for classic ivory flower girl dresses that match the color of their wedding dress, others will have their flower girl dresses match the color of their bridesmaids.
Though your dress colors don't need to match, your flower girl dress style should keep in line with your overall theme. If you're having seaside nuptials, a lightweight and flowy lace dress is much more preferred over a fluffy tulle tutu style.
2. Pick a Style That Reflects Her Age
While your bridesmaids can get away with racier numbers, flower girl dresses shouldn't leave any room for controversy. In other words, keep the plunging necklines and shorter bridesmaid dress styles reserved for the adult members of your bridal party.
Flower girl dresses are usually tea length and for good reason. You don't want her to be tripping on her gown whenever she walks. To ensure that she makes it down the aisle without a hitch, be sure to stick to high necklines, simple frocks and no-fuss flats.
3. Opt for Durable and Wrinkle-Resistant Fabrics
When shopping for flower girl dresses, pay close attention to your choice of fabric. Although silk is a gorgeous fabric, it can be prone to rips if your flower girl isn't careful and often wrinkles easily.
Tulle fabric is another common flower girl dress fabric that can be finicky. If you'd rather not be searching frantically for how to get wrinkles out of tulle, you may just want to stick to lace or chiffon flower girl dresses that won't wrinkle as easily and look super romantic to boot.
4. Ask for Her Input
Some brides might argue that it doesn't matter what the flower girl thinks of her dress. While you should choose a flower girl dress that suits your style, it's important that you consider her feelings on the dress as well.
The last thing you want is for your flower girl to throw a tantrum on your big day because she hates her dress. If she refuses to wear a headband or doesn't like how a certain dress style feels, don't force her to wear it. Instead, work together to find something that she will look and feel comfortable wearing.
5. Order Flower Girl Dresses Closer to Your Wedding Date
Once you've found the perfect flower girl dress, you may want to hold off on placing the order. Kids experience significant growth spurts throughout their childhood, especially girls around the age of eight or nine.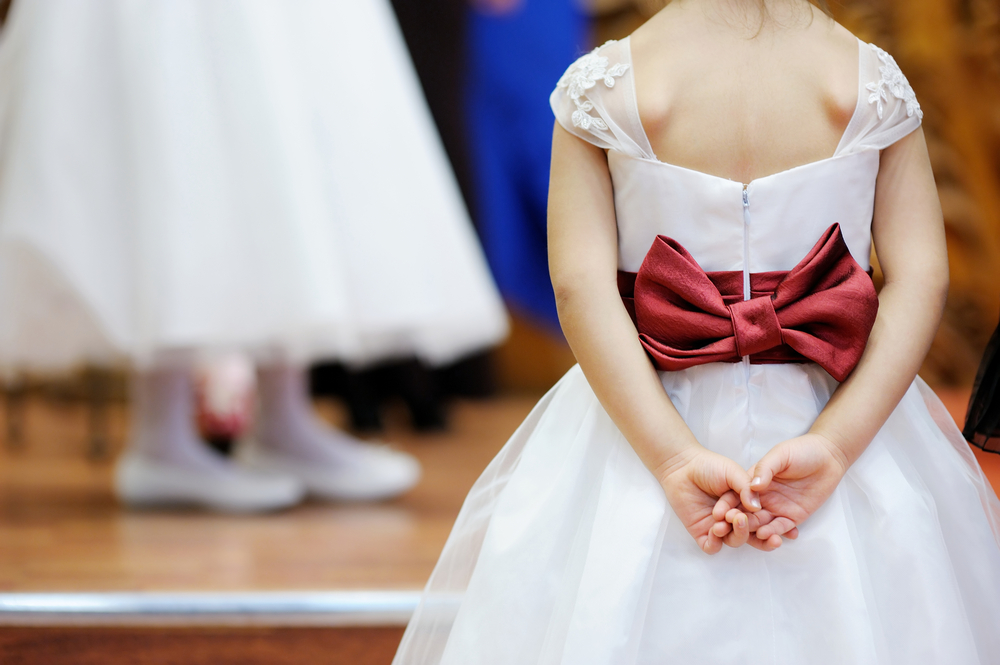 To avoid ordering a dress that won't fit your flower girl come the day of your wedding, hold off on ordering it until closer to your wedding date. You may also want to pick a backup flower girl dress in case your original pick is no longer available by the time you order.
6. Make Her Feel Special Prior to the Big Day
A lot of kids are understandably nervous about walking down the aisle and hanging out with adults they don't know. Find ways to make her comfortable on your big day by giving her extra attention before the event.
For instance, you can ask her and her mom to come to your bridal luncheon with the rest of your bridesmaids so that she has the chance to get familiar with everyone. When you hand out gifts for your bridesmaids, don't forget to give her one as well!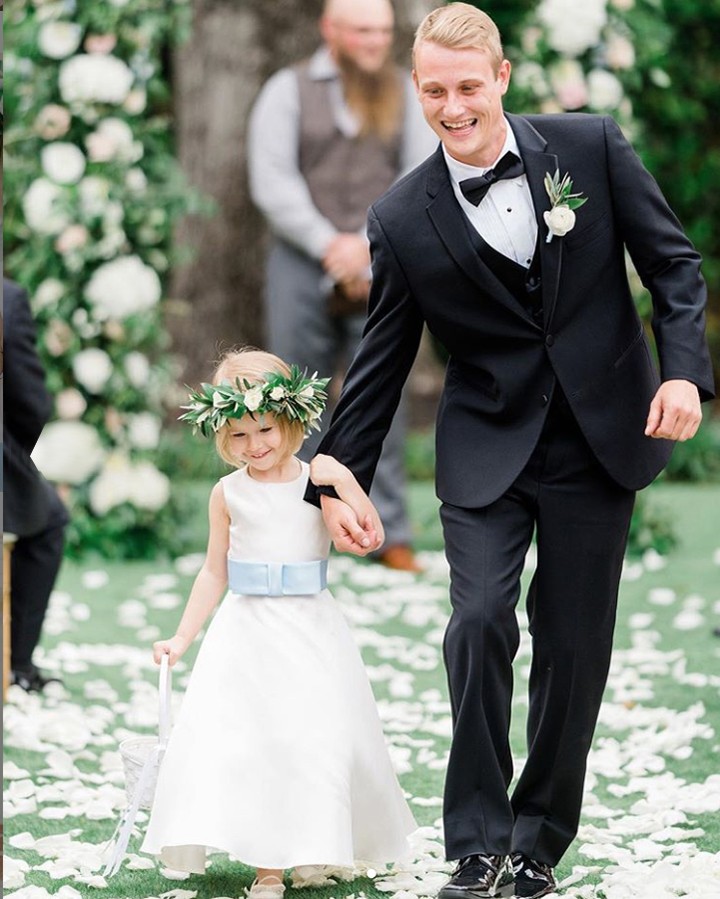 #DessyRealWeddings - Flower Girl Dress: FL4062
Giving Your Flower Girl the Chance to Shine
Your flower girl is tasked with the important duty of warming everyone up so they're extra mushy and teary-eyed when you finally walk down the aisle. Considering her essential role, it's only logical that you pay extra attention to what your youngest attendant is wearing.
With these shopping tips, you can pick a flower girl dress that helps her steal the show in the most adorable way possible. Need help getting her size or fit just right? Contact a Dessy Stylist or visit our NYC Showroom. We're always happy to help!