Wedding Outfits for Men – 9 Dos and Don'ts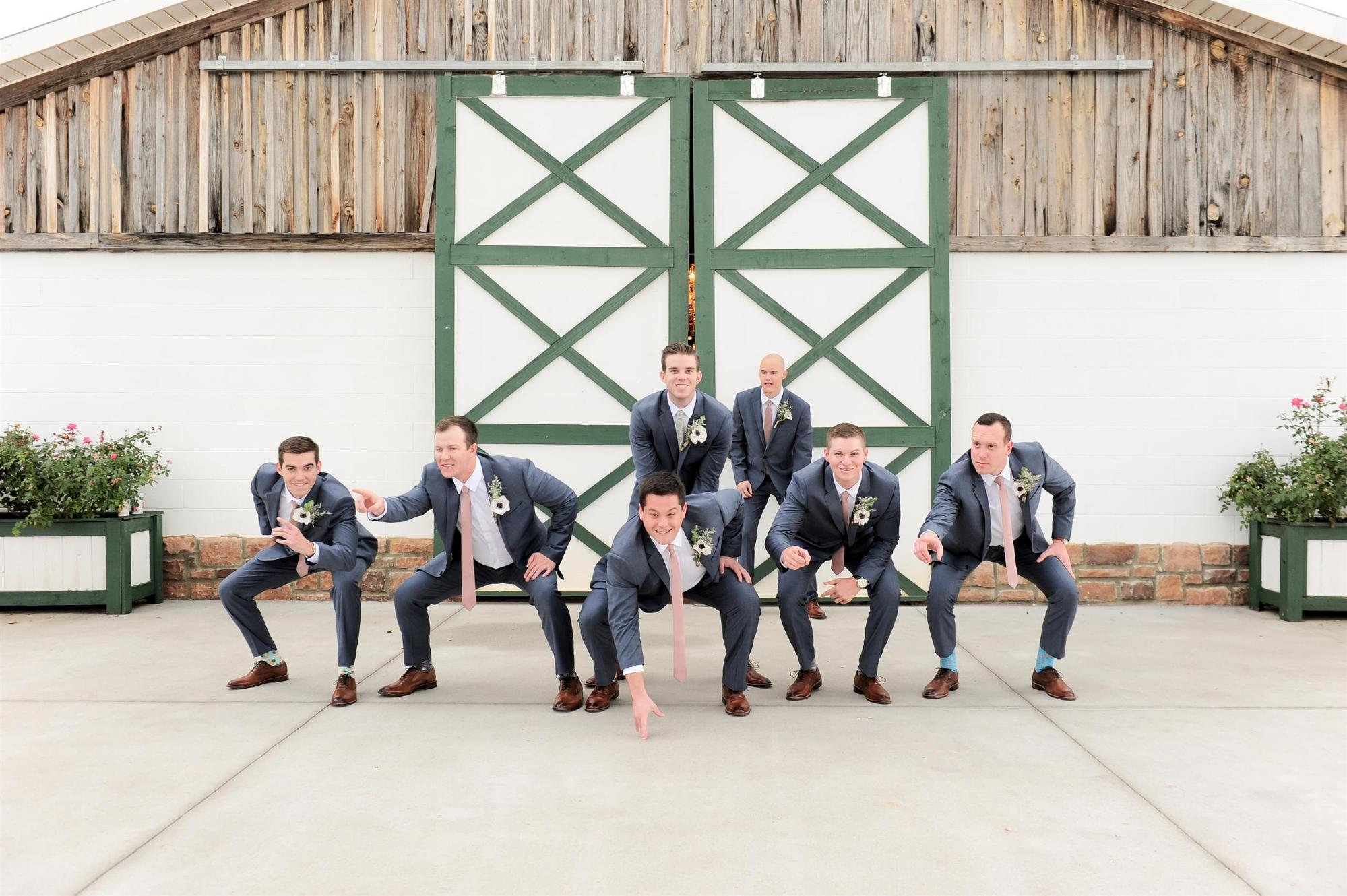 #DessyRealWeddings - Groomsmen: After Six Yarn-dyed Narrow Tie; Color: Sienna; Photographer: @kathytaylorscottphotography
Newsflash: Getting wedding guest attire right can tricky for men, too. Although guys don't have as many outfit choices as the ladies do, there are still fashion rules to follow and wedding guest etiquette to keep in mind.
So, to all the guys reading this, we've got you covered. Here are nine dos and don'ts of men's wedding guest attire.
Casual Wedding Attire for Men
Your wedding invite arrived in the mail and says that the dress code is "casual." That means you can wear whatever you want, right?
Unfortunately, the answer to that is no. While casual wedding dress codes are the most relaxed of the bunch, you still need to follow a few wedding fashion rules.
Do:
Aim for business casual attire. When in doubt, wear business casual attire to a casual affair. A nice pair of chinos with a button-down shirt (sans tie) and a blazer will be perfect for the occasion.
Wear a nice pair of shoes. While you don't need to wear dress shoes for a casual wedding, your footwear should still look nice. For a failsafe look, stick to loafers or a pair of chukka boots in place of your regular sneakers.
Play around with color. Casual weddings—especially ones held in the summer—are a prime opportunity to add pops of color to your attire. Consider donning a pair of colored chino pants with a classic navy blazer to balance out your look.
Don't:
Wear shorts or flip flops. Guys, it doesn't matter how hot it is outside. Shorts and flip flops are never welcome at a wedding.
Leave your graphic t-shirts at home. Save your statement-making graphic tees for the weekend. Although the dress code is casual, you still don't want to wear anything that might draw attention away from the bride and groom.
Neglect the fit. A casual dress code isn't an excuse to look sloppy. For a tailored look, be sure to choose clothes that are snug in all the right places.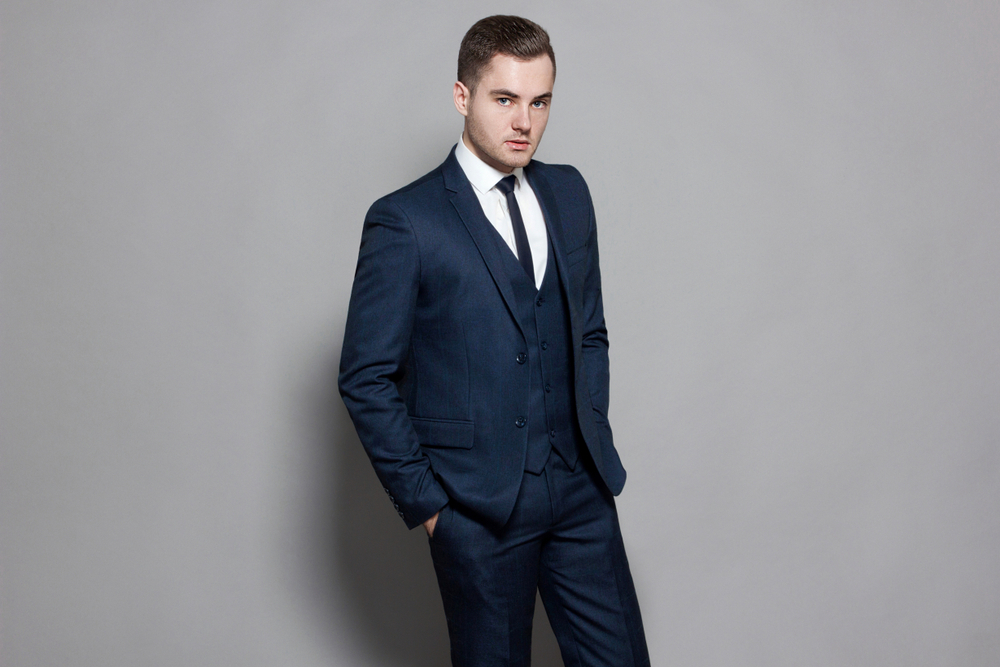 Cocktail Wedding Attire for Men
Cocktail attire falls somewhere between formal and casual wedding attire. While it's by no means fancy, the elevated formality of the occasion will require you to wear a nice suit and dress shoes.
Do:
Opt for a suit and tie. Suits and ties are recommended for cocktail dress codes. Have some fun with your look by picking a colorful tie that complements your suit color perfectly.
Seek out a tailor. Trust us, a well-fitting suit is worth its weight in gold. If you're working with a small budget, consider getting your most versatile suit tailored (a navy blue suit comes to mind).
Keep the season in mind. If you're attending a summer wedding, choose a summer suit in lightweight fabrics and colors. For a fall or winter wedding, opt for heavier fabrics and darker suit colors.
Don't:
Wear a tuxedo. Cocktail attire is nowhere near fancy enough to warrant a tuxedo. Save it for your black tie affairs.
Wear sneakers. Sorry guys, even your best pair of white sneakers aren't sharp enough for a cocktail attire wedding. Choose a pair of brogues instead, which can be worn with both cocktail and formal wedding attire for men.
Overdo it on accessories. While a pair of cufflinks and a tie bar can make you look dapper, overloading your suit with too many accessories can have the opposite effect. Keep it to a minimum and go easy on the jewelry.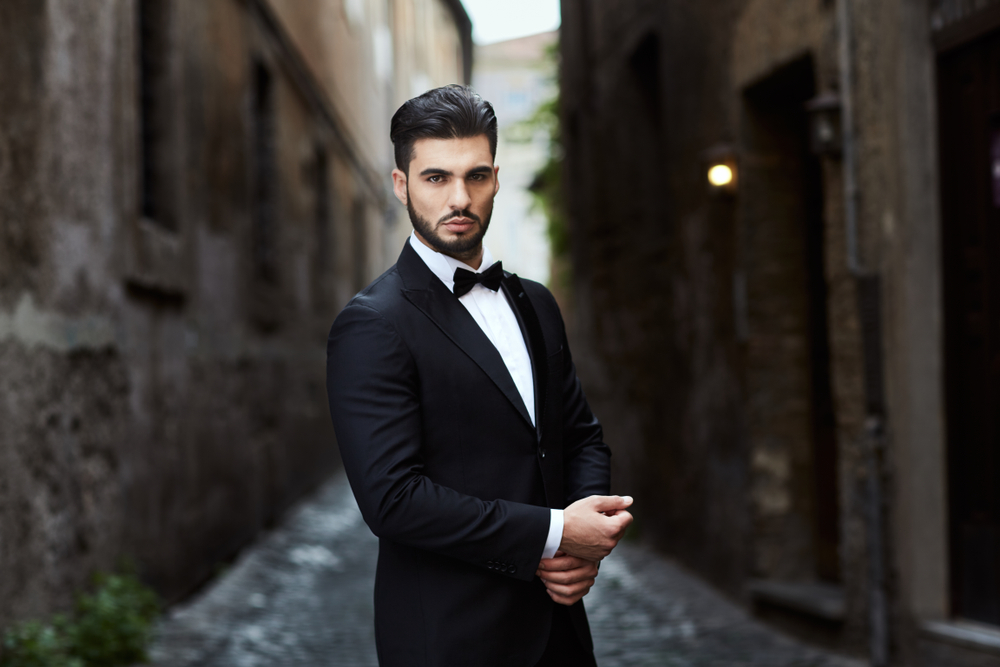 Formal Wedding Attire for Men
If you've been invited to a formal wedding, you'll want to have a tuxedo or suit on hand for the occasion. Some formal weddings may state "black tie optional" on the wedding invite, in which case, tuxedos are highly recommended (although not required).
Do:
Choose darker suit colors. Formal weddings call for darker suit colors (think navy, dark grey and black). If the wedding is being held in the evening, opt for a black suit or a tuxedo.
Wear a tuxedo if the invite says "black tie required". If the wedding requires black tie attire, skip the suit and wear a tuxedo. To enhance the elegance of your attire, consider adding a men's wedding vest to your ensemble.
Skip the brogues and wear black tie dress shoes. Brogues are considered a little too casual for a formal wedding. Instead, invest in a pair of black tie dress shoes you'll wear for years to come.
Don't:
Wear mismatching metals. Your studs, cufflinks and watch should all match. So, if you're wearing silver cufflinks, don't wear a gold watch.
Experiment with color. Unlike with casual and cocktail attire, formal wedding attire for men should be relatively devoid of color. Keep it clean and simple with a black suit and a pocket square styled in a presidential fold.
Forget your bowtie. This level of formality requires men to wear either a tie or a bowtie. For a black tie required dress code, skip the tie and wear a black bowtie instead.
Wedding Attire for Men Made Simple
If you don't know what to wear to a wedding, you're in good company. Many guys are completely lost when it comes to finding the perfect wedding attire for men. With these dos and don'ts, you can at least avoid some of the more serious wedding fashion faux pas that men have been known to make.