9 Tips for Choosing Bridesmaid Dresses You Can Easily Wear Again
Sure, you've put thought into the dress you're going to wear on your wedding day. It's your big day, after all! You've spent hours searching through different bridal boutiques, and your bridesmaids were with you every step of the way. Now, it's their turn to find the dresses they're going to wear on your wedding day. Make sure they find beautiful bridesmaid dresses they can easily wear again by following these nine tips!
1. Avoid Long or Floor-length Dresses
Weddings might be a formal occasion, but a majority of events throughout the year aren't. Help your bridesmaids out by encouraging them to purchase short bridesmaid dresses instead of long or floor-length ones. They can wear their shorter dresses to a variety of events after yours. And, if your wedding is outdoors or during the summer, your bridesmaids will really appreciate wearing dresses that will keep them cool while outdoors.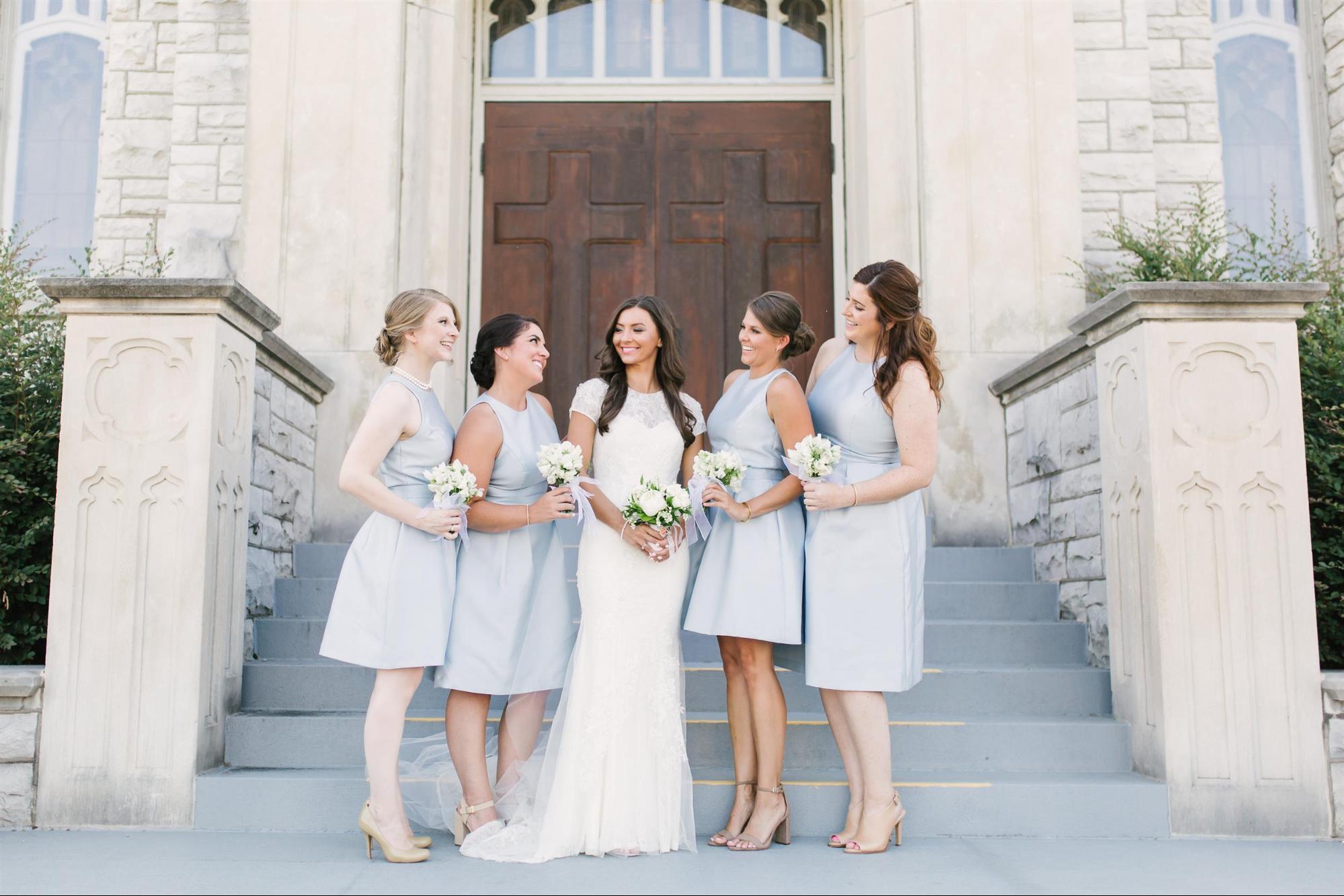 #DessyRealWeddings - Bridesmaids: Alfred Sung D696; Photographer: Meredith Benton Photography; "These dresses were perfect! My bridesmaids got compliments on them all night!"
2. Limit the Sparkle
You might be tempted to find your bridesmaids dresses that have lots of sparkle and shine on them—your wedding is a party, right?! Sparkly, sequined dresses aren't the easiest to rewear, though. They might look great in pictures, but critics' opinions on glitter and glam change often. You'll want to find dresses for your bridesmaids that will stand the test of time.
3. Go Vintage!
Not only do vintage bridesmaid dresses create a perfect photo op, but they also are dresses proven to stay in style. Vintage dresses are interesting. Your guests will be complimenting your bridesmaids from the moment they step down the aisle until the end of the reception!
4. Try Something New
If you want dresses that each of your bridesmaids will be represented individually in, use convertible bridesmaid dresses! There are so many ways your bridesmaids can style their dresses, making each one unique and tailored specifically to their style. These new dresses are perfect for your bridesmaids because they can fit each body type, too!
5. Always Go Neutral
Even though your favorite color might be magenta, don't ask your bridesmaids to wear it. Play it safe with neutrals, such as greys, browns and blues in your wedding. If you're dead set on your bridesmaids wearing a bold color, pick the pastel version. Muted tones are more likely to be worn again. You can also incorporate bold colors in your table linens or florals instead of in your bridesmaid dresses.
6. Versatility Is Key
You'll want to think of bridesmaid dresses that your bridesmaids can wear as they age, too. Avoid fitted mermaid or body-con dresses when brainstorming what your bridesmaids should wear. Sure, everyone should wear what they want, but if your bridesmaids want dresses that will change with them through the years, focus on dresses with empire waists and loose sleeves.
7. Think of Their Wallets
Weddings are expensive—we know that! Your bridesmaids can still feel like a million bucks, even if their dresses aren't. If your bridesmaids are purchasing their own dresses, try to remember that they might not have the same budget as you. We have great dresses that fit every bridesmaid's wallet. Not only will your bridesmaids feel confident in them, but they'll definitely get their money's worth because they can wear them again and again.
8. Try Out Some Separates
If you're looking for an alternative to traditional bridesmaid dresses, encourage your bridesmaids to try separates! There are a variety of styles for tops and skirts that your bridesmaids can definitely wear at events other than your wedding. If you have a multi-color theme for your wedding, having your bridesmaids wear separates is a great way to include the various colors in your theme.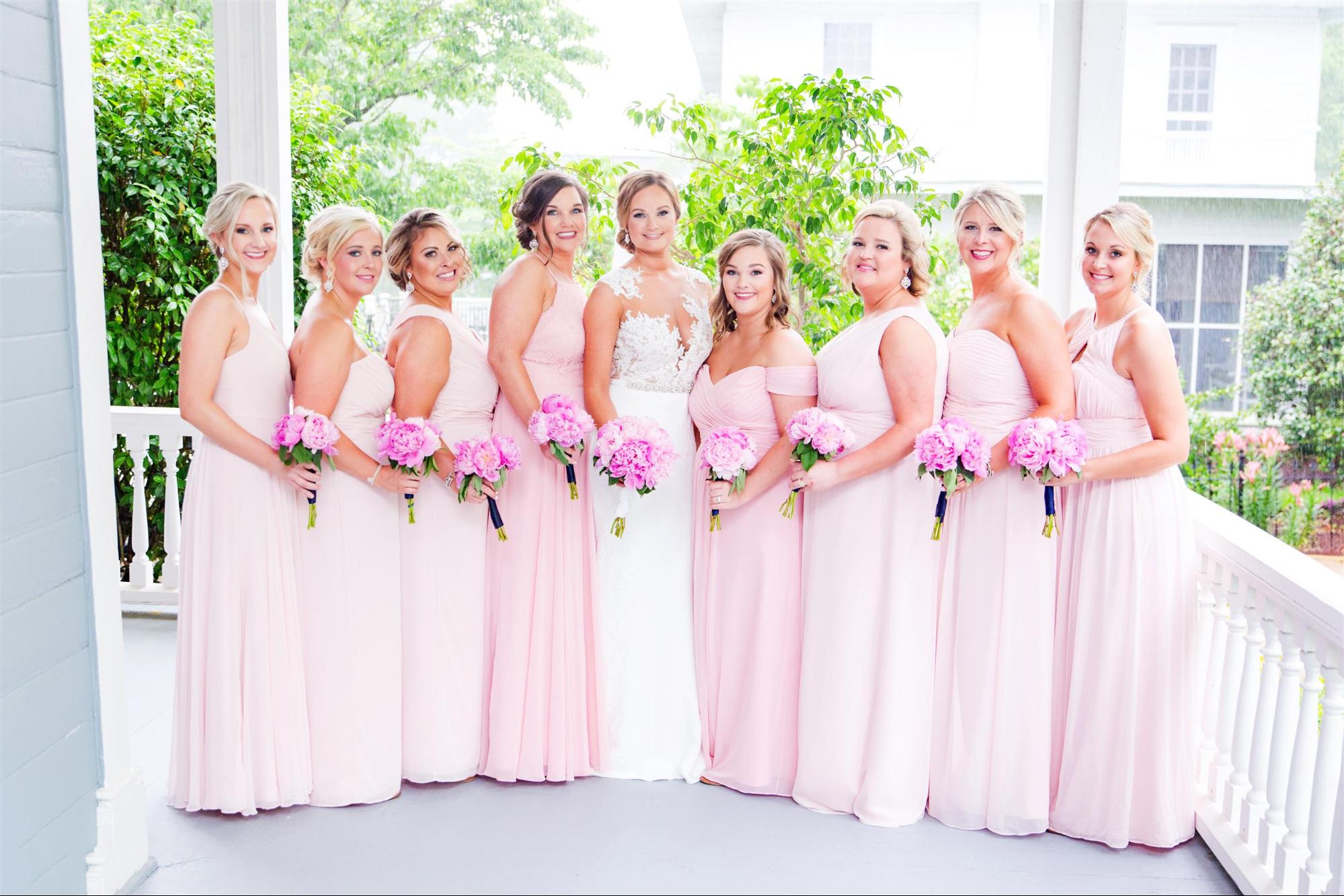 #DessyRealWeddings - Bridesmaids: Dessy Collection; Photographer: Magnolia Photography; "I was late picking out bridesmaid dresses so we had to order directly from the website in order for them to be in on time. All of the dresses were delivered on time and looked great!"
9. Don't Be Afraid of Differences
If you're looking for a surefire way to have your bridesmaids wear dresses they can easily wear again, let them pick their own! Give them a color recommendation and then let them go searching for one they like and will wear again. It's okay if one of your bridesmaids chooses to mix and match. The days of uniformity are long gone, and brides are experimenting with all sorts of styles and designs for their weddings–including what their bridesmaids wear.
Talk to Your Bridesmaids
Your bridesmaids are the ones who are going to wear their dresses all day, so why shouldn't they have the chance to give their opinion on what dresses they want? Your day will go much smoother if your bridesmaids are in dresses they're comfortable in—and they will be so grateful you took their likes and dislikes into consideration while planning your wedding!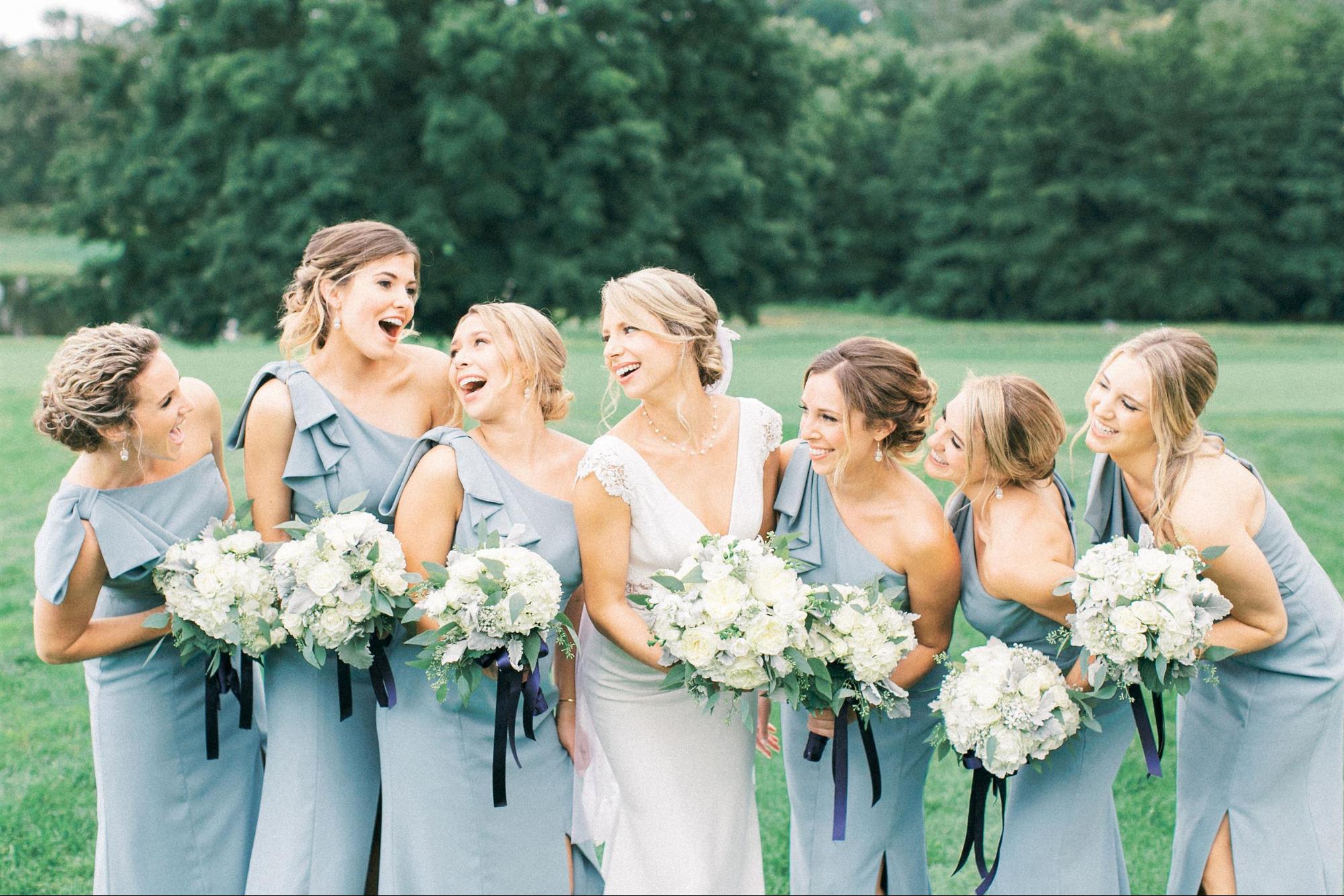 #DessyRealWeddings - Bridesmaids: After Six 6769; Photographer: Vanessa Marie Photography
No matter your theme or color scheme, the perfect bridesmaid dresses are out there for the ladies who will celebrate your wedding with you. Follow our suggestions, and your bridesmaids will be so happy to be part of your special day knowing they can use their dresses for years to come.