Autumn Wedding Colours to inspire you
If you're planning an autumn wedding you're going to LOVE all the seasonal colours on offer.
I read plenty of blogs and articles on spring and summer weddings but autumn doesn't seem to get so much of a look in.
That's a pity, because the oranges, russets, earth browns and gold tones that traditionally go with that time of year and create the wonderful autumn wedding colours are so inspirational.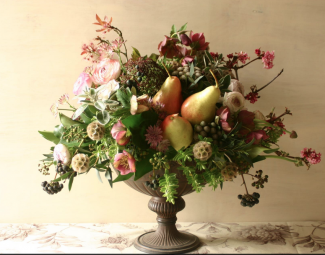 So what flowers should you be choosing for a September/October wedding date? Florist Sabine Darrell of G Lily recommends dahlias, hypericum berries, sunflowers, hydrangeas, asters and gladioli - all late summer/autumn blooms that are in season and so won't be overly expensive.
Now, as the bride, you'll probably be going the traditional route and wearing a cream or white bridal gown, rather than an orange number.
But you can focus on your bridesmaids and dress them in autumn theme colours. In fact, rather than dress them all in one shade, why not let them choose their frock in an autumn shade, in a colour that they know suits them.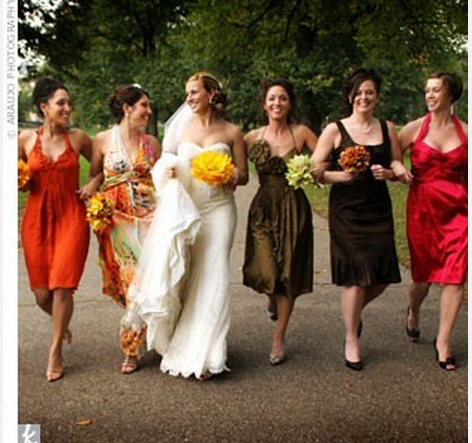 An array of browns, greens, golds would look fabulous on your maids and they'd feel more individual.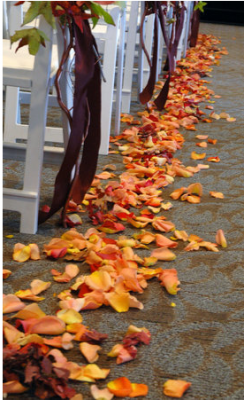 At Dessy you'll find coloured ballet flats in all autumn hues and shades to match and contrast with your bridesmaid dresses. Also pashminas to wrap up against cool winds and necklines to suit every figure.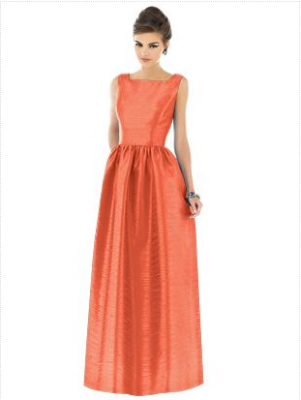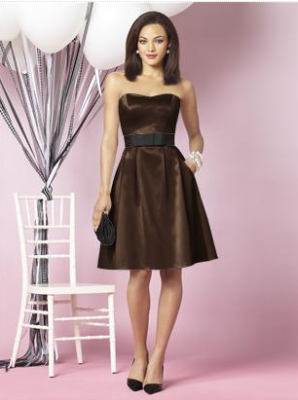 Think berry colours like blackberry, deep reds, dark purples. The shades of autumn leaves in every colour from yellow through to deepest burnt brown.
It's also worth remembering to use fruits that are in season at your wedding reception - apples, pears and plums to reflect your autumn theming. It's often a time of year when we're blessed with an Indian summer, so you may get glorious sunshine during the day followed by a crisp evening.
You may also find it easier to get your dream venue at short notice in the autumn, rather than spring and summer which are the more traditional months for weddings.
Enjoy planning your autumn wedding colours and remember we'd love to see your photographs if you'd like to share!
Photo credits: Top bouquet via Wedding Bee, formal flower arrangement by GLily, bridesmaids with bride via The Knot, leafy aisle by Forward Photography via Project Wedding. Ballet flats and bridesmaid dresses featured by Dessy.