An enchanting Jewish wedding full of personality and detail
Today we've got a guest post by Karen Cinnamon who writes SmashingTheGlass.com, a UK wedding blog dedicated to original, inventive and creative Jewish weddings.
Everyone loves a good Jewish wedding. From the symbolic chuppah to the energy of the Hora to the smashing of the glass there is so much to revel in and enjoy, but these days trend-setting Jewish couples are edging out and doing things slightly differently. Many couples don't necessarily want their weddings to be coated in tradition - the most important element is to be distinctive on their day by having their individuality stamped on their wedding with unique details personal to them.
Sara and Elliot's wedding at Dundas Castle in Scotland was exactly that. They injected their own personality into their traditional celebration and pulled off an incredibly beautiful and entertaining wedding weekend.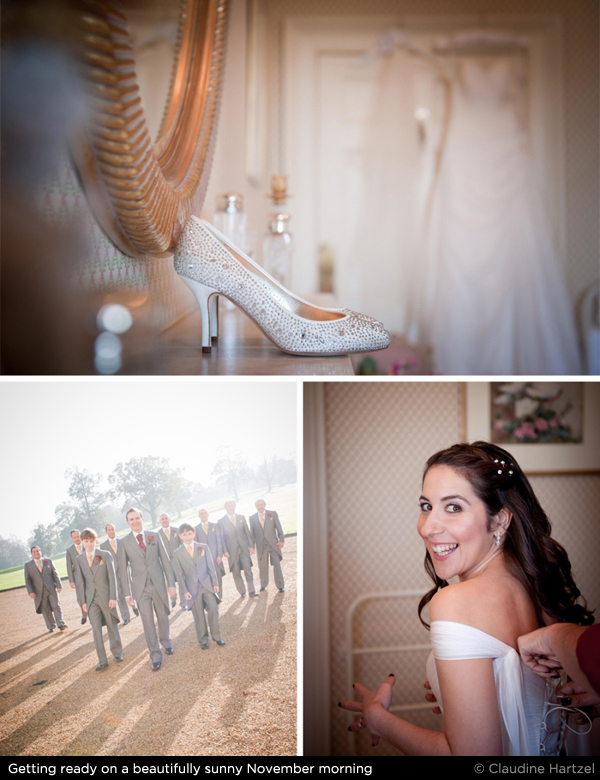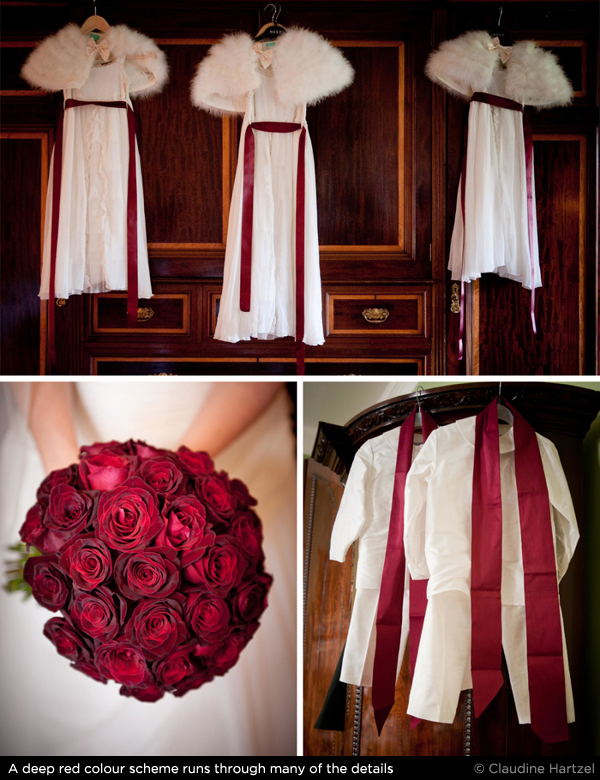 Sara, the bride, said "We didn't want a typical Jewish wedding as we both aren't religious. We wanted our wedding to be really modern and not be long and bore anyone but also have some traditional touches like me walking around Elliot seven times during the ceremony (with the giggles!)"
"We also wanted to try and make a weekend of it. We didn't want to get married in London and had gone to Edinburgh for Hogmanay in 2009 and loved it there. I started to research castles and stately homes to get married in in Scotland, Ireland, France or Italy."
"When we visited Dundas Castle to the west of Edinburgh, we both fell in love with it instantly. We went on to find a three piece Scottish band who were incredible - they played the bagpipes and were also able to do two Jewish songs. Not having a very traditional Jewish wedding, we did want to incorporate the best parts of a Jewish wedding and that included the songs and the dancing."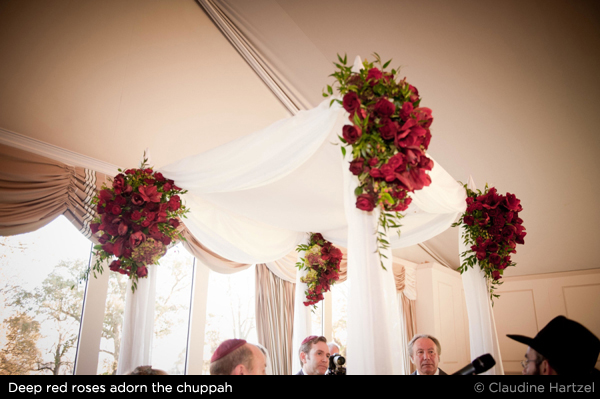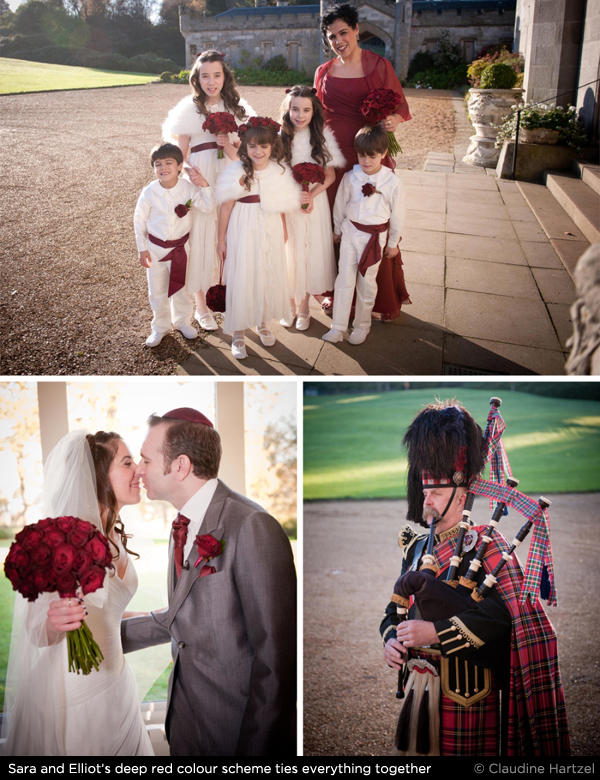 "We really wanted to do something different with our favours too. We created little antique gold photo frames which we used as the table plan. Then we printed off each person's name and the table where they were sitting and put them in reception for people to take before dinner. The other unusual favours were the name plates on each table. We got Rolo covers reprinted with peoples names on and then, one by one, unrolled the original Rolo covers and replaced them with the new covers with our guests' name on each one."
When it came to her effortless bridal style, Sara commissioned a custom dress by Suzanne Neville and matched it with a beautiful pair of bespoke Swarovski-covered shoes from Gina. Her maid of honour wore a deep red long romantic style chiffon dress from Dessy, and her bridesmaids and page boys looked adorable in very romantic looking numbers that complimented the castle backdrop and incorporated Sara's chosen colour scheme of deep red and gold.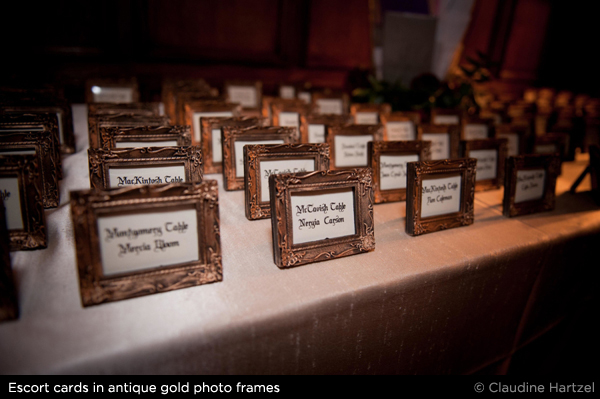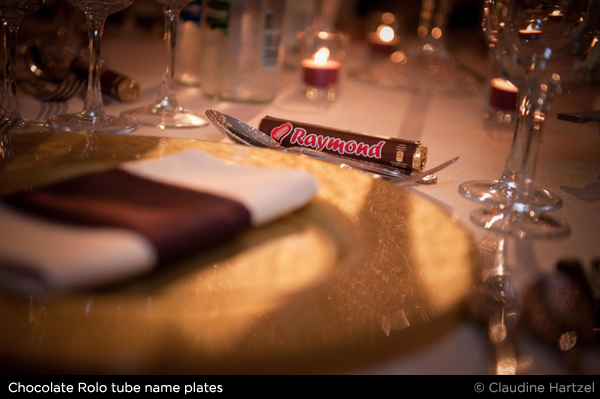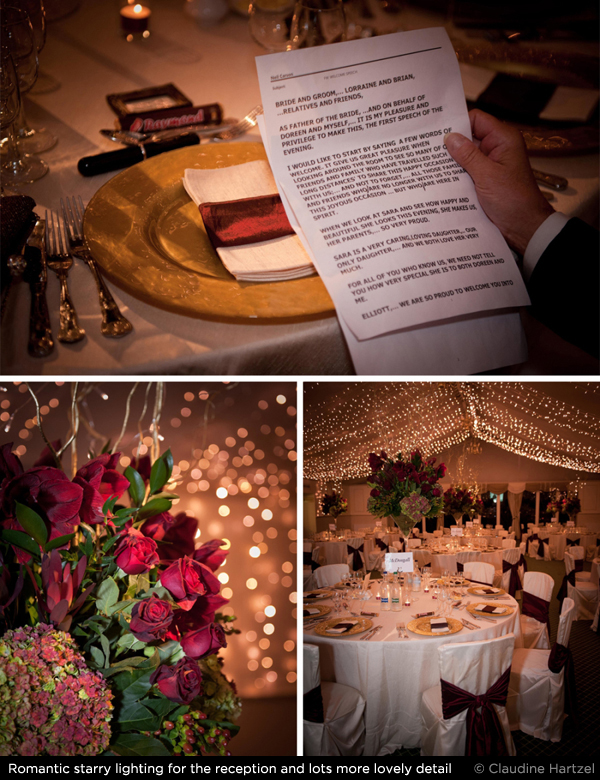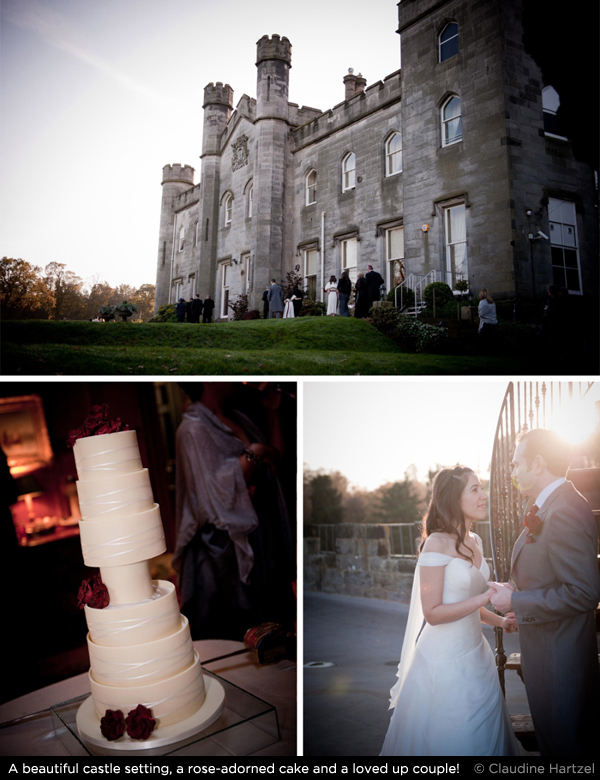 The colour scheme fed into many of the details including the flowers - Sara chose deep red baccara roses to adorn the venue, chuppah and even her cake - which not only created an incredibly romantic aura but complimented the red sashes worn by the bridesmaids, flower girls and pageboys, and even the red in Elliot's tie!
There are many other wonderful details to this wedding and you can read more about it, and pore over lots of other gorgeous, super-cool Jewish weddings by heading over to SmashingTheGlass.com, the UK wedding blog dedicated to original, inventive and creative Jewish weddings.
All photography by Claudine Hartzel
About The Author
Karen Cinnamon runs the UK wedding blog, SmashingTheGlass.com which brings together creative, individual and inventive ideas for style-obsessed Jewish (or part-Jewish) soon-to-be brides. Smashing The Glass is a euphemism for shattering the 'Jewish-wedding-by-numbers' norm and with this in mind the blog aims to bring couples who are keen to make their wedding stand out from the cookie cutter crowd, lots of ideas and inspiration. From creative and innovative content to the best 'real Jewish wedding' eye candy, and access to the most desirable wedding vendors, it also acts as a safe place to discuss the emotional aspect of getting engaged and married.