This wedding is going to make you think again about a boho wedding day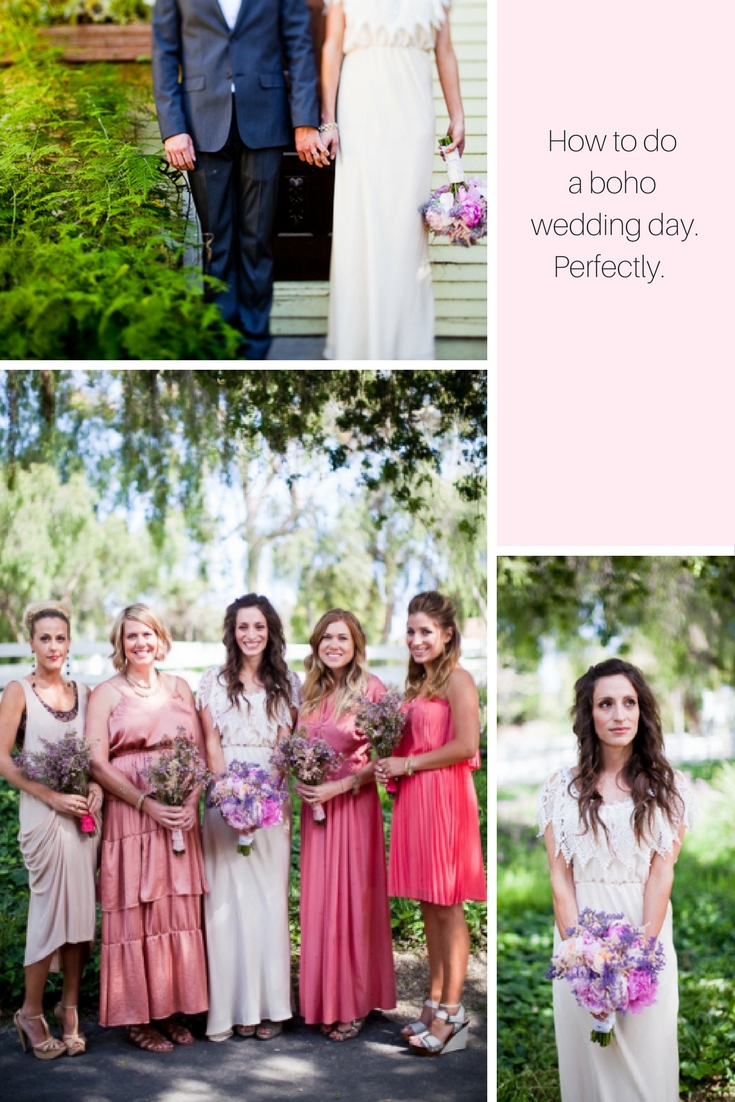 You'll probably guess that the bride and groom are artistic, with plenty of creative ideas.
In fact, the bride was a fashion designer and the groom a fine artist. And doesn't it just show. Plenty of colorful, confident, inspirational touches to adapt for your own big day.
Thinking about boho weddings
Mismatched bridesmaids dresses are a must
Don't worry about different necklines and hemlines ... it's all part of the look
There's no rule that says the bride has to wear white or cream - a colored underskirt peeking out is very boho
Same with shoes ... no rule for white or cream shoes
A floral head garland channelling Lana Del Ray is very boho
Bridesmaids
The maids here are all wearing pink - so there's a bit of a theme going on. But it's not the same pink at all.
This bride's chosen hot pink, rose pink, blush and a dusky pink. Possibly the maids got to choose the shades themselves - and the style of their frocks.

And the boho bride?
I love the bride's dress. She's obviously the bride but it's pretty far away from a traditional white wedding dress and suits her to perfection. The delicate tapering lace on the bodice is spot on, and her decision to leave her hair au naturel just suits her look.
On the other hand, we love her satin headband as well, which you can see in some of these photographs.


Other boho bits and pieces to notice
Casually arranged flowers in jam jars
Asking the guests to take the flowers home with them
The groom's buttonhole
Homemade pies (ask your baking friends to make them for you if they want)
Handwritten notes wishing the couple well, placed on a pink (the color theme again) ribbon board
Giving your guests each a sapling tree to plant - very green

You can see this wedding in its entirety here on the Style Me Pretty blog, all photography by Mr Haack.