Budding Trend: Vibrant Coral Bridesmaid Dresses for Spring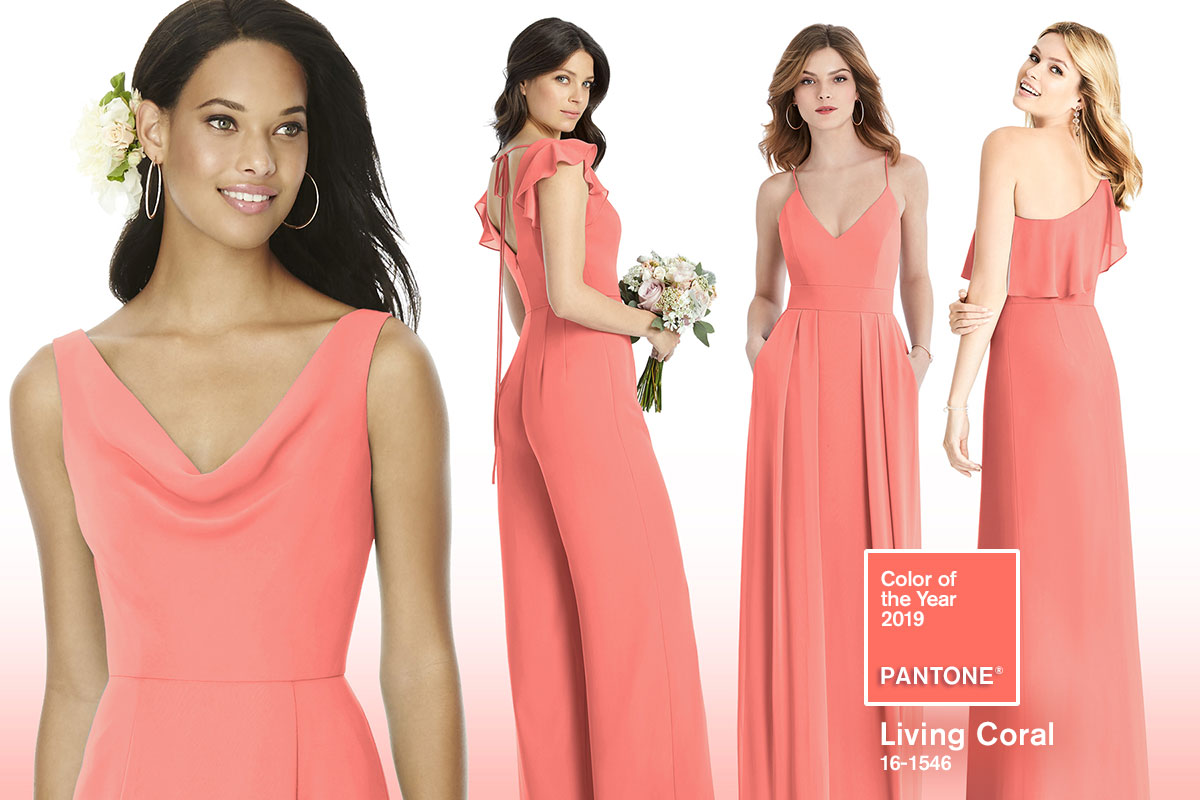 Trying to come up with the perfect color palette for your spring wedding? Let us turn your attention to one of the biggest wedding colors of the season: coral. Although it has long been a top color choice among playful brides, this pinkish-orange hue has now catapulted to the top of 2019's must-have spring wedding colors.
Vibrant, refreshing and nurturing, coral fits right in with the springtime's colorful blooms. Not to mention that it's a happy color that sparks joy in everyone. Plus, your leading ladies will love wearing coral bridesmaid dresses after a long and dreary winter!
Why Coral Bridesmaid Dresses?
Coral has long held the position as one of the hottest wedding colors for the spring and summer seasons. Stylish and practical, this bright and lively hue is perfectly suited for multiple types of venues, from rustic barn weddings to destination beach weddings.
There is something about coral that is spirited and expressive, yet warm and mellow. It's a trendy hue that has mood-boosting qualities which can make your guests happier. It's no wonder why brides have had their bridesmaids don this color for so long!
Recently, living coral received a huge surge in popularity after being named Pantone's Color of the Year 2019. With more brides now searching for trendy coral bridesmaid dresses, designers have pulled out all the stops to create contemporary styles for the bride's leading ladies.
Popular Coral Bridesmaid Dress Styles
A trendy hue deserves an equally trendy dress style to make it a true showstopper at your wedding. If you aren't exactly sure how to style your maids with such a vivacious hue, don't worry–Dessy has you covered!
Here are a few ideas to help you dress your best gals and pull off a beautiful coral wedding: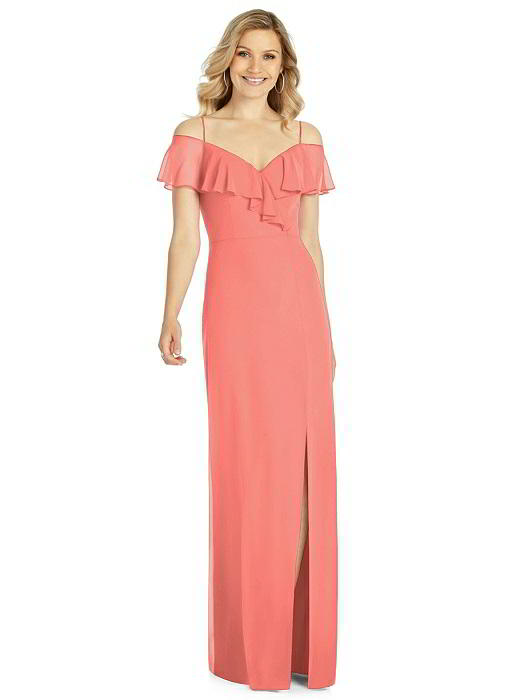 1. Ruffled Necklines — Ruffled necklines like the one on this After Six bridesmaid dress create an airy, romantic look that gels perfectly with spring and summer weddings. Choosing a ruffled bridesmaid dress in coral will enhance this playful hue even more.
Bella Bridesmaid Dress BB117
After Six Bridesmaid Dress 6783
After Six Bridesmaid Dress 1515
2. Mix and Match — Want to add depth to your bridal party? Having your maids wear mix and match bridesmaid dresses in coral is the perfect way to put your own unique spin on a coral wedding. Besides, it's a favorite trend among bridesmaids everywhere because it allows them to choose a dress that best flatters their shape. Consider dressing your maids in the same fabric, such as lux chiffon, and letting them choose their dress style.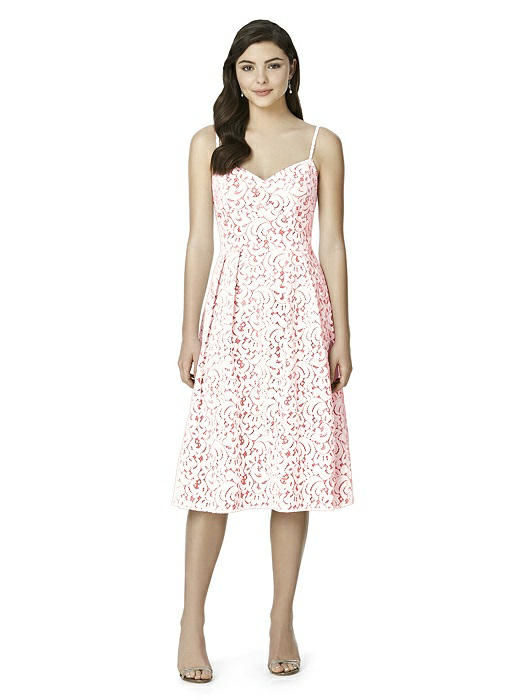 3. Lovely in Lace — Your maids will appreciate this beautiful Gabriella lace dress for more reason than one. Not only is this cocktail-length dress super flattering and chic, but it can also be worn long after your big day. From summer soirees to graduation parties, this dress is sure to get plenty of play.
Wedding Color Palette Inspiration
Once you know that you want to outfit your ladies in coral bridesmaid dresses, the next step is to figure out your entire wedding color palette. Which colors pair beautifully with coral? Here are some of our favorite coral wedding color palettes:
Coral, Peach, Navy and Gold — Coral is an elegant color in its own right, but it can be overly playful when paired with certain colors. Gold and navy tone down the high energy of coral, making it suitable for classy ballrooms and elegant, rustic barn house weddings alike.
Coral, Green and Ivory — Green and coral will pop against each other and can be softened with elegant, ivory accents. Have the groomsmen wear a green pocket square or boutonniere while your maids wear coral with ivory pashminas.
Coral and Light Blue — Looking for the perfect wedding color palette for your beachside wedding? Coral and robin's egg blue are both soft, relaxing and mood-boosting colors—much like the ocean itself. You can dress your groomsmen in light blue accents while your leading ladies pop in their coral bridesmaid dresses.
Adding the Finishing Touches
One of the best ways to put your own spin on the coral bridesmaid dress trend is by playing with bridal accessories. A pair of sophisticated freshwater pearl earrings or a chic clutch can instantly elevate the look of your bridal party. Don't forget that spring weather can be temperamental! Consider outfitting your maids in stylish shawls or stoles to keep everyone warm and on-trend.