Wedding Beauty Timeline: When to Make Appointments, Choose Wedding Accessories and More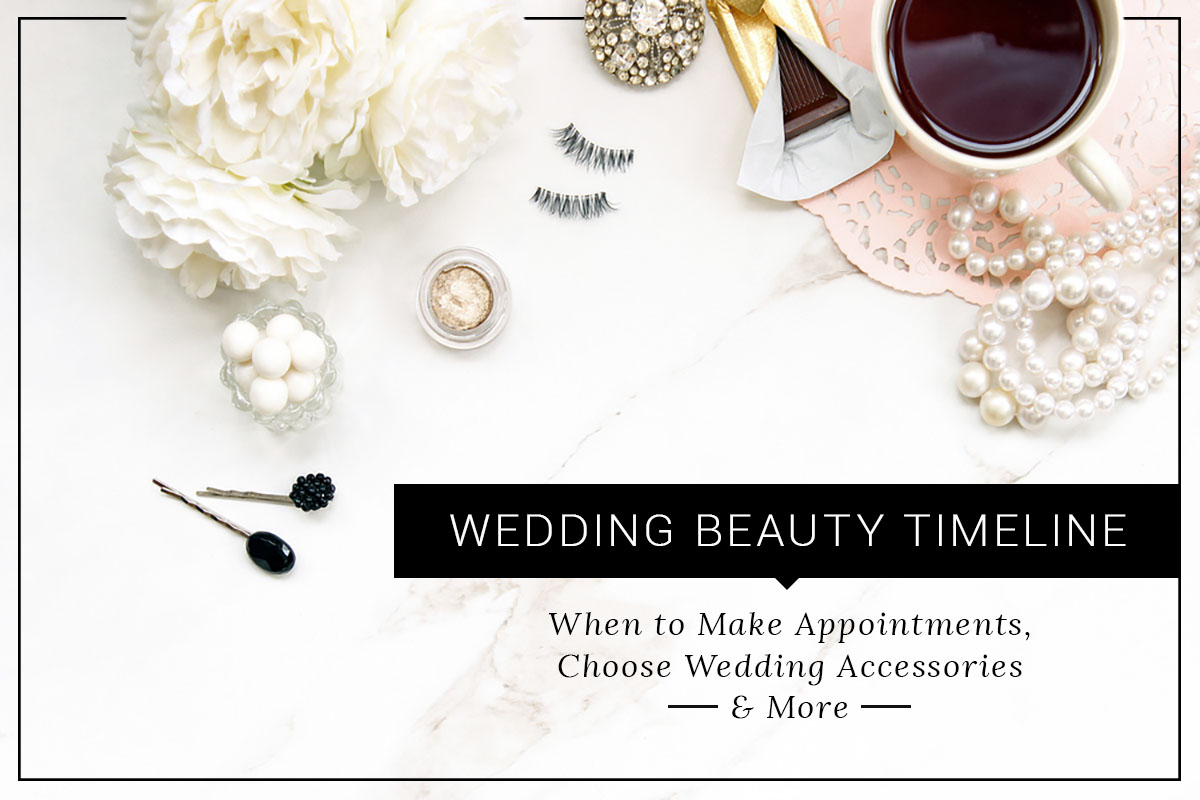 Who wouldn't want to look drop-dead gorgeous on their wedding day? Whether you're taking a DIY approach to your wedding beauty routine or putting hair and makeup in the hands of seasoned professionals, one thing is certain—wedding beauty prep needs to start months in advance.
To ensure that you look absolutely stunning on your big day, you need to get a jump-start on researching wedding looks, booking appointments and priming your body from the inside out. While there are some things you can get away with doing last-minute, others will take more than just a day for you to see noticeable results (i.e., your skincare routine).
Does all this sound stressful? It doesn't need to be. Follow this helpful timeline from The Dessy Group and you're guaranteed to "wow" everyone on your wedding day.
SIX MONTHS IN ADVANCE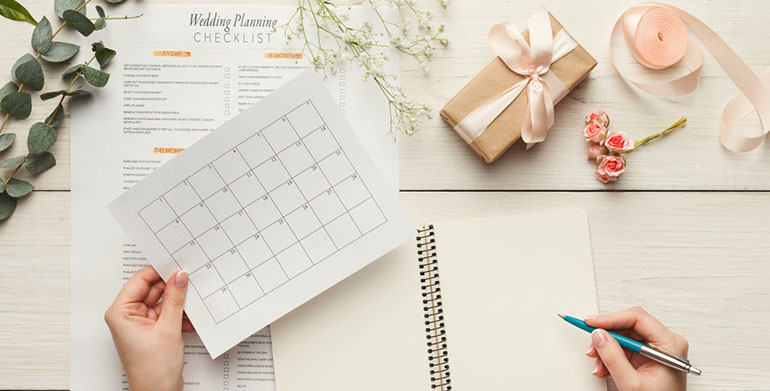 With six months to go before you say, "I do," it may seem like you have ample time to figure out a beauty regimen for your wedding. Unfortunately, looking your absolute best on your big day can be a time-consuming endeavor. Here are a few wedding beauty details you need to start working on ASAP:
Get on a Regular Fitness Regimen — A toned body won't happen overnight, so now is the time to start introducing a regular fitness routine into your life. While there are plenty of wedding workouts online for free, you may want to get a personal trainer. Not only will they hold you accountable, but they'll also ensure that you don't push yourself too hard in the beginning.
See a Nutritionist — Your fitness plan will get you toned, but it's your diet that will have the greatest impact on how you look and feel on your wedding day. Scheduling an appointment with a nutritionist will help you get on the right track with your diet so you can see the results by the time your big day rolls around.
Book Hair and Makeup Appointments — Don't delay your search for a good wedding hair and makeup artist! The best ones tend to book up quickly, especially during wedding season. Find a hair stylist that gets your vision. If you're playing around with short wedding hair styles, do your research to find a hair stylist who has plenty of experience with shorter hairstyles. Also, consider booking our paid trial sooner rather than later. Some brides will wait until the wedding is two months away, which doesn't leave much time in case you decide they aren't a good fit for you.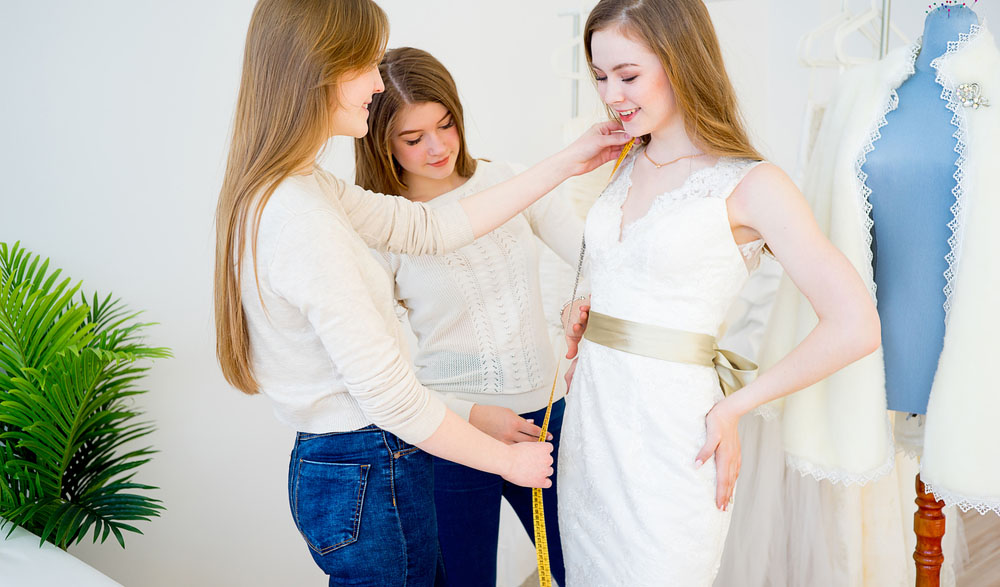 Schedule Dress Fittings and Alterations — You've found the perfect wedding dress and chosen the most gorgeous bridesmaid dresses for your leading ladies. Now, you need to schedule fittings and budget for alterations so that everyone looks flawless in their gowns. The first fitting should be around two or three months after you buy your dresses. Schedule the second dress fitting around five or six weeks before the wedding. Also, don't forget to pick out your bridal accessories for you and your bridesmaids so you can wear them to future dress fittings!
Devise a Skin Care Strategy — Have you always struggled with acne or eczema? If it's negatively impacting your confidence, let your wedding be the push you need to finally see a dermatologist. Even if your skin isn't in bad shape, a dermatologist can still recommend some beauty prep for you to do in advance of your wedding.
THREE MONTHS IN ADVANCE

As the countdown continues, you're starting to feel the pressure. Maybe your skin isn't quite there yet. Maybe you're still deciding on the perfect wedding shoe that suits your venue.
While it may seem daunting right now, have confidence that it will all come together. To stick to your beauty game plan, here is what you need to do:
Book a Facial — Facials have some amazing skin care benefits that can help you look radiant on your big day. But if facials aren't already part of your normal skin care routine, you'll want to have your first experience well before the wedding. Getting a facial at least three months in advance will ensure that your skin reacts positively to the treatment. Once you know how your skin reacts, book the same facial for two weeks before your big day.
Manage Your Stress — So, the days are ticking by and you're getting closer to the wedding. Suddenly, you can't control your breakouts, your eating habits are out of whack and you're losing sleep. Sound familiar? It could be due to all the pre-wedding stress. Now is the time to learn how to manage this stress so that it doesn't put a damper on your wedding. Try seeing a therapist, practicing meditation or both. By getting a handle on your stress now, you can save your body and mind from the negative consequences of constant worrying.
Book a Trial Spray Tan — If you want a healthy glow for your wedding without all the skin-damaging effects of sun tanning, try a light spray tan instead. Book your first spray tan trial three months ahead of the big day and try scheduling it to align with your next dress fitting. This allows you to see how your spray tan will look against your dress and give you time to adjust the shade if necessary.
Schedule Manicures and Pedicures — Think that a mani/pedi the day before your wedding will suffice? We're sorry to break the bad news, but unless manicures and pedicures are already part of your routine, you may not be able to get away with just the one. Nails need time to grow, so if your nails and cuticles are in poor shape, be sure to start working on them at least three months in advance of the wedding.
Book a Brow Appointment — Gone are the days of pencil eyebrows. Today, everyone is seeking brow services that transform weak brows into full and natural-looking brows that define the face. Well-done brows can make you appear younger, so why not get them done for your wedding? Just remember to do this a few months out so you can have swoon-worthy brows by the time your big day arrives.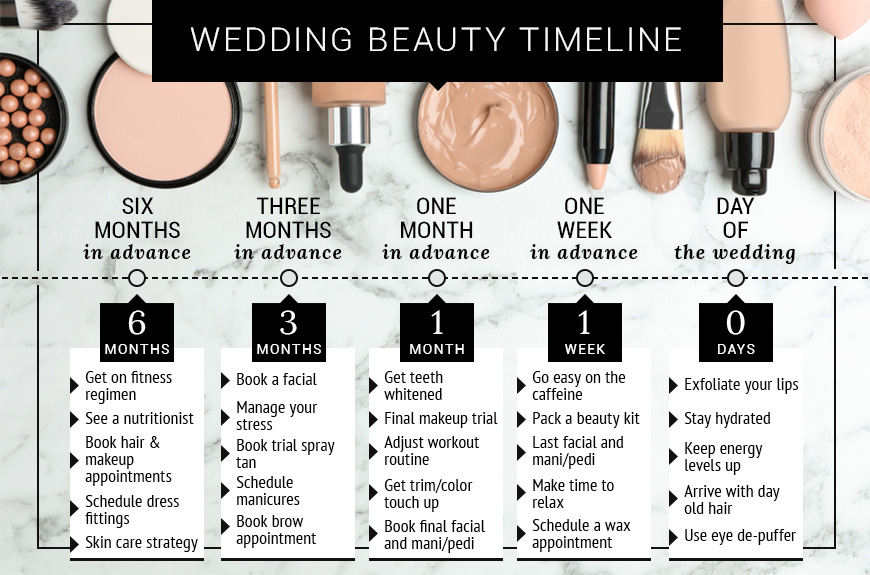 ONE MONTH IN ADVANCE

Finally, one more month to go! At this point, you may be seeing some of the hard-won results of your healthy eating, regular exercise and consistent skin care routine. Keep it up!
Get Your Teeth Whitened — Who doesn't want to have perfect teeth on their wedding day? If you're tired of your yellowish teeth, try getting them professionally whitened so they look amazing in your wedding photos. Just make sure that you go over all your options with your dentist. Some whitening treatments that are suitable for one bride may not be the best treatment option for another.
Final Makeup/Hair Trial — Some brides will get two makeup and hair trials: one scheduled a few months in advance and the other scheduled closer to their wedding day. Although you may have loved your wedding look during your first trial, opinions can change over the course of a few months. A second trial allows you to experiment with a different look in case you decide that your first look isn't right for you.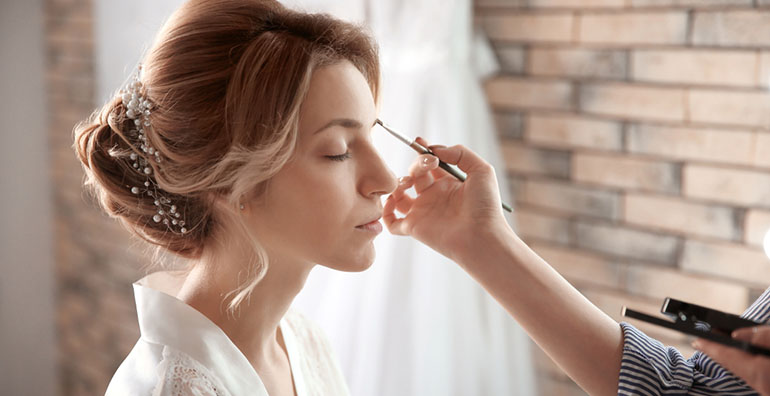 Adjust Your Workout Routine — With a month to go before the wedding, you may want to tweak your workout routine. If you want to look leaner, consider swapping out heavier weights for lighter weights and adding more repetitions to your workout. Ramping up your cardio right before your wedding will also help you achieve a leaner look.
Get a Light Trim/Color Touch up — Now is a good time to get a small trim and color touchup from your hairstylist. At this stage, you don't want to do anything drastic that could potentially change your entire wedding day look.
Book a Final Facial and Mani/Pedi — If your skin reacted well to the first facial, book a second facial for two weeks or so before your wedding. This will help you achieve smooth skin with a dewy glow that is sure to show up in your wedding pictures. You can also ask your dermatologist when an optimal time would be to schedule your facial.
ONE WEEK BEFORE THE WEDDING

This is it—you're getting married this coming weekend. Congratulations! You've come out on the other side of stress with only a few sleepless nights to show for it. Finish strong with the following beauty to-dos:
Go Easy on the Caffeine — While caffeine may help curb your appetite and keep you on-the-go, it's also doing your body no favors. Too much caffeine can dehydrate your body and make it more acidic, resulting in potential inflammation. However, the last thing you want to do is to stop cold turkey and become a bridezilla going through caffeine withdrawals. Wean yourself off slowly by switching from regular coffee to decaf over the course of a week.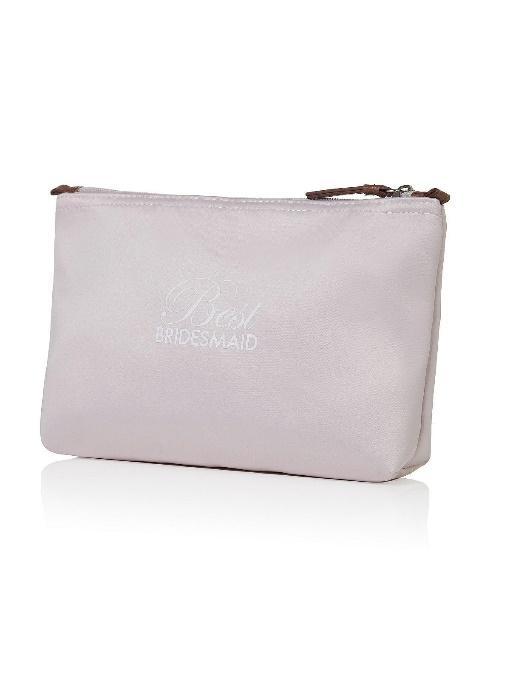 Best Bride Satin Cosmetics Bag
Pack a Beauty Kit — Once you've found the perfect wedding day cosmetic bag to hold all your beauty essentials, it's time to make a checklist of what you'll need for the big day. In addition to the usual wedding makeup products (i.e., mascara, blush, primer, foundation, etc.), don't forget to pack setting spray, Q-tips (for touch ups) and a correcting cream with SPF (for outdoor weddings).
One Last Facial and Mani/Pedi — Let the last-minute beauty preparations commence! You've booked your final facial and manicure/pedicure in advance, so sit back, relax and allow yourself to enjoy the pampering as you get those final touch ups before the big day.
Make Time to Relax — If you're like most brides, you'll be a bundle of nerves the week of your wedding. If you can sneak in a massage, an extra yoga session, do it to help calm your pre-wedding jitters.
Schedule a Wax Appointment — For silky smooth skin all over, get your waxing needs taken care of at least a week in advance. This will give you enough time for any redness and irritation to go down. If you have sensitive skin and need to shape your brows, consider threading over waxing. Threading is faster, more precise and results in less irritation.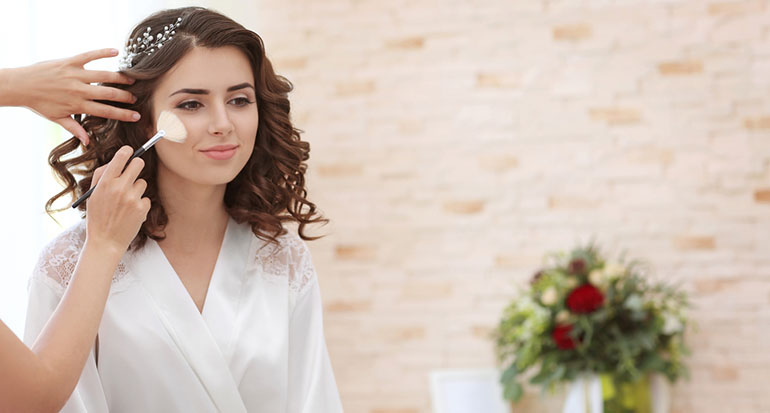 THE DAY OF THE WEDDING

The big day is finally here! You've done 95 percent of the prep work and have given your glam squad the best possible canvas to work with. While you should sit back, relax and let your team do the heavy lifting, there are a few things you can do to ensure that you look flawless the entire day.
Exfoliate Your Lips — Want your lips to look extra kissable? Dab some sugar scrub on your pointer finger and middle finger and gently rub them on your lips in a circular motion. Follow up with a moisturizing lip balm to seal in your exfoliated pout.
Stay Hydrated — Staying hydrated not only provides energy-boosting benefits, it can also potentially help you keep your skin supple and firm. On your wedding day, add cucumber to your water to fight puffiness and bloat.
Keep Energy Levels Up — Once the ceremony begins, you may not find time to eat for the rest of the night. As you're getting ready, make sure that you fuel your body with a healthy mix of whole grains and monounsaturated fats (think almonds, apples and oatmeal) to keep your energy levels high. Eating a healthy breakfast won't make you feel bloated. In fact, the opposite is true. You'll probably look and feel better with something to calm your tummy.
Arrive with Day Old Hair — You'll want to check with your hairstylist on this one beforehand, but generally speaking, it's easier to work with hair that hasn't been washed for at least one day. It will hold the product better and look less frizzy.
Use an Eye De-Puffer — If you wake up with dark circles under your eyes, don't panic! Many brides don't get a good night's sleep before their big day. To take care of under eye circles, use a rollerball application to massage the area beneath your eye and follow it up with an anti-aging serum containing hyaluronic acid. Even if your dark circles are still noticeable, your makeup artist will probably be able to hide them.

TAKE A DEEP BREATH!

We know that all this beauty prep can sound overwhelming when you're already neck-deep in seating arrangements and catering options. Just relax and remember to take things day by day. Keep in mind that this is a guide, not a rulebook! If you have fabulous brows that your partner adores, consider leaving them exactly how they are in all their bushy, untamed glory. Your betrothed will no doubt appreciate the fact that he or she can still recognize you on your wedding day.