Tressed for Success: How to Perfect Your Wedding Hair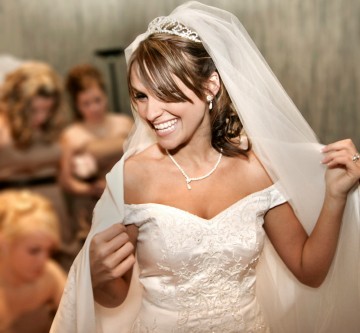 You can spend all the money in the world on a fabulous wedding dress. But if your hairstyle is off you'll be throwing your money away on your big day.
Finding the right hairstyle may seem almost as challenging as landing the right bridal gown. So many options. So many variables to consider, particularly if you're planning a destination wedding on some faraway beach.
But with these basic beauty tips this season's hottest wedding gowns and necklines can be beautifully accessorized by your crowning glory.
The ruffled halter: Layered fabric that sits high on the neck adds a stunning dose of wedding day drama. But it also requires a sleek hairstyle that won't conflict with this big fashion statement. Go for the sophisticated updo. It's a classic option that never fails.
The V-neck gown: The big, voluptuous waves of a faux bob bring a relaxed, flapper feel to this style of wedding gown. This hairstyle's fullness also tricks the eye and balances out a dress with tiny, delicate shoulder straps.
The strapless gown: Free-flowing curls are a great option to offset any pleating around the bust area. Also, loose, voluminous waves that are worn half up and half down even out the look of a fuller bust.
The boatneck gown: A classic French twist is the perfect complement to this sleek neckline. Also, the boatneck's unadorned feel makes the perfect counterpoint to upswept hair topped with an ornate headpiece.