How to Choose Bridesmaid Dresses That Complement the Bride
Wedding dress? Check. Now, it's time to choose bridesmaid dresses that complement your bridal style. Find out how with a few tips from Dessy's style experts!
---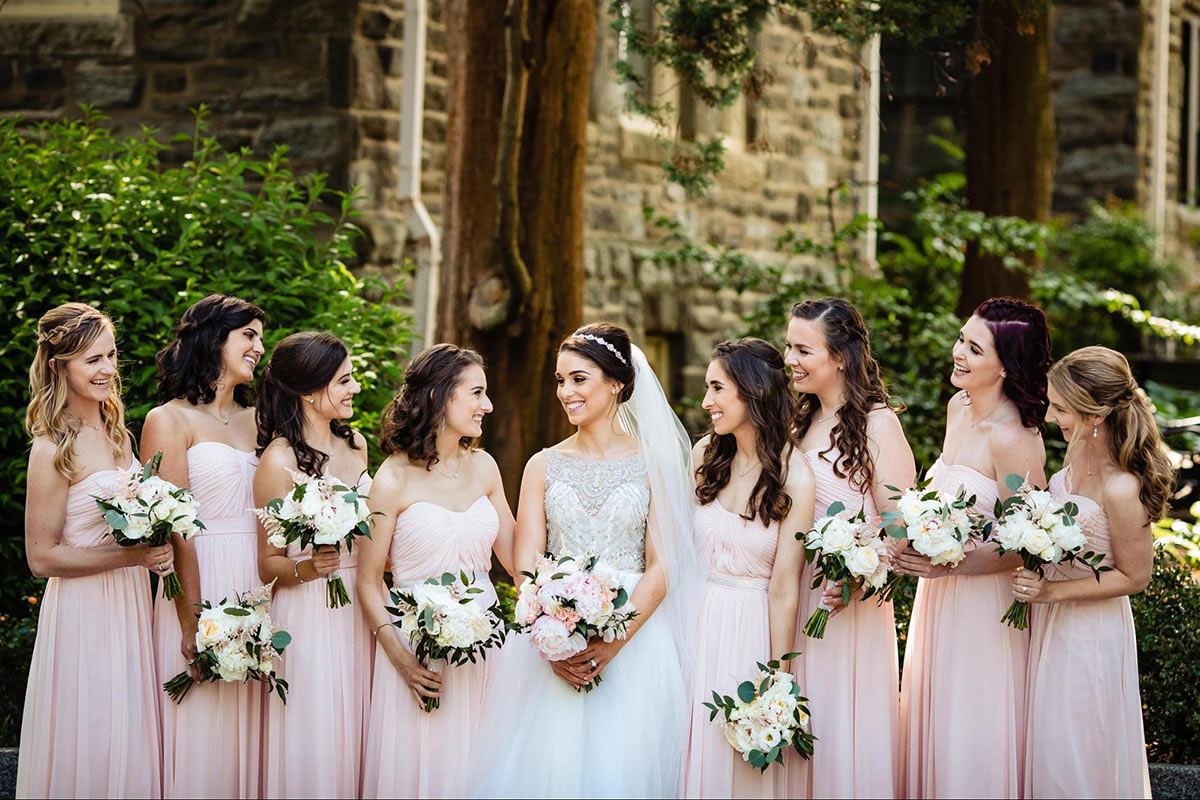 #DessyRealWeddings - Bridesmaids: Dessy 2943; Color: Blush; Photographer: @morbyphotography
They say that picking out a wedding dress is one of the toughest decisions a bride can make in the wedding planning process. We don't know who "they" are, but they've clearly never been faced with the monumental task of figuring out how to choose bridesmaid dresses that complement the bride.
Let's face it – choosing bridesmaid dresses for your squad is hard enough without factoring in your own bridal look. Your attendants probably all have different body shapes, style preferences and budgets, which can make bridesmaid shopping an absolute beast of a task.
On top of all that, you've also got to figure out how to create a cohesive bridal party look that perfectly complements your wedding dress. Sounds impossible, right?
Maybe, maybe not. Plenty of brides have done it before, so why can't you? Here's how to choose bridesmaid dresses that complement the bride—no bridal stylist required.
Keep Your Dress Style in Mind
First and foremost, you should choose bridesmaid dresses with your wedding dress style in mind. If your wedding dress is vintage-inspired, it would be super awkward-looking for your bridesmaids to be dressed in trendy gowns with modern silhouettes.
Is your wedding dress style whimsical and romantic? Consider dressing your squad in bridesmaid dresses with flowy fabrics and ruffled sleeves. If your wedding style can only be described as bold and trendy, consider outfitting your girls in mismatched bridesmaid dresses with different textures or fashionable jumpsuits that turn heads (in a good way, of course).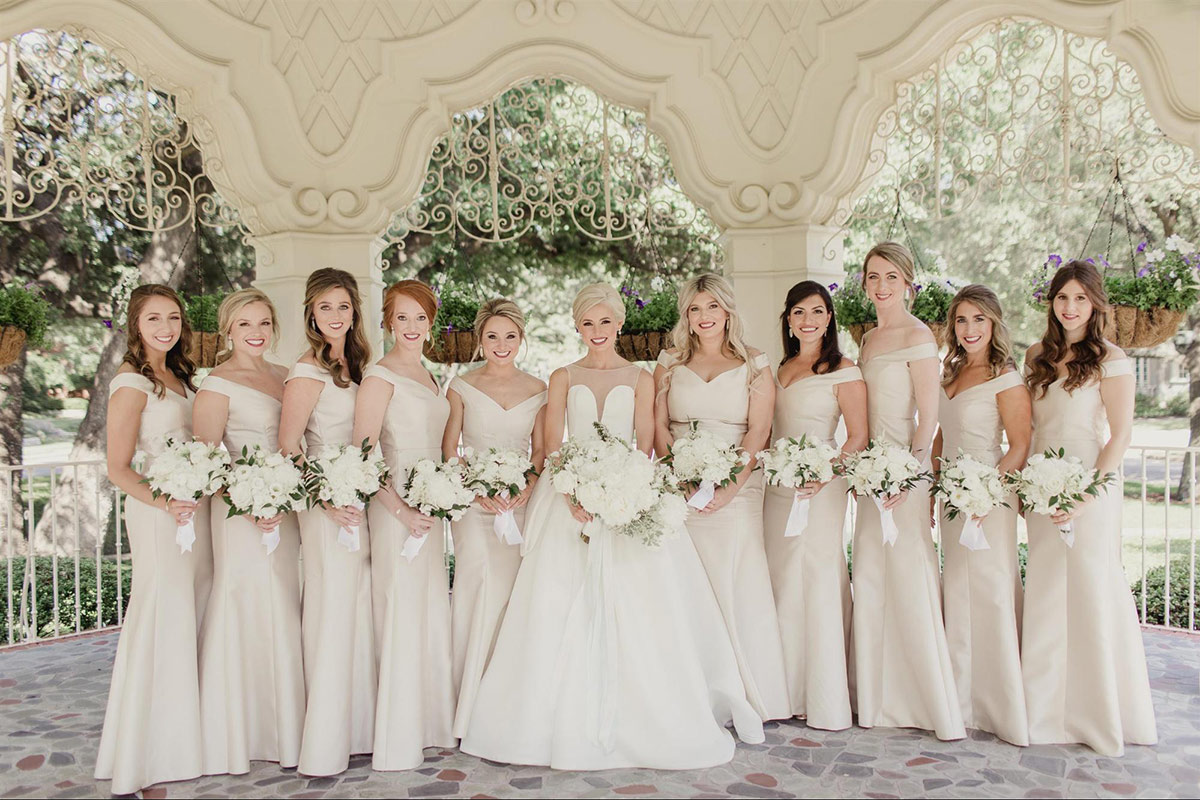 #DessyRealWeddings - Bridesmaids: Studio Design 4519; Color: Palomino; Photographer: @menaryweddings
Share Some Dress Details
Along with your wedding dress style, don't forget to factor in the subtle (and perhaps not-so-subtle) details of your wedding dress before settling on bridesmaid dresses. If you're donning a lace wedding dress, for example, it would be absolutely gorgeous for your girls to wear bridesmaid separates with lace tops to complement your dress without being too matchy-matchy.
Are you wearing a wedding dress in a color other than white? Be sure to choose bridesmaid dress colors that complement your colored wedding dress for a photo-worthy look. For instance, if your wedding dress is light blue, you might outfit your girls in dresses in varying shades of blue for a show-stopping ombre effect.
But Not Every Detail
When it comes to styling your bridesmaids, be careful to avoid choosing bridesmaid dresses that match the details of your wedding dress too closely. After all, it's your special day. You deserve to steal the spotlight, right?
One detail that should never be shared between you and your girls is the neckline. If your wedding dress features a sexy, plunging neckline, be sure to pick a different neckline for your girls. You don't want to take away the one thing that makes your dress stand out!
The same goes for embellishments on your dress. Your girls don't need to sparkle if your dress is already blinged-out to the max. As the bride-to-be, we're giving you full permission to hog all the rhinestones for yourself.
Keep the Formality the Same
Your bridesmaid dresses should always match the formality of your gown. If you're wearing a ball gown wedding dress, your squad will look out of place wearing boho bridesmaid dresses that are better suited for a desert-chic wedding.
To keep the formality the same, start by considering the length of the dresses. If your wedding dress is a full-length number with a voluminous silhouette, your bridesmaids should similarly be dressed in full-length bridesmaid dresses with luxe details that are suitable for your elegant wedding venue.
#DessyRealWeddings - Bridesmaids: 6803, 6794, 6810, LR217, 1514, 3019, 2894; Color: Cameo, Sienna, Dusty Rose, Toasted Sugar, Blush Garden; Photographer: @theshepardsphoto
Tie Everyone's Look Together with Accessories
While your bridesmaids shouldn't match you too closely, there should always be at least one or two elements that tie everyone's look together. One of the easiest ways to accomplish this is by picking out a bridal bouquet that complements your bridesmaid dresses.
For instance, let's say that your wedding color scheme is blush and classic blue (ah, going for Pantone's Color of the Year 2020, we see). If your bridesmaids are wearing blue bridesmaid dresses, you could have everyone (including yourself) carry blush bouquets to make your bridal party look cohesive.
Don't forget, you can also use pashminas and stoles to tie everyone's look together. If you want to avoid being overly-matching, be sure to choose a pashmina or stole that is slightly different than your girls.
Get Creative
When it comes time to choose bridesmaid dresses, don't be afraid to play around with unique prints and textures. Dress shopping for you and your girls should be a fun and painless process! Just be sure to follow our tips above, and you can keep your bridal style on point when you finally say, "I do."