A Vintage Wedding: Gorgeous Gowns from Bygone Eras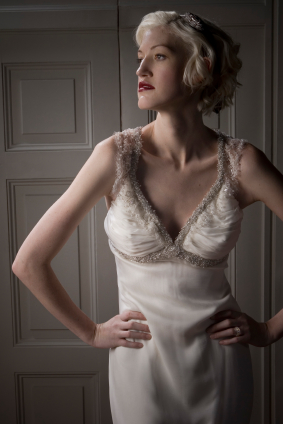 Vintage influences still captivate modern brides. The roaring '20s. The swinging '60s. Whatever decade appeals to you use these strategies to choose your gown and make time stand still on your wedding day.

The 1920s

The look:Shorter hemlines, drop-waists, sassy little party dresses.

The inspiration:Louise Brooks. The fashion star with the famed bob and bangs epitomized the essence of flapper chic.

Best on:Petite women. A tea-length gown shows off legs, elongates the body and keeps the focus on you, not layers of excess fabric.

Key accessory:Jeweled headbands or a simple length of ribbon worn in your hair.

1930s/1940s

The look:Silk, bias-cut gowns filled with all-out glam.



The inspiration:Wallis Simpson. The Duke of Windsor's bride stopped traffic with her sleek, sophisticated glamour.



Best on:Tall women. Clingy gowns with a slight fishtail train can be shown off beautifully when you've got the extra height.



Key accessory:Big, bold bling. Dramatic chandelier earrings, showstopping bracelets and big crystal rings make just the right vintage statement.



1950s

The look:Christian Dior set the tone with his New Look's fitted tops and full, feminine skirts.



The inspiration:Marilyn Monroe



Best on:Curvy women. Dior's New Look created a figure-flattering silhouette that hugged women in all the right places.



Key accessory:The slim belt has becomes a bridal staple this season. Wide or narrow, belts define the waist and add a vintage touch of visual interest to your gown.



1960s

The look:The straight-cut shift dress.



The inspiration:Twiggy, Jackie O



Best on:Slim figures. Bridal gowns with long, lean lines capture that classic '60s feel.



Key accessory:A demure pair of ballet flats in patent leather, silk or lace.