Wedding Planning Advice from a Four Year Old
Sometimes your wedding inspiration can come from the most interesting places. Have you ever thought about taking advice on colors from a 4 year old? Read on and I think you'll love her expertise. Our web designer's daughter, Maxfield, loooves her colors. So, what's 4 year-old of 2012 to do with all of her ideas? Start a blog of course! Here's a snippet from Maxwell's world full of colors: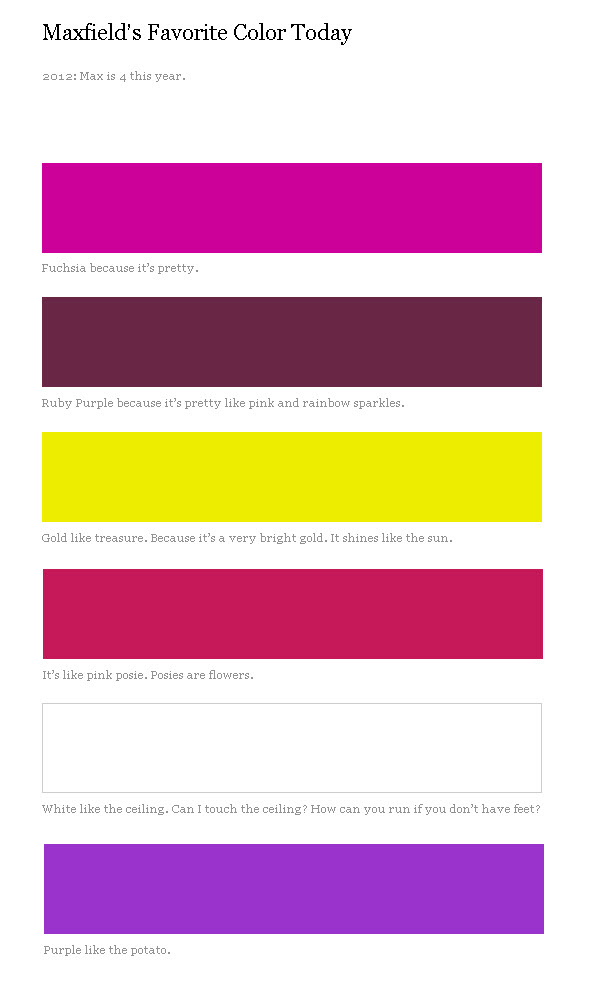 I think all of our worlds should be a little more like Maxfeild's, don't you agree? Let's all take note of 'purple potatoes' , 'yellow bucket's' and 'gold because it shines like the sun'. And don't forget to look at blue - that one made me giggle!

Here's hoping this 4 year-old can bring some inspiration into your wedding planning and some smiles to your days. We <3 you and your blog Maxfield!

Visit Maxfield's blog on Tumblr for daily treats of happiness.