Maidzilla problems? How to prevent them happening.
Watch the film 'Bridesmaids' and you'll probably smile a wry smile as you recognise the scenario. Because these days maids of honour put themselves under enormous amounts of pressure to deliver the 'best' for their brides.
Cut the stress
Hen weekend experts Maximise deal with stressed maid of honour issues every day and so they've shared their top tips for bridesmaids to stay chilled and relaxed in the run up to the wedding:
Getting the research done
One of the most important roles of the maid of honour is to help the bride research and shop around for everything wedding related, including venues, flowers, invitations, caterers and cakes!
You can avoid being a maidzilla by learning the difference between being supportive and being pushy. It doesn't matter if certain flowers aren't to your taste, you don't like a particular venue or you hate an invitation style, this isn't your wedding. Don't push your opinion on the bride, just help her make up her own mind about the decisions.
Dress shopping
When it comes to the bride's wedding dress, again don't push your opinion, let the bride be the main decision maker in what she wears.
Trying on dresses all day can get stressful for the bride so don't make her feel even worse by looking bored or complaining - or worse trying on wedding dresses €˜for fun' and upstaging her! This is her moment to find 'The Dress' and you need to be as helpful as possible.
Stay upbeat and positive and make sure there's plenty of water and coffee stops to keep the energy up.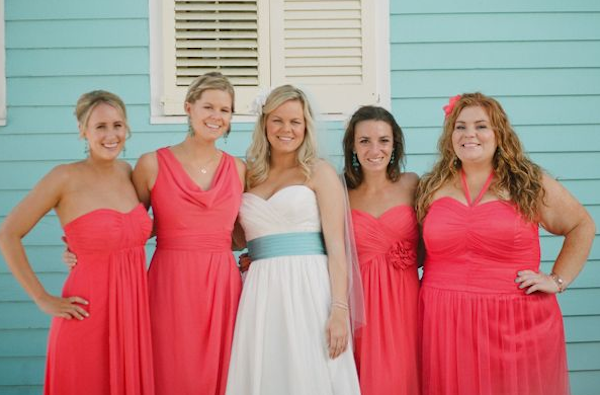 Vibrant coral as a theme ... but with individual necklines. Dresses by Dessy.
Bridesmaid dress shopping
Avoid being overbearing when it comes to organising the bridesmaid dress fitting. Make sure the girls have plenty of notice for the date and remind them gently the week before.
A friendly telephone call is a much better way to get a confirmed response than waiting for a text, email or Facebook reply. Ultimately it's out of your hands if one of the bridesmaids turns up late or can't make it. So relax.
Don't cause a problem by simply saying 'I won't wear that'. If you really dislike a dress, help solve the problem by suggesting a number of alternatives you do like.
Be ready to make compromises; maybe you don't like the length of the dress but at least you like the colour. Always look for the positives and be ready to accept something you wouldn't pick personally; the bride's opinion is the most important.
Hen party
There are two main headaches that can cause you to have a maidzilla moment when heading up the hen party; pleasing all the ladies in the bridal party and being aware of the financial costs.
Use a fun and easy hen-personality quiz like this one, to find each person's (including the bride's!) hen personality. From the results it'll be easy to see if your bridal group would prefer a day in a spa or whether they're up for something more adventurous.
The costs really can spiral out of control for a hen party. There will always be those who are happy to spend lots of money and those who are on a tight budget. Get around this by offering different activities at different costs that people can pick and choose. If you do want a mini-holiday abroad, also look at doing a smaller, cheaper second hen-party closer to home as an alternative.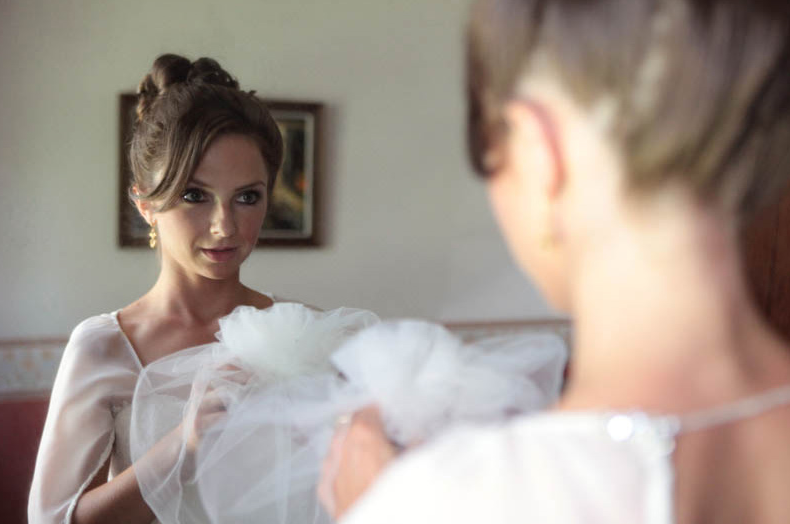 One of the chief bridesmaid's most important roles is to help the bride to feel calm and relaxed on her big day.
The wedding day
As the go-to-girl on the wedding day, be prepared for lots of questions and problems from guests, the bridal party, the bride and even the groom. Plan for the worse and hope for the best!
You have to keep everyone (including the bride!) calm, so make sure you have a good night's sleep and eat well in the morning. Keep a bottle of water handy, you'll be running around all day.
Lead by example, your mood will affect the bride so be happy and relaxed around her even if you've got problems to deal with last minute.
Make sure you have a one-on-one with the bride about how she's feeling. She's chosen you as maid of honour as you know her best; a private chat together will help you keep things in perspective and remind you why you're sorting this all out ... she's your best friend!
Have you any maidzilla stories to share with us?
Photo credits: Featured image via Benjamin Earwicker