Wedding Trends: How to Coordinate Mismatched Bridesmaid Dresses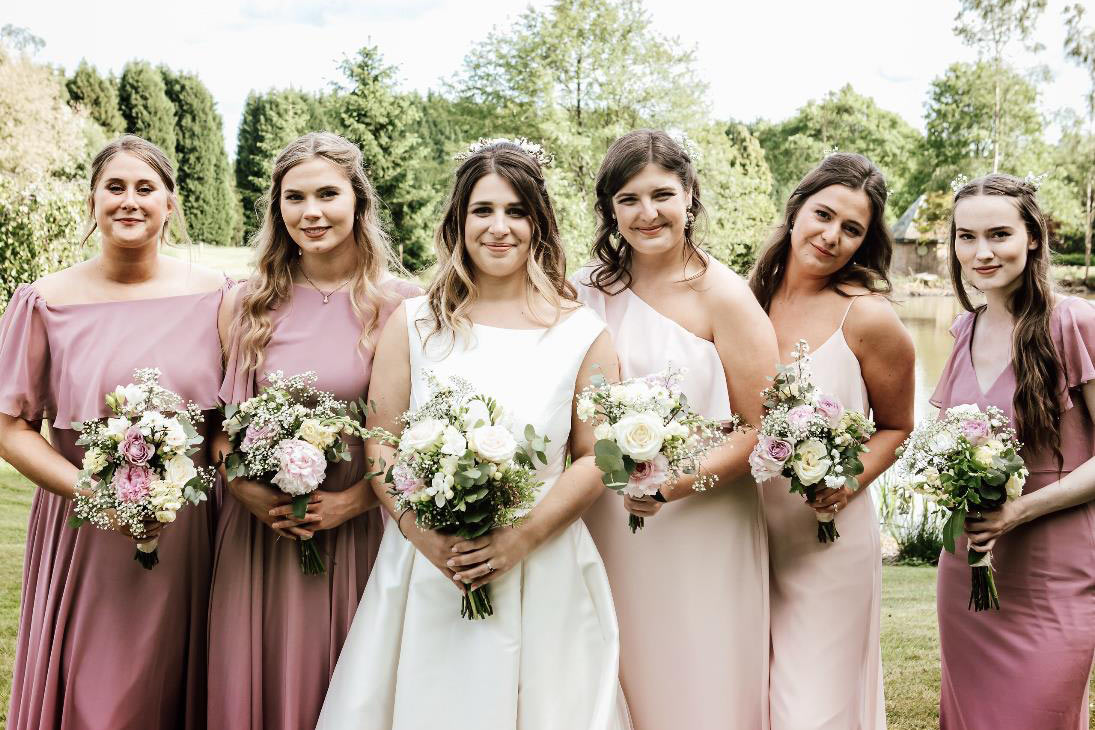 #DessyRealWeddings | Bridesmaids: 6778, 6779, 8189, 6780, 6763 | Color: Blush, Dusty Rose | Photographer: Abigail White Photography
The mismatched bridesmaid dress trend is, hands down, one of the best wedding trends of all time. There, we said it!
Think about it: Unless your besties are all models (and we're guessing they probably aren't), finding a single bridesmaid dress style and color that flatters all of them can be a stressful undertaking. Dressing your squad in mismatched bridesmaid dresses takes care of this frustrating problem in one fell swoop by allowing them to choose bridesmaid dresses that flatter their shapes and suit their individual preferences.
It's pretty much a win-win for brides and bridesmaids alike. But while the results can be strikingly gorgeous, they can just as easily be a visual disaster if you aren't skilled in the art of mixing and matching.
Want to ace the trend with style and ease? Just read on for how to coordinate mismatched bridesmaid dresses for a photo-worthy look.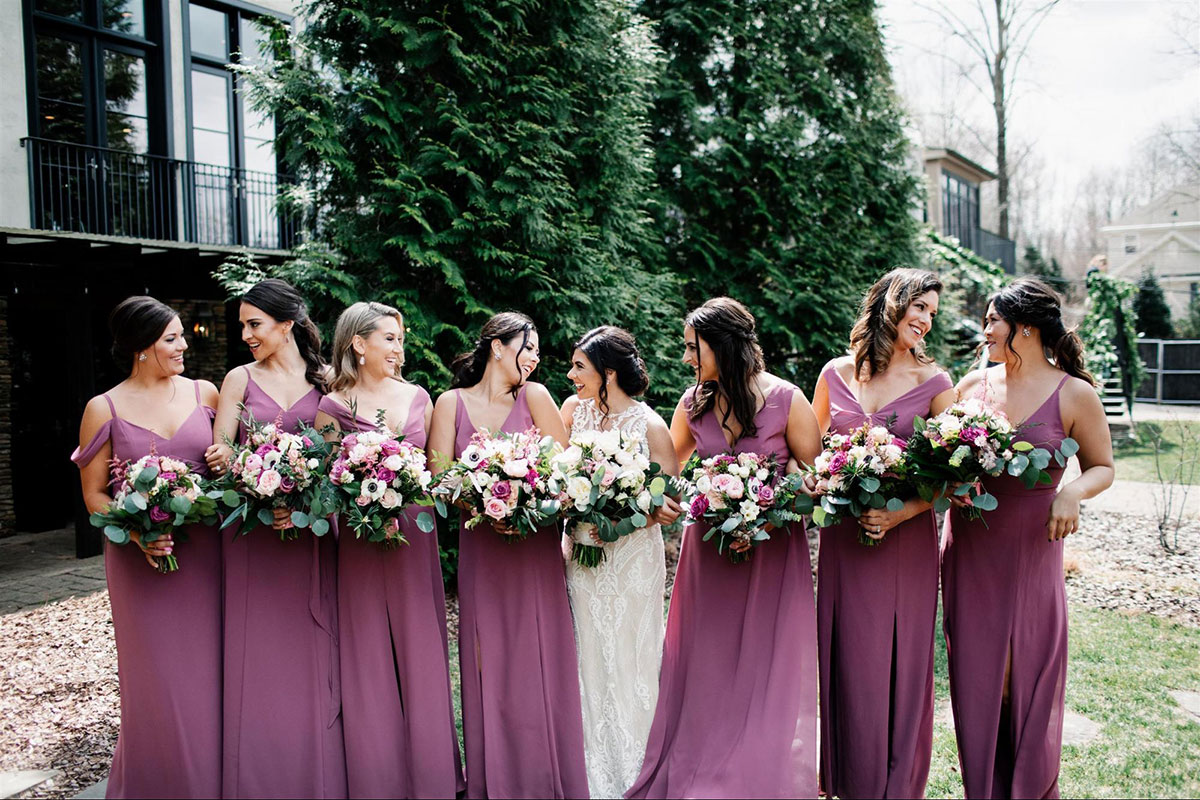 #DessyRealWeddings | Bridesmaids: Social 8186, 8185, 8187, 8181, 8183 | Color: English Rose | Photographer: @welaughwelove
Option #1: Same Color, Different Dress Style
Maybe you're a sucker for wedding traditions. Or, maybe, you've just been dreaming about dressing your girls in blush bridesmaid dresses since the day you got engaged.
No matter what your reasons for sticking to the same bridesmaid dress color, we're all for it, especially if it means that you're giving your girls the freedom to choose their dress style. If you have bridesmaids with a diverse range of body types, you can't go wrong with this take on the mismatched bridesmaid dress trend.
Tips to Pull Off the Look:
Play around with dress fabrics. With this option, you can—and should—experiment with different dress fabrics. It's the perfect way to add interest to your bride tribe while still achieving a perfectly cohesive look.
Give your bridesmaids specific instructions. Whatever you do, DON'T give your bridesmaids vague instructions! If you tell your bridesmaids to choose a bridesmaid dress in navy, they'll each come back with different shades of the same color. Be clear about your color choice (you can use our Pantone Wedding Color Finder for this) so that everyone is on the same page.
Consider convertible bridesmaid dresses. Want to make your mixing-and-matching ridiculously simple? Just pick up a convertible dress for your squad and let your attendants choose the most flattering fit for their shape. You can thank us later.
Option #2: Same Dress Style, Different Color
If you have bridesmaids with a wide range of skin tones, consider outfitting them in different dress colors while keeping the dress style the same. For example, you could dress your bridesmaids in the same one-shoulder chiffon gown and let them choose between two or three colors from your wedding color palette.
You could even make smart use of this style option by choosing a dress color that makes your maid of honor stand out. If your wedding color palette allows it, why not give her some sparkle with a sequin bridesmaid dress? She'll look très chic and get the recognition she deserves.
Tips to Pull Off the Look:
Consider an ombre effect. Want to capitalize on another hot trend? Choose bridesmaid dress colors from the same color family for a stylish ombre effect. Unless, of course, you've already got dibs on ombre for your wedding dress. In which case, feel free to hog all the dip-dye glory for yourself.
Choose no more than three shades from your wedding color palette. As a rule of thumb, try limiting your color options to three colors or less. Any more than three colors and your bridal party might start to look a little visually-chaotic.
Throw in some patterns. Don't forget that you can also have your girls wear the same dress in different patterns as well. For example, are you getting hitched in the spring? Consider having two of your maids wear floral bridesmaid dresses while the rest of your squad wears dresses that complement the floral dresses perfectly.
Option #3: Different Color, Different Dress
If you're not afraid to embrace a mixture of textures, colors and dress styles, this final styling option is for you. With this look, your bridesmaids have free rein to choose their dress color, style, silhouette, fabrics—the whole shebang.
Well, almost. To avoid visual chaos, you'll want to have one or two elements that unify everyone and keeps your bridesmaids coordinated.
Need some ideas? Here are a few tips to help you achieve a completely mismatched (yet entirely cohesive) look.
Tips to Pull Off the Look:
Gift them the same accessories. Hey, you need to give them a memorable bridesmaid gift anyway, right? To coordinate their ensembles, consider giving your bridesmaids cozy pashminas or a statement necklace they can wear on your big day.
Keep hair and makeup the same. Another great way to tie everyone's looks together is by having their hair and makeup done in the same style. For example, your bridesmaids could rock the same bold, red lip or wear their hair in loose waves.
Play around with tones. To nail the different color aspects of mismatching, choose failsafe color tones. For example, you might consider opting for bridesmaid dresses in jewel tones (always a style winner) or earth tones (if you're a fan of gorgeous neutrals).
When it comes to coordinating mismatched bridesmaid dresses, anything goes. Seriously, the only rule is that you must have something that ties everyone's look together. Once you figure out what that something is, you'll be well on your way to acing the mismatched bridesmaid dress trend.