Floral Prints and Fun Colors: The Best Bridesmaid Dresses for a Summer Wedding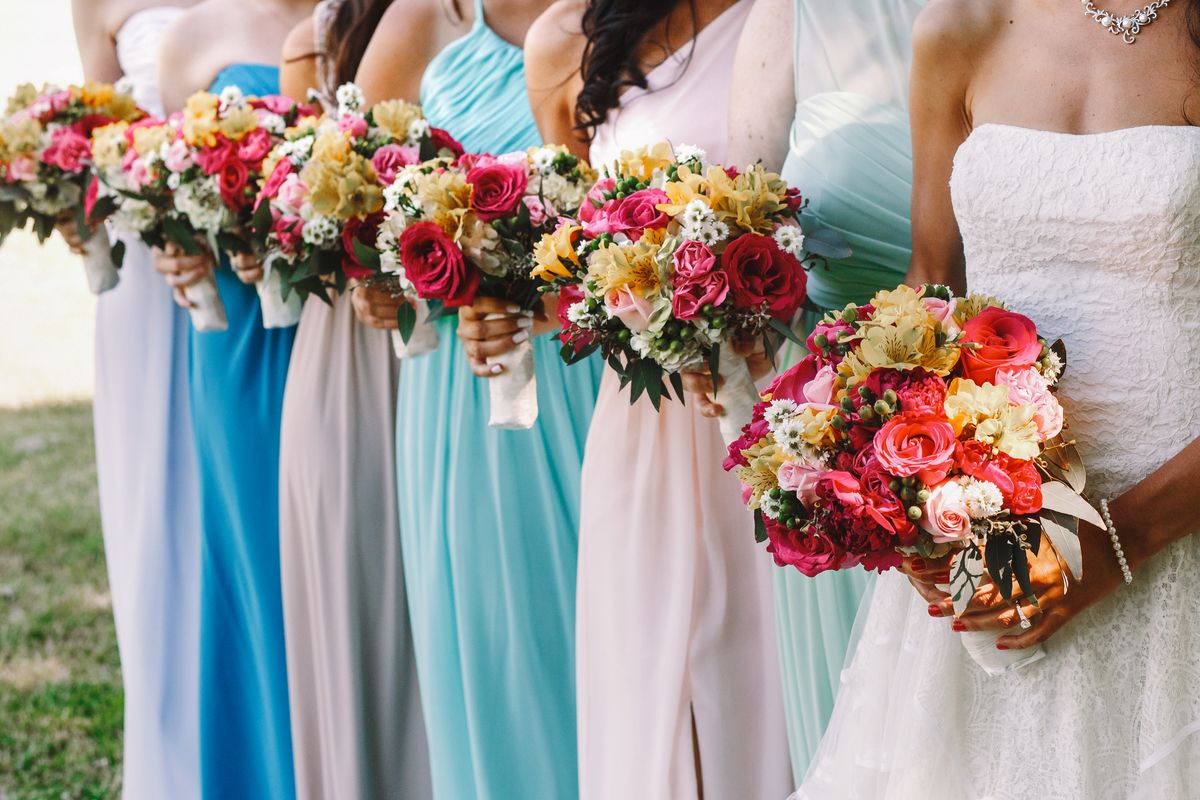 One of the most underrated perks of being a warm weather bride is the ability to go all out with your wedding color palette. While muted colors can be whimsical and romantic, a summer wedding is practically begging to be livened up with bold hues and statement-making florals.
Why not take advantage and outfit your gals in bridesmaid dresses that perfectly fit the vibe of the season? From big and bold color combos to romantic floral prints, there are plenty of ways to style your crew for your special day.
Dreamy Summer Florals
Who says that you need to limit your florals to centerpieces and bouquets? As a warm weather bride, you can style your maids in floral bridesmaid dresses that effortlessly capture the essence of the season for an on-trend look.
No matter what your personality or venue, there is a floral bridesmaid dress style to match the vibe you're going for. If you want to keep things soft and sweet, choose dainty florals in pretty pastels that each of your bridesmaids are sure to love.
Want to make a bold, style statement? Opt for big, splashy florals that will make your wedding party stand apart from the traditional florals of the season.
Don't forget, you can also choose mix-and-match bridesmaid dresses for your gals. This way, you can play around with different necklines and fabrics that will make each of your bridesmaids look and feel amazing on your big day.
Vibrant Color Combos
If the floral bridesmaid dress trend isn't quite eye-catching enough for you, consider embracing a bright and bold wedding color palette to match the summer season. Vibrant hues fit right in at warm weather weddings, especially outdoor affairs set for mid-day.
Here are a few bold color combos we're loving right now:
Coral and Green — If you're a sucker for current trends, you'll definitely want to consider adding coral to your wedding color palette. A long-time favorite of summer brides everywhere, coral was named Pantone's Color of the Year 2019 and has been skyrocketing in popularity ever since.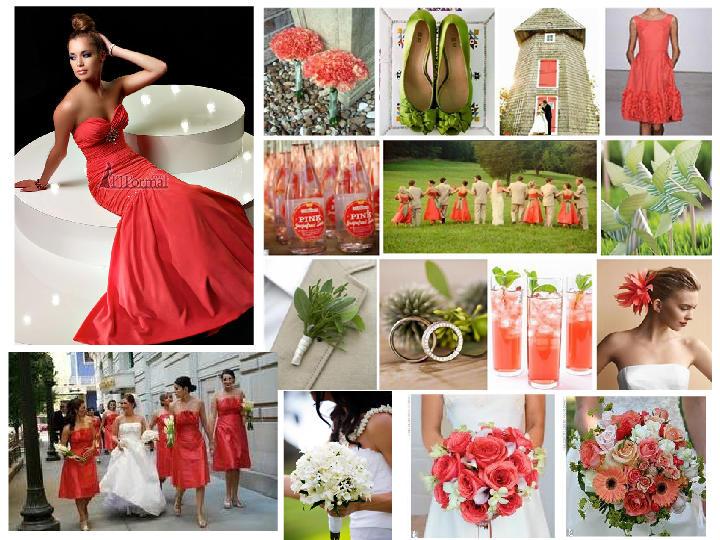 Energize your summer wedding by pairing coral with an equally bright hue such as lime green. You can dress your maids in coral bridesmaid dresses that steal the show while the guys complete the look by wearing green groomsmen accessories.
Fuchsia and Teal — If a fun and vibrant color combo is what you're after, fuchsia and teal are the perfect summer pairing. Trendy teal adds sophisticated vibrancy to your big day, while fuchsia's bright and playful tones work amazing as an accent color.
Although the calming teal manages to offset some of fuchsia's boldness, you'll still want to keep the fuchsia to a minimum. Consider outfitting your best gals in teal bridesmaid dresses while incorporating bold fuchsia in their bouquets.
Mango, Green and Royal Blue — Believe it or not, mangos are in season all-year round in the United States. But this hardly matters because everyone thinks of mango as the quintessential fruit of the summer, which makes it perfect for a warm weather wedding.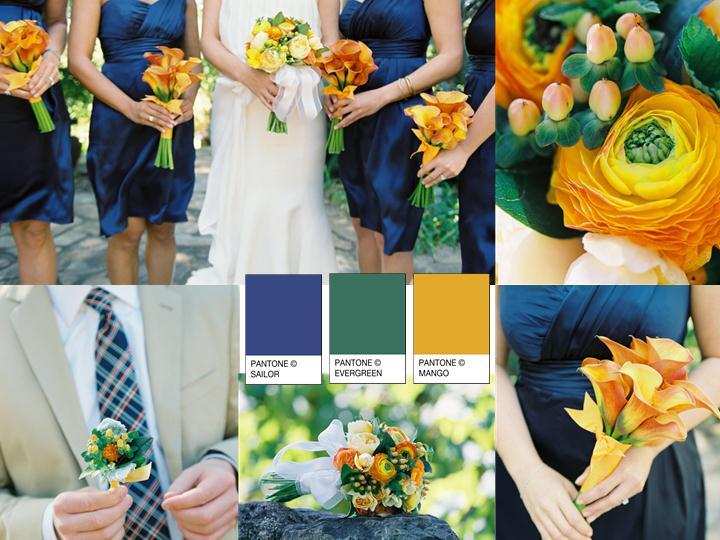 When paired with a vibrant green hue and stunning royal blue, your wedding color palette will look fresh and inviting. Dress your gals in blue bridesmaid dresses and take advantage of the season's gorgeous blooms with bouquets that pop with hints of yellow and orange.
Coral, Red, Fuchsia and Peach — If you don't want to rely on complementary colors to make your wedding bold and bright, consider opting for an analogous color scheme instead. Analogous colors may be close to each other on the color wheel, but they don't need to be boring or muted.
An analogous color palette such as coral, red, fuchsia and peach will bring bright pops of color to your wedding day while giving it a more natural look. In this color scheme, red is the primary color, fuchsia and coral are the supporting colors and peach acts as a neutral to anchor them all.
Style Considerations
Once you've decided upon pretty florals and bold colors, there is the dress style itself to consider. Given that it's a summer wedding, you may want to consider short bridesmaid dress styles for your leading ladies.
Tea-length bridesmaid dresses are having a huge moment right now, as are cocktail bridesmaid dresses that your maids can wear again. The two-piece bridesmaid dress trend is also huge right now and can help keep your maids cool for your outdoor wedding.
As you can see, there are an endless number of ways for you to put your own stamp on bold colors and flirty florals. If you're planning a summer wedding for next year, start looking for style inspiration now by taking in the season's fresh blooms and bright pops of color.