Your Complete Guide to Having a Small Wedding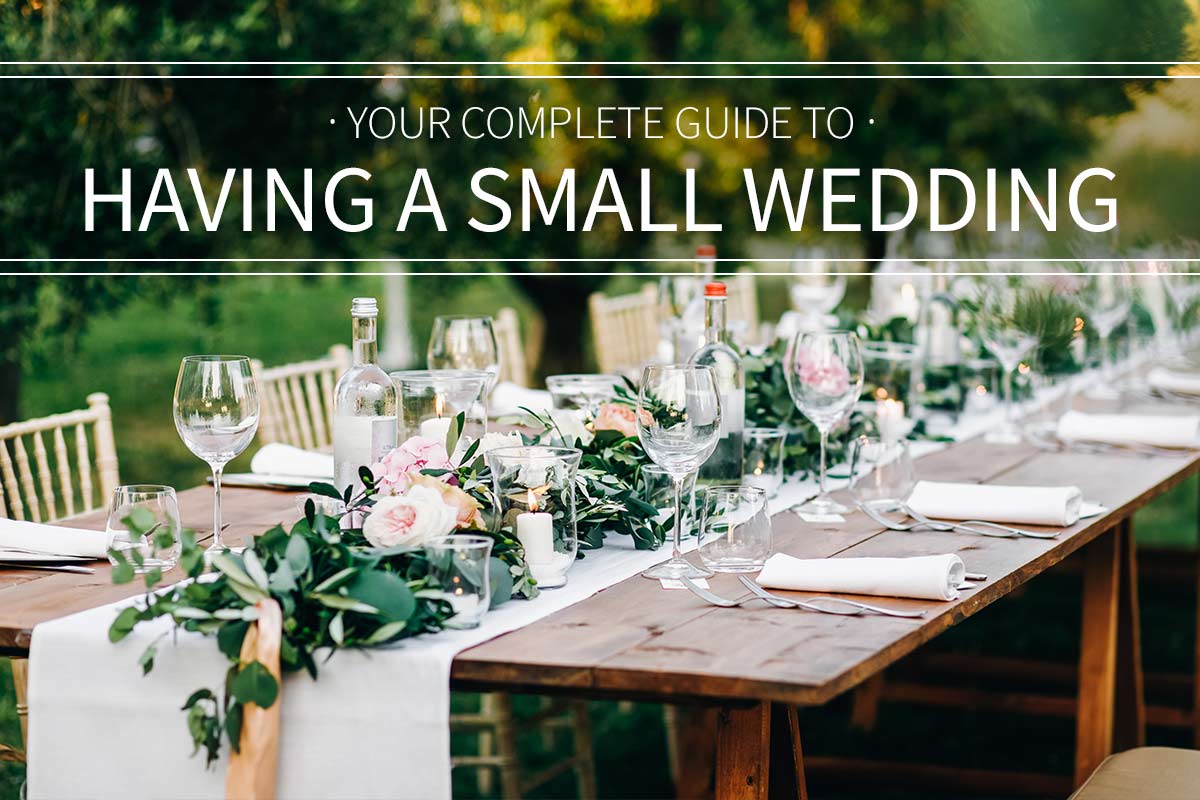 When it comes to your special day, bigger isn't always better. Sure, a big wedding might be the perfect excuse to go all out with a lavish affair, but a smaller and more intimate affair has its fair share of perks as well:
It's less stressful. Let's face it, seating charts can be SUPER stressful. A shorter guest list usually means less drama over who has to sit where.
It may be less expensive. Don't want to go into debt over a wedding? We don't blame you! A small wedding can be an affordable option for couples who are footing the entire bill themselves.
You'll know everyone. A small wedding means that only your nearest and dearest friends and family will be in attendance. In other words, there's no need to practice your omg-I-have-no-idea-who-is-this-smile before your big day.
Bridesmaid shopping will be way easier. This is fairly self-explanatory. It's so much less stressful to pick out bridesmaid dresses when you don't have six to 10 different body shapes, budgets and style preferences to keep in mind!
You'll have less thank you notes to write. Trust us, your hand will thank you for this small mercy.
Honestly, we could go on forever, but we're sure that you already know the perks of having a small wedding. After all, that's why you're considering it in the first place, isn't it?
While opting for low-key nuptials can make planning a wedding easier in some ways, that doesn't mean you get to coast through the entire process. If you want to keep the guest count low and the "wow" factor high, consider this your go-to guide on how to have a small wedding celebration that is uniquely you.
How to Have a Small Wedding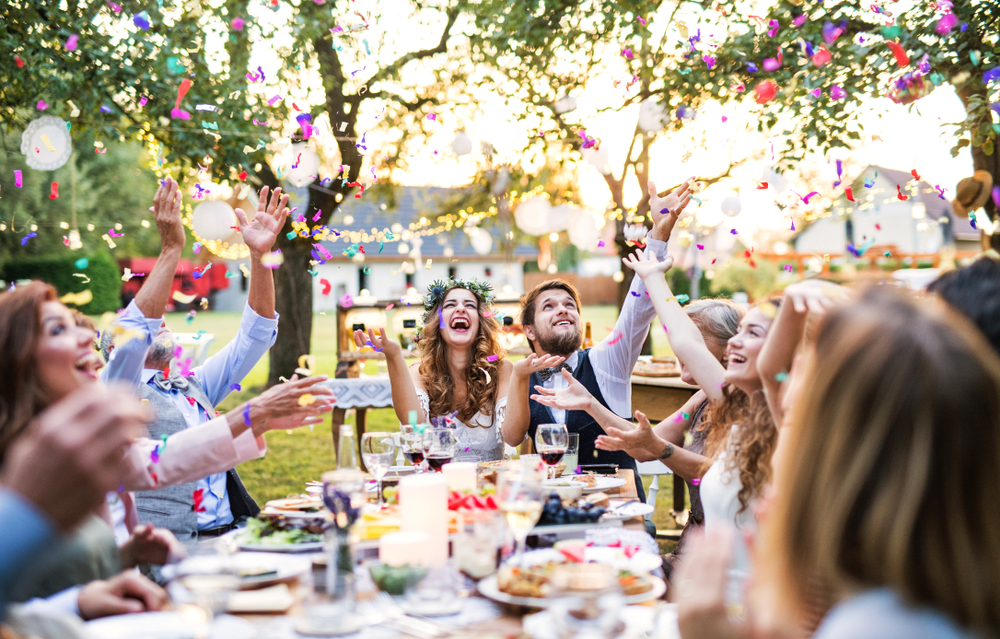 Keep the Guest List Small
Obviously, a shorter guest list is key to having a smaller wedding. But when you and your fiancé agree that you only want your "nearest and dearest friends" to be at your wedding, who does that include, exactly?
Does it include your first cousin whom you haven't spoken to in years? What about your old college friend who invited you to her wedding?
If you're struggling to keep your guest list small, just ask yourself this: "Have I talked with this person in the last three months or so?" If the answer is no, they probably aren't important enough to snag an invite.
Trim Your Tribe
If you're having a smaller celebration, resist the urge to ask your entire group of girlfriends to be your bridesmaids. Trust us, it's going to look super weird if you have seven to eight bridesmaids and only 20 or so guests.
Instead, try to limit your wedding party to include only your BFFs and sisters. Limiting your bridesmaids to two or three will look more natural in a smaller gathering—plus, it will be easier to work with your 'maids' different style preferences, body shapes and budgets.
Speaking of budgets, don't forget to consider affordable bridesmaid dresses for your squad. Just because you may have more wiggle room in your small wedding budget doesn't mean that your besties are ready to drop major cash on a dress they'll likely never wear again.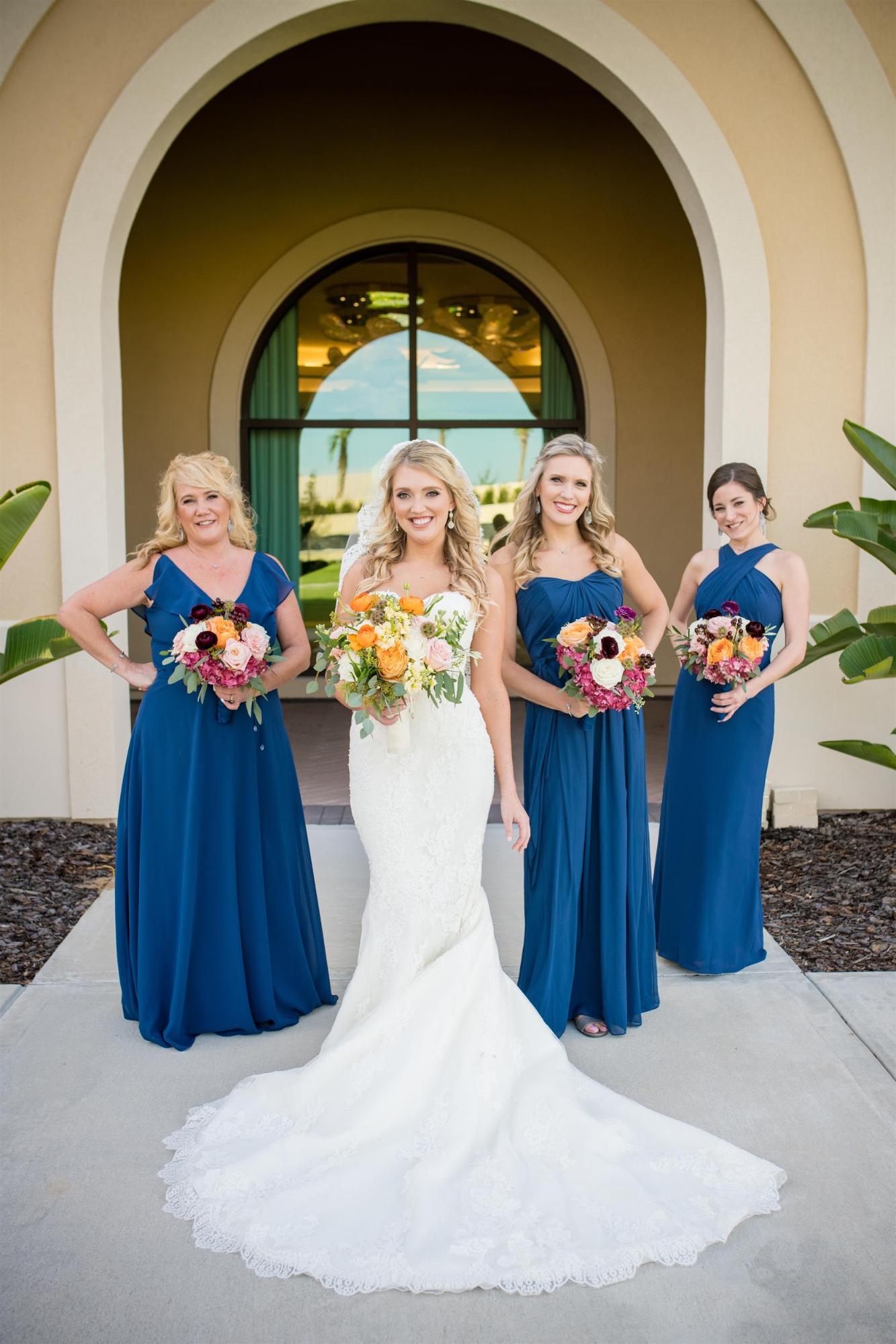 #DessyRealWeddings - Bridesmaids: After Six 6678, After Six 6716, Jenny Yoo JY517; Photographer: William Arthur Photography
Opt for an Untraditional Venue
One of the major perks of having a wedding is the ability to choose a more untraditional wedding venue—think botanic gardens, hip restaurants and potentially your own backyard. If you want to capitalize on your unique wedding venue options, look for a venue that has special meaning for you and your fiancé.
Did you have a memorable first date at a local restaurant? Inquire about their private dining options to see if you can host your celebration there. If you fell in love on the ski slopes, reserve a private space at a cozy ski lodge (think of the scenic backdrop) to give a subtle nod to your special history.
Your wedding venue options for a smaller wedding are only limited by your creativity. Just be sure to check that your untraditional location has the necessary permits for you to legally tie the knot!
Or Make a Traditional Venue Work for You
Don't want to give up on your dream of a ballroom or church wedding? If you prefer to stick with a more traditional wedding venue, then go for it!
The one thing you need to be careful about is booking a space that might be too big for your limited number of guests. The last thing you want is for your wedding to look as though half of your guests didn't even bother to show up.
If you've fallen in love with a larger venue, try to find ways to make the space more intimate. For instance, you could fill up the space with creative food stations, a fun photobooth station and tons of lush greenery to make the space feel bustling and cozy.
Still worried about your wedding venue being too large? Talk with the venue's coordinator about your concerns. They may have a smaller space available that better suits your limited number of guests.
Consider a Destination Wedding
If your guest count is on the micro-scale (think 20 people or less), consider the possibility of having a destination wedding. Think about it: You'd have the perfect excuse for not inviting the entirety of your extended family.
There's something dreamy about getting hitched in a far-flung destination with a scenic backdrop. If you're seriously considering it, be sure to run it by your bridesmaids so they can bow out gracefully if the commitment is too much for them.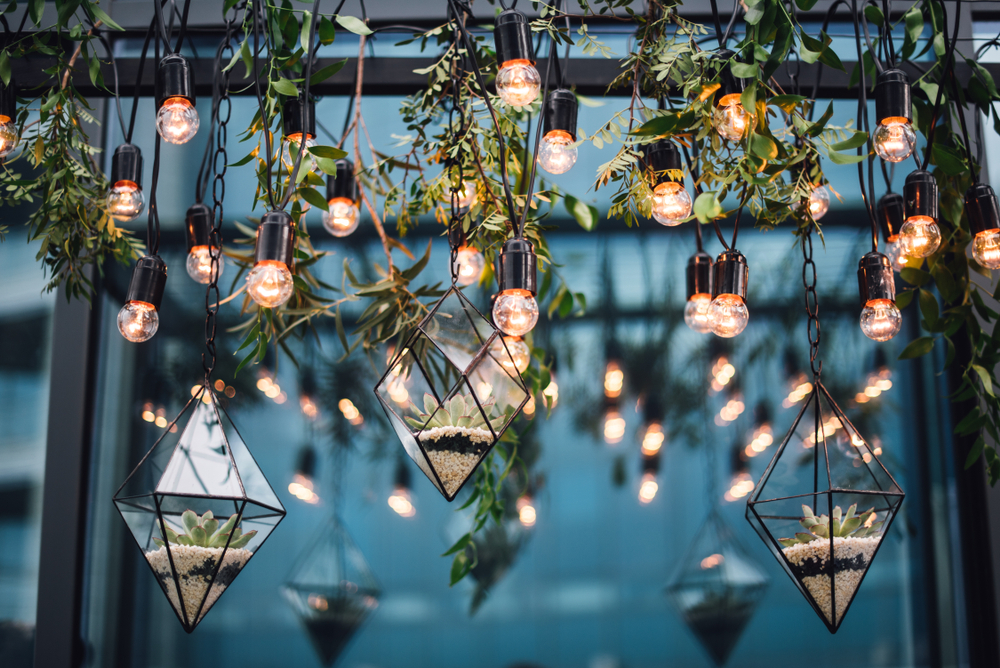 Focus on the Details
You don't want any wedding details to fall through the cracks, especially if your shindig is on the smaller side. Without a huge crowd of people to serve as a distraction, guests will naturally focus more on the little things at your wedding.
Once you've pinned down the big stuff (venue, food, etc.), look for ways to add the finishing touches to your wedding. For instance, you could splurge on your décor with gorgeous mood lighting and a jaw-dropping overhead floral display.
A cute way to make your wedding stand out is by incorporating your hobbies into your big day. We love how this bibliophile couple incorporated their love of reading into their nuptials with a fun, literary theme.
Have Fun with the Menu
It's been said countless times: If there is one thing that guests will remember at your wedding, it's the food.
Since you don't have the monumental task of feeding hundreds of people, why not go above and beyond with your menu? Come up with your own signature cocktail or delight guests with a lavish, seven-course meal that is sure to leave a lasting impression on them.
Prefer to keep things simple? Ditch the extravagant meal in favor of cuisine that means something special to you.
For instance, if you and your fiancé got engaged in Italy, you could incorporate the moment into your wedding by opting for a food truck that serves authentic Italian cuisine. Not only will it make the day more special, your guests will probably be raving about the delicious calzones long after your big day.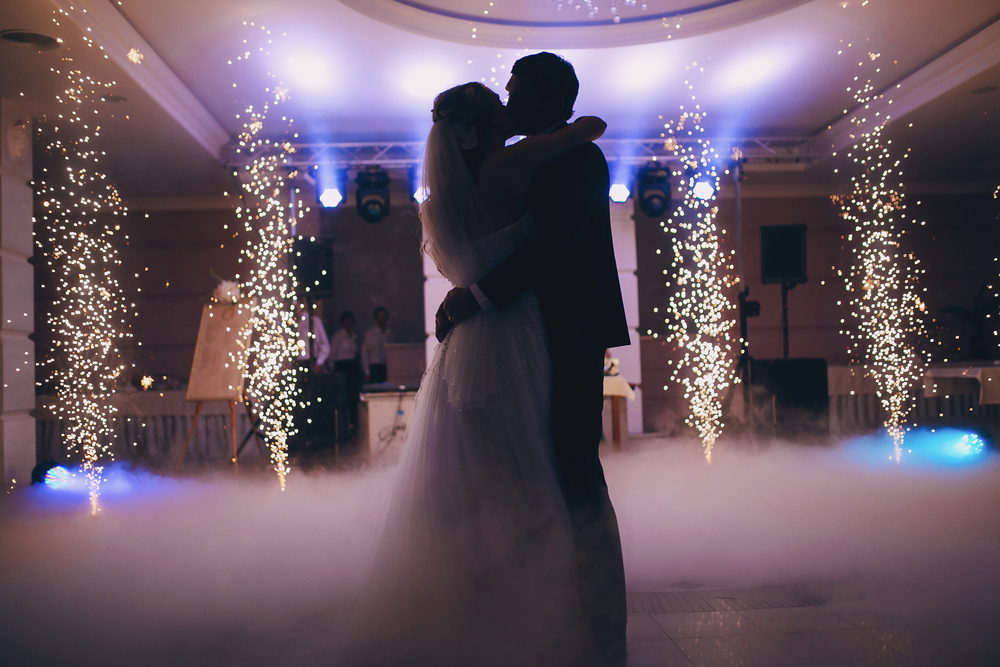 Decide on Dancing
If you're the type of bride who shies away from the dance floor, then you're in luck: A small wedding is the perfect excuse to nix the dancing altogether.
On the other hand, what if you actually want to dance at your wedding? Will it look super awkward when your guest list is so small?
Not necessarily. If you want people to cut a rug on the dance floor, skip the personal playlist and fork out money for a professional DJ instead. Seriously, it's their job to get people to dance.
Of course, a DJ isn't a miracle worker. If you want your guests to join you on the dance floor, be sure to invite people who you know will tear up the dance floor.
P.S. Keeping the bar well-stocked is also a surefire way to get people off their seats and hitting the dance floor.
Splurge on Things That Matter—and Forget the Rest
Fewer attendees means that you'll have more room in your budget to create the unique experience you and your fiancé want. Think about what you absolutely must have at your wedding and nix anything that just isn't your thing.
Want to go big with entertainment and hire an aerialist? Sounds amazing! Prefer to skip the DJ and the dancing? Then do it!
Iron out what's important to you and let this guide your wedding planning. You'll end up with a special day that will perfectly represent the both of you.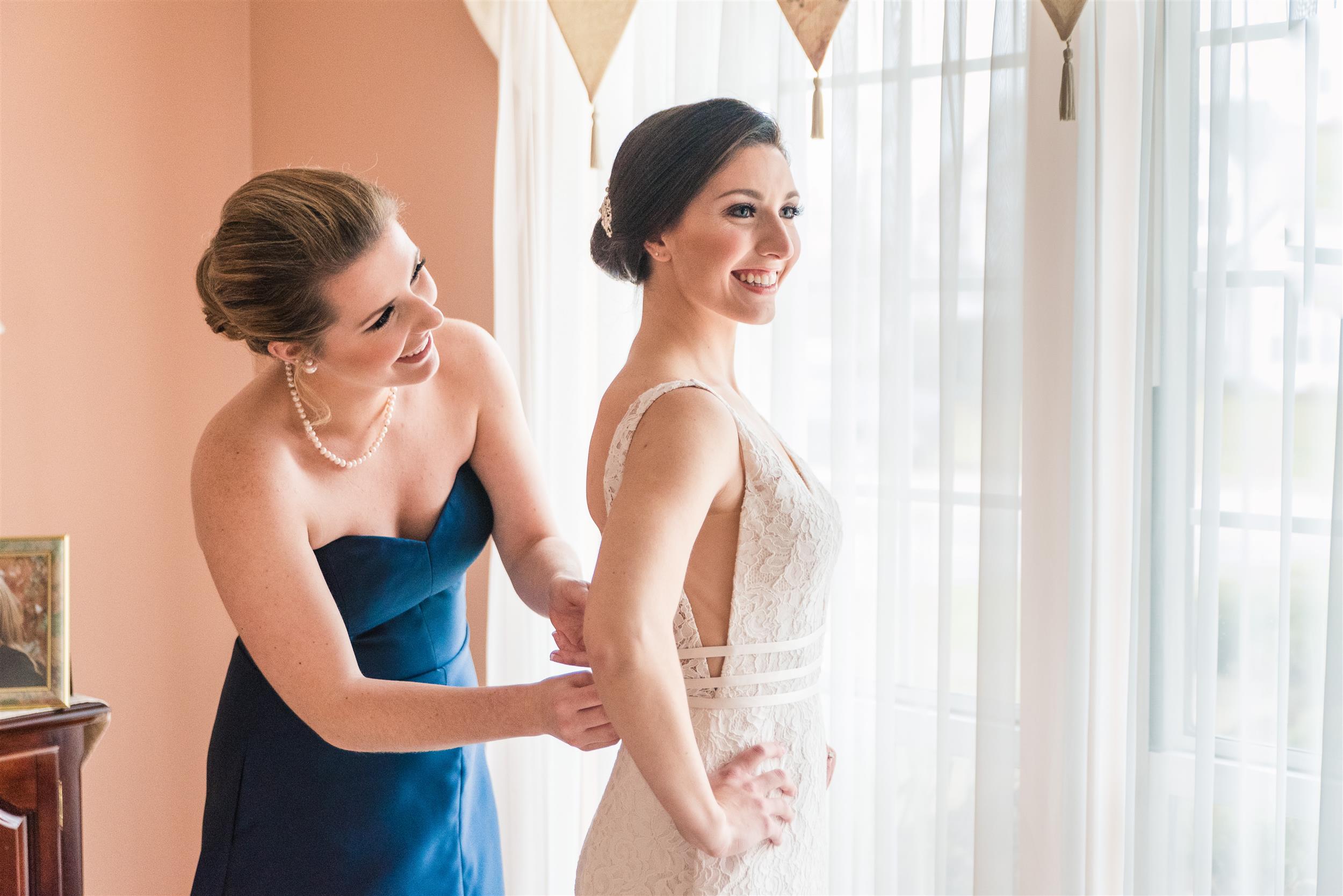 #DessyRealWeddings - Bridesmaids: Alfred Sung D749; Photographer: Mindy Leigh Photography
Know Your Guests
Yes, your wedding day is all about the both of you, but you still want your guests to have a fabulous time on your special day. Since your wedding is on the smaller side, it's much easier to take your guests' wants and needs into consideration when making wedding decisions.
For example, if you know that a lot of your guests are competitive and love games, you could plan an outdoor wedding with tons of lawn games and activities that everyone will enjoy.
Do you have a lot of party animals on your guest list? Consider extending the evening festivities by heading down to your local dive bar after your official celebration winds down.
Pen Heartwarming Vows
Exchanging vows in front of hundreds of people (some of whom you probably don't even know) isn't everyone's cup of tea. Lucky for you, a smaller and more intimate ceremony makes it much easier to pour your heart out to the person you love.
And you should! No pressure or anything, but your guests probably expect some tear-jerking vows, given that you're surrounded by your closest friends and family.
Don't stress too much over it, though. If you're panicking and don't know what to write, you can always use a wedding vow template to get things off and running.
Get Everyone in the Act
Having fewer people on the guest list makes it incredibly easy to make everyone feel involved in your wedding. Take advantage by finding unique ways to include them in the ceremony to make your day more special.
For instance, you could have some guests say a prayer or ask your musically-gifted friend to sing before the wedding officially begins. Another idea is to pass your wedding bands around and allow each person to bless them before you tie the knot.
There's also the idea of having an open mic at your wedding reception, which can be super sweet or go painfully wrong–depending on the crowd. If you're worried about someone giving an overly-long speech, you could have guests write you wedding wishes and stick them in a cute jar instead.
Trust Your Gut
Figuring out how to have a small wedding is tough, but the real challenge is sticking to your plan despite pushback from friends and family. As you may already know, some family members can be deeply opinionated about how big your wedding should be and what it should look like.
Do NOT let anyone persuade you to have a larger affair that just isn't you. When opinionated family members push back against your plans, repeat this phrase: "Thank you for the suggestion, but we've decided as a couple that this route is best for us."
Obviously, that's the polite response. If you want to be blunt with your family, feel free to tell them that, respectfully, this isn't their wedding—end of story.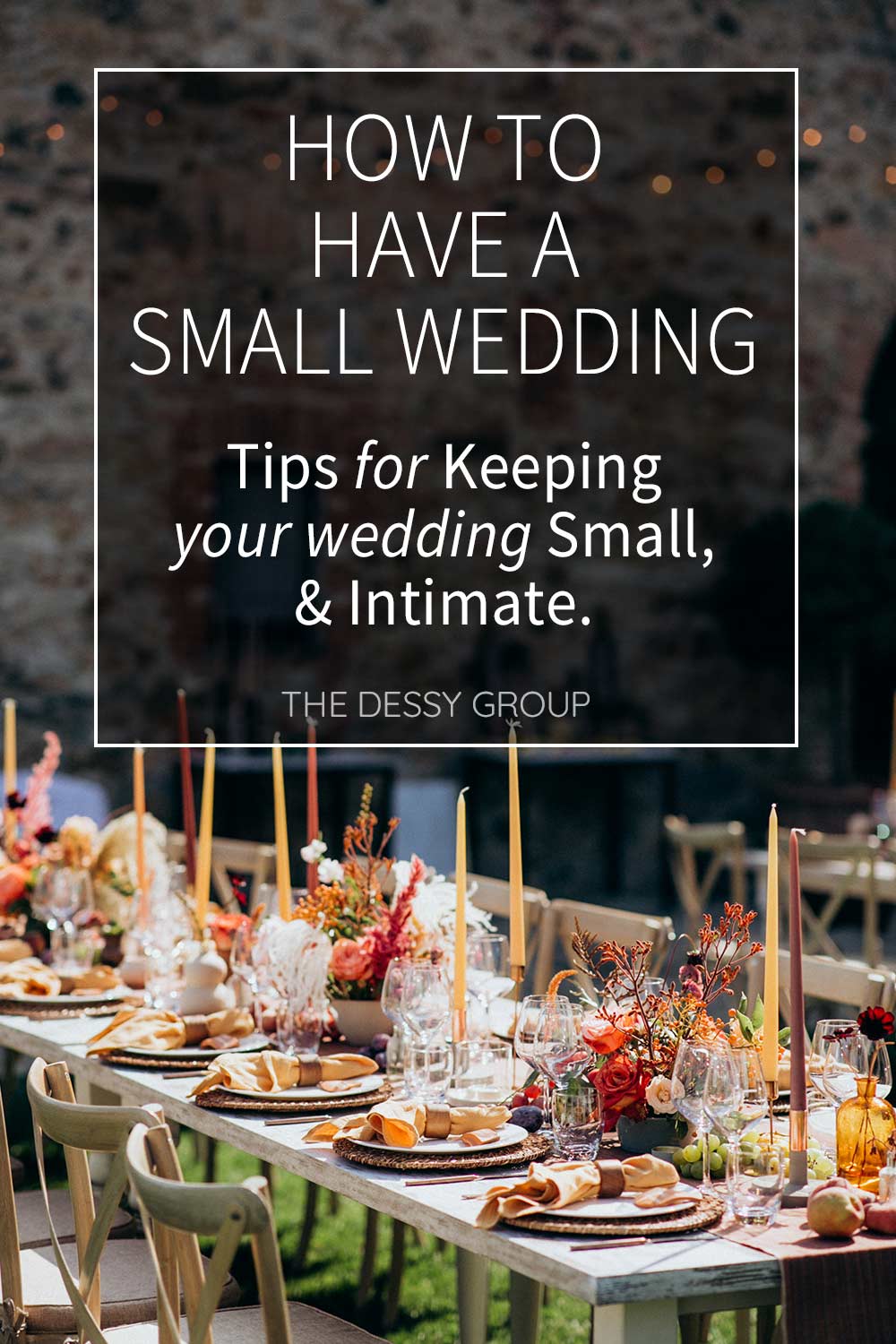 Small Wedding, Big Payoff
For some engaged couples, having a small wedding is a no-brainer. You can save money, go the untraditional route and host a memorable gathering that is true to who you both are.
Sure, you might get some initial pushback from friends and family. But at the end of the day, it's your wedding. You do you!